Ladybugs are among the most widely recognized beetles
, for their bright colors and round, spotted elytra. Many people who are afraid of insects in general are fond of the ladybug, and will croon the oft quoted ditty, "Ladybug, ladybug, fly away home!" (Your house is on fire and your children will burn. Egads, how gruesome) while blowing on the insect to encourage its flight.
Ladybugs, also called lady beetles or ladybird beetles, are actually beetles in the Coleoptera family Coccinellidae. As insects go, they are a very beneficial group, being natural enemies of many insects, especially aphids and other critters that damage plants by feeding on their sap. A single ladybug can consume vast quantities of aphids in its lifetime, as many as 5,000 or more. There is a brisk business in commercial ladybugs for aphid control, and some of the species found in North America are actually invasives brought from Europe or Asia for such purpose.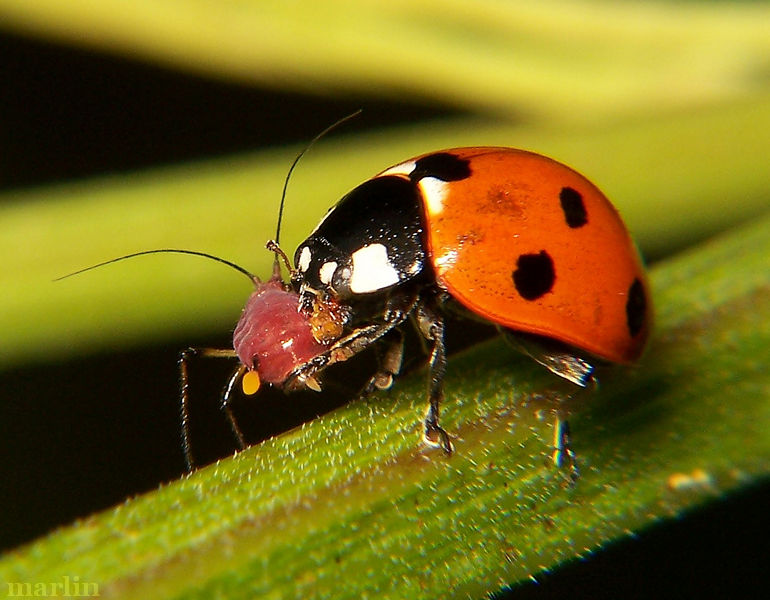 Lady Beetle attacks an aphid
Most ladybugs are shiny red, orange or black with red or yellow markings. Both adults and larva are predators, mostly of plant-damaging aphids. This beneficial property has led to their use as biological control agents, and the introduction of the Asian ladybug to The United States was one such deployment. These "invaders" have very quickly become the dominant ladybug species in North America. They have come to rival the boxelder bug as an annoying pest seeking to overwinter in our houses.
Ladybugs often overwinter as adults in large swarms under fallen leaves, bark, or inside outbuildings. The active spindle-shaped larvae are usually covered with spines and are brightly colored in their own right. During the Middle Ages, these beetles were used to control aphid infestations of grapevines in vinyards; in appreciation, they were dedicated to "Our Lady," hence the common name. In The U.K. they are known as ladybird beetles.
Order Coleoptera: Beetles

are the dominant form of life on earth: one of every five living species is a beetle. Coleoptera is the largest order in the animal kingdom, containing a third of all insect species. There are about 400,000 known species worldwide, ~30,000 of which live in North America. Beetles live in nearly every habitat, and for every kind of food, there's probably a beetle species that eats it.

Beetles Index | Longhorns | Leaf Beetles | Soldier | Blister | Lady | Scarab