Family Moraceae – Mulberries and Figs
With 1400 species in 40 genera, Moraceae includes
Figs, Banyan, Mulberries, breadfruit and Osage Orange. Live specimens photographed at the Morton Arboretum.

Custom Search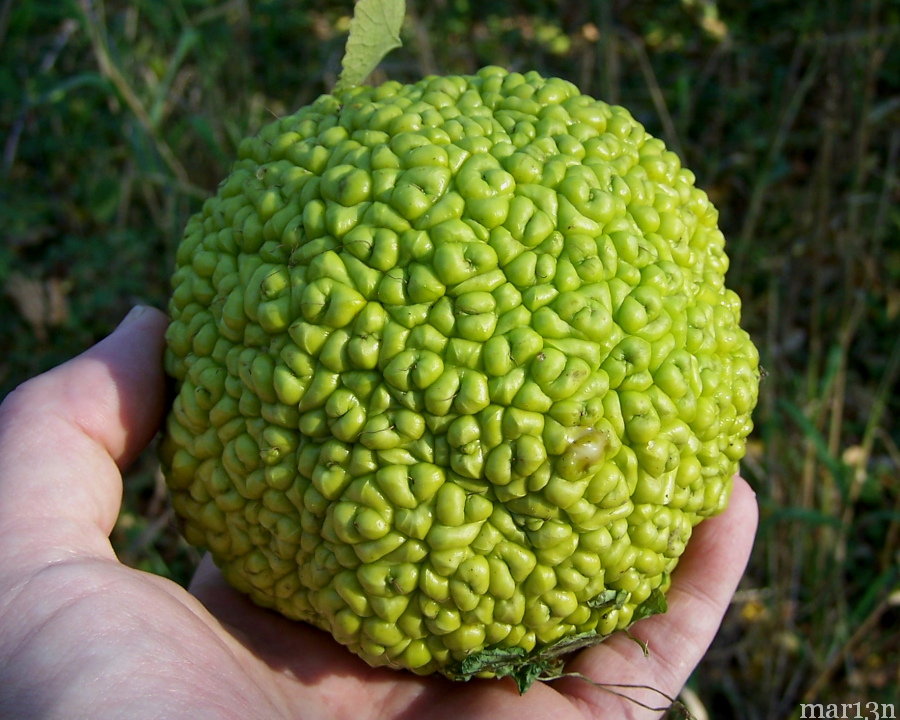 Osage Orange Fruit, commonly called hedgeapple
Family Moraceae consists of flowering trees, shrubs, herbs or lianas (vines), both evergreen and deciduous; mainly woody and tropical, they are most abundant in Asia. Moraceae includes both self-supporting and epiphytic (plants that use an immobile object such as another plant, or a building to support their structure) vines. The largest genus is Ficus, with about 750 species of figs. [3]
Moraceae share with plants in Euphorbiaceae (Spurge family), a specialized type of cell called a laticifer, a cell or a linked complex of cells containing a milky liquid called latex [1]. Laticifers are present in many plants, e.g. the rubber tree (Hevea brasiliensis), rubber being secreted by the laticifers and tapped by cutting through the bark.

Species bearing edible fruit include the mulberries, breadfruit and jackfruit. Although figs and rubber plants are often sold as houseplants, the most important species are related to the silk trade; they serve as food plants for the silkworm, Bombyx mori. [2]
Tree Encyclopedia
Explore over 3,000 large pictures of trees in more than 400 species. Our extensive catalog also contains the largest catalog of flowering fruit trees on the net – over 50 varieties. Find extensive descriptions and landscape planning information. Tree Encyclopedia | Birch | Oak | Walnut | Fruit Trees