Family Aquifoliaceae & Holly & Winterberry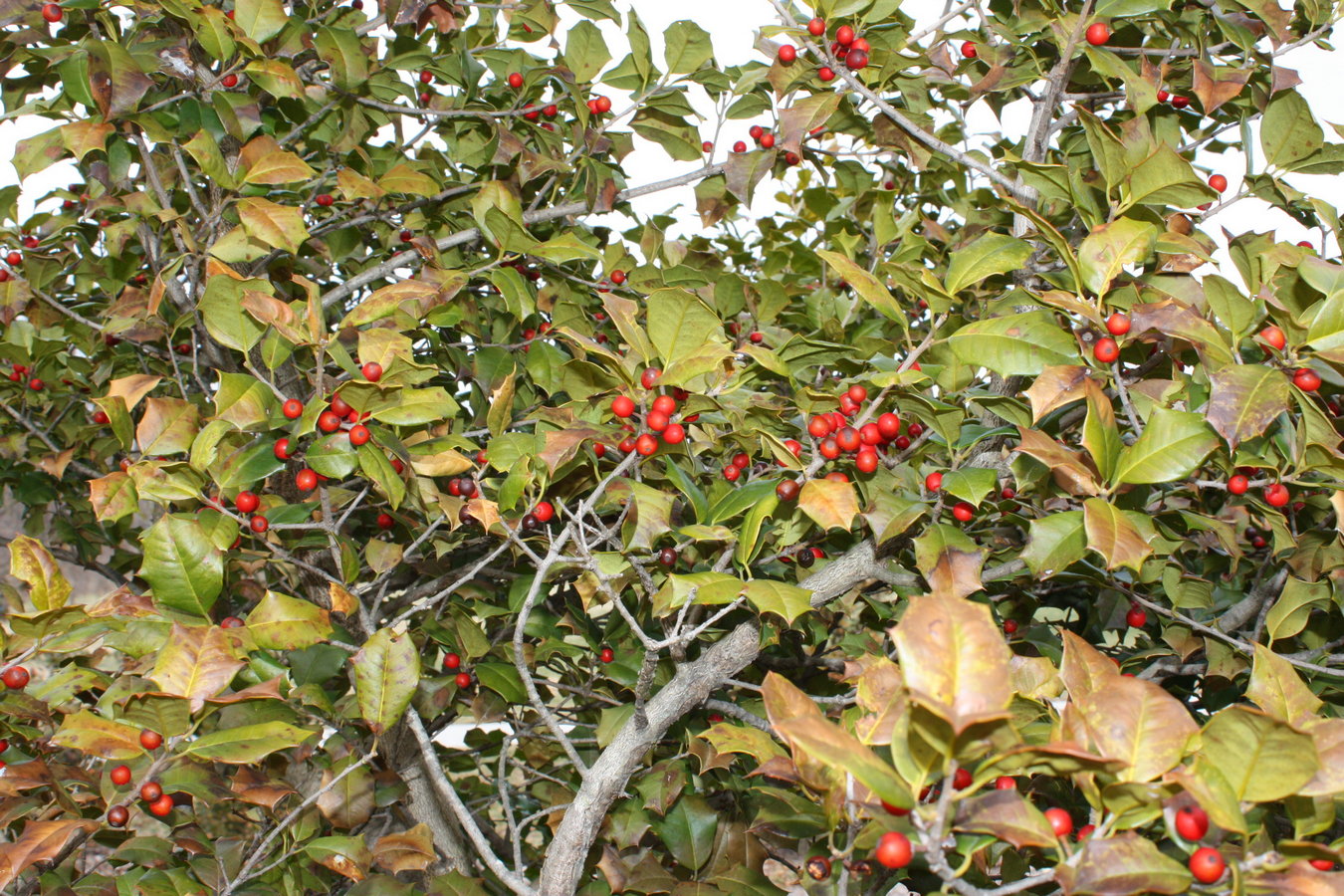 American holly is widely cultivated as an ornamental and for Christmas decorations. Red or yellow winter-persistent fruit are attractive to many types of wildlife.
When the Pilgrims landed the week before Christmas in 1620 on the coast of what is now Massachusetts, the evergreen, prickly leaves and red berries of American holly reminded them of the English holly (Ilex aquifolium). The use of Holly as a symbolic winter decoration, with its shiny, prickly leaves and blood-red berries, goes back in history to the Celtic peoples of Northern Europe, who decorated their homes with it during the time of the winter solstice, or Yule.
Since then, American holly, also called white holly or Christmas holly, has been one of the most valuable and popular trees in the Eastern United States for its foliage and berries, used for Christmas decorations, and for ornamental plantings.
From the maritime forests of Massachusetts, holly is scattered along the coast to Delaware. It grows inland into several Pennsylvania counties and abundantly southward throughout the coastal plain, Piedmont, and Appalachian system. Holly dominates some of the maritime forests of the Atlantic coast near the northern limit of its range, associated with salt-intolerant species such as black cherry (Prunus serotina), eastern redcedar (Juniperus virginiana), and hackberry (Celtis occidentalis). However, cecause of its slow growth and stature, Holly is rarely dominant. Its range extends south to mid-peninsular Florida, west to eastern Texas and southeastern Missouri.
Yule American Holly – Ilex opaca 'Yule'
American holly is the hardiest known broadleaf evergreen tree, with cultivars naturalized in Ohio down to -20 degrees, and native populations in the mountains of West Virginia where the average low temperature is -10 degrees. Holly grows in almost any soil, from sandy Atlantic beaches to thin mountain soils, to dry gravelly soils inland. However, the largest holly trees are found in the rich bottom lands and swamps of the coastal plain in New Jersey.
More than 1,000 cultivars of American holly have been named, although not all have been registered with the International Registration Authority. These do not necessarily represent different forms of Ilex opaca; many were selected because of unusual growth habit, fruit color, size or shape, or degree of leaf spininess [1].
Tree Encyclopedia
Explore over 3,000 large pictures of trees in more than 400 species. Our extensive catalog also contains the largest catalog of flowering fruit trees on the net – over 50 varieties. Find extensive descriptions and landscape planning information.
Tree Encyclopedia | Birch | Oak | Walnut | Fruit Trees | Nut Trees