Dr. Edward R. Hasselkus selected this tree from the collections at Longenecker Horticultural Gardens of the University of Wisconsin, Madison. Its attractive characteristics include good borer resistance, a uniform upright pyramidal habit, beautiful satin-white bark, attractive foliage, and golden-yellow fall color. The parent plant originated from seed distributed by the USDA, North Central Plant Introduction Station in Ames, Iowa, under P.I. #130480. Planted in the mid-1970s, it out-survived all the other seedlings from the population, which were lost to bronze birch borers. The parent tree measures approximately 40' in height with a 30' spread at the base. Zones 5-7. [1]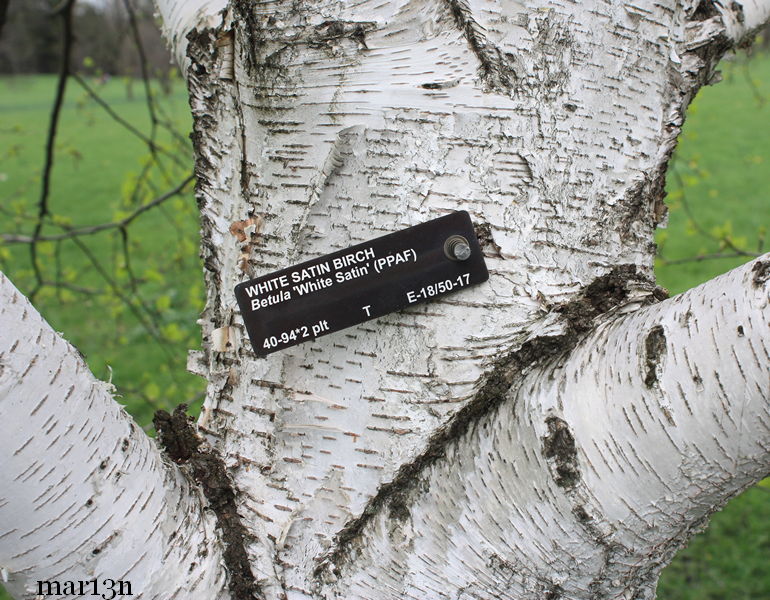 Animals dependant on Birch
Moose: Important browse throughout most of range. Nutritional quality is poor in winter, but is important to wintering moose because of its sheer abundance in young stands.
White-tailed Deer: though considered a "secondary-choice food", it is an important dietary component. In Minnesota, white-tailed deer eat considerable amounts of birch leaves in the fall.
Snowshoe hare browse birch seedlings and saplings.
Porcupines feed on the inner bark
Beaver also eat it though generally prefer aspen, while willow and paper birch are second choice foods.
Voles and shrews eat the seeds.
Numerous birds and small mammals eat paper birch buds, catkins and seeds.
Young paper birch stands provide prime deer and moose cover.
Birds:
Numerous cavity-nesting birds nest in birch, including woodpeckers, chickadees, nuthatches, and swallows.
A favorite feeding tree of yellow-bellied sapsuckers, which peck holes in the bark to feed on the sap. Hummingbirds and red squirrels also feed at sap wells in paper birch created by sapsuckers.
Ruffed grouse eat the catkins and buds.
Redpolls, siskins, and chickadees obtain a considerable portion of their annual diet from birch seeds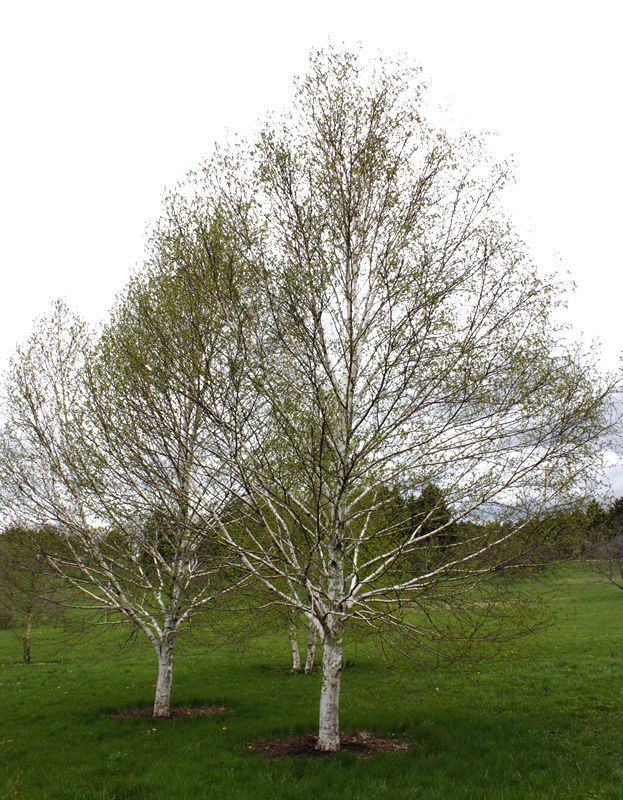 The bark is indeed like white satin
Separate male and female flowers
are borne on the same tree; the male in the form of a catkin, and the female in cone-like clusters that fall from the tree and are blown for long distances by the wind. In the fall, the foliage turns pale yellow.
The graceful elegance of the birch allows it to be used as a specimen or for naturalizing, and is best used in large areas. It transplants easily and is most effective when planted in groupings. A multi-trunk specimen is more handsome than single-trunk trees. It should not be planted in high-use areas such as driveways, walks and patios, as dead branches tend to be messy. Periodic pruning is required to remove these branches; this can be done at any time of year. Although the river birch thrives in wet areas, it does not require excessive amounts of water. It tolerates fairly dry soils once it is established, but will not live as long. It requires acidic soils, suffering from iron deficiency if pH levels are 6.5 or higher.
Family Betulaceae – Alder, Birch, Hornbeam
The birches have long been popular ornamental trees in North America, chiefly in the northern United States and Canada. Our specimens include river birch, Dahurian birch, paper birch, Arctic birch, Manchurian birch, Manchurian alder, downy birch, Japanese white birch, and 10 other species.
Tree Encyclopedia | Trees Index | Elms & Zelkovas | Birch Index