Sargent's Cranberry Bush – Viburnum sargentii
Family Adoxaceae
Synonym of Viburnum opulus L. var. sargentii [4] Zones: 3 to 7. Height: to 15 feet Spread: 12 feet

Custom Search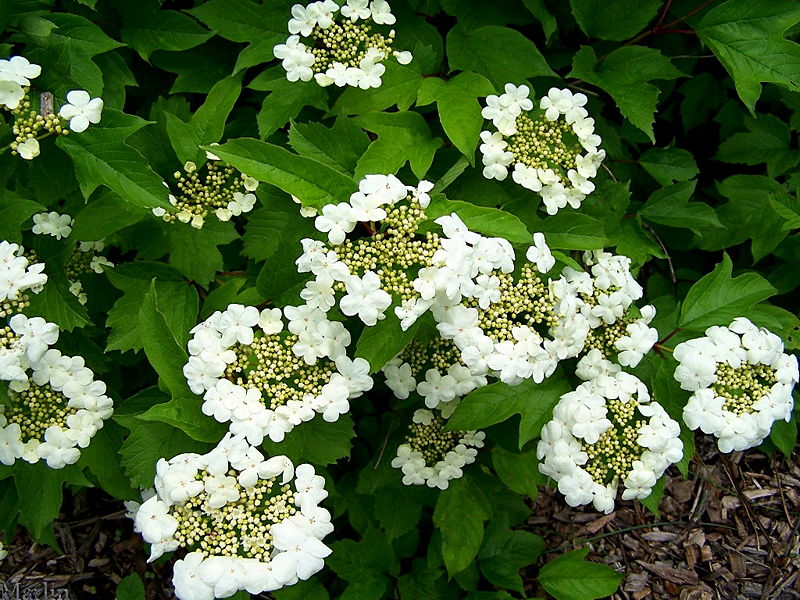 Commonly called Sargent viburnum or Sargent cranberry bush, Viburnum sargentii is originally from northeast Asia, and has been part of gardens and landscapes here since it was introduced in 1892. It is very much like the Snowball Viburnum, except that the leaves are thicker in texture, and it bears fruit. Very vigorous and resistant to aphids. It will form a large upright, rounded, multi-stemmed shrub. Will fruit best in sun but will also grow and flower in partial shade. Not for deep shade. Sargent Viburnum cultivars 'Onondaga' and 'Susquehanna' are commonly available.

Flowers appearing in spring are bisexual and occur in the middle of flattish upright, inflorescences. Showy, white, sterile flowers occur at the edges of these inflorescences to attract pollinators. Fall leaf color can be yellowish to reddish. The fruits are bright, translucent red drupes lasting well into January.

When used as a specimen or patio tree, leave plenty of room for root expansion. Plant grows best in full sun or partial shade, in moist, well-drained soil. Will tolerate acidic or alkaline soil. Aphids and spider mites can be a problem on plants left unattended and overgrown. [1]

Viburnums attract Red Admiral, Eastern Comma, and Question Mark butterflies and is larval plant food for the spring azure butterfly and hummingbird moth.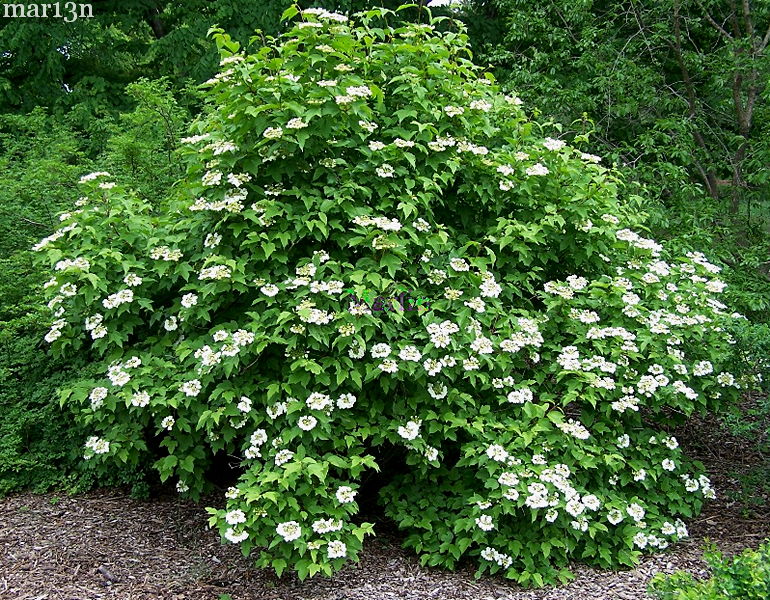 Viburnum is a genus of about 150-175 species of shrubs or small trees that were previously included in the family Caprifoliaceae. Genetic tests by the Angiosperm Phylogeny Group showed that they are correctly classified in the family Adoxaceae. They are native throughout the temperate Northern Hemisphere, with a few species extending into tropical mountain regions in South America and southeast Asia. In Africa, the genus is confined to the Atlas Mountains.
The leaves are opposite, simple, and entire, toothed or lobed; cool temperate species are deciduous, while most of the warm temperate species are evergreen. Some species are densely hairy on the shoots and leaves, with star-shaped hairs. The flowers are produced in corymbs 5-15 cm across, each flower white to cream or pink, small, 3-5 mm across, with five petals, strongly fragrant in some species. The gynoecium has 3 connate carpels with the nectary on top of the gynoecium. Some species also have a fringe of large, showy sterile flowers round the perimeter of the corymb to act as a pollinator target. The fruit is a spherical, oval or somewhat flattened drupe, red to purple, blue, or black, and containing a single seed; some are edible for humans (though many others are mildly poisonous to people). [2]