Trinity pear
has been around since the early 1970's. A smaller, more densely packed improvement on the Callery (Bradford), Trinity pear grows only to 20 feet, making it an outstanding ornamental or specimen flowering tree for smaller areas. It bears profuse clusters of single white flowers in the spring, offset with glossy light green foliage. Autumn color is spectacular, in hues of orange to red and purple. Trinity is well-known for its tolerance of urban conditions and grows well in all types of soils, including some clay.
As with most fruit trees, Trinity Pear grows best in full sun, but will tolerate some shade. The variety is found at most good garden or landscape centers and is readily available ball-and-burlap.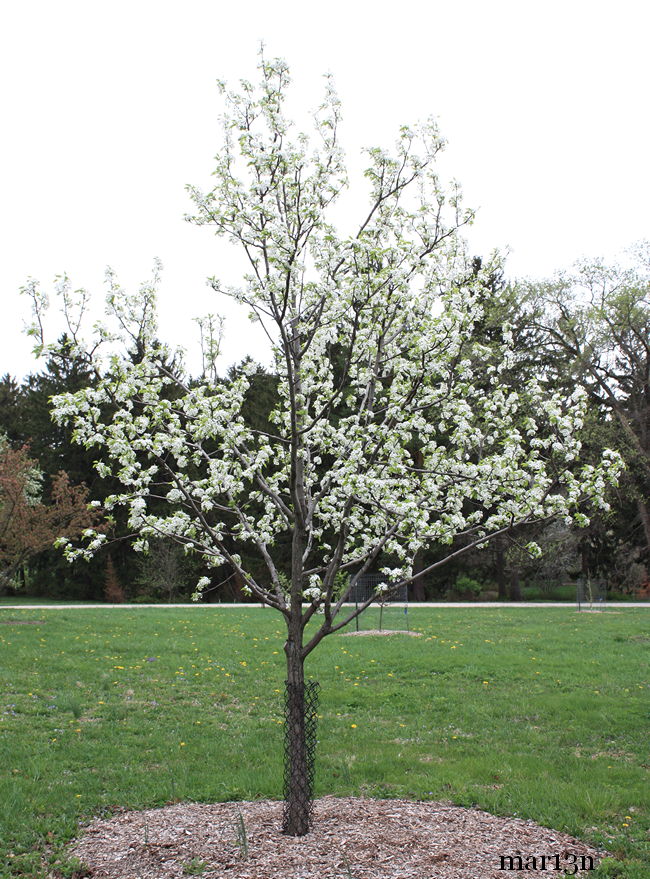 Trinity pear [1]
The cultivation of the pear extends to the remotest antiquity. Traces of it have been found in the Swiss lake-dwellings; it is mentioned in the oldest Greek writings, and was cultivated by the Romans. The word "pear" or its equivalent occurs in all the Celtic languages, while in Slavonic and other dialects different appellations, but still referring to the same thing, are found—a diversity and multiplicity of nomenclature which led Alphonse de Candolle to infer a very ancient cultivation of the tree from the shores of the Caspian to those of the Atlantic.
A certain race of pears, with white down on the under surface of their leaves, is supposed to have originated from P. nivalis, and their fruit is chiefly used in France in the manufacture of cider. Other small-fruited pears, distinguished by their precocity and apple-like fruit, may be referred to P. cordata, a species found wild in western France, and in England. Pears have been cultivated in China for approximately 3000 years.
References
Trinity Callery Pear, Morton Arboretum acc. 210-2004-1, photos © Bruce Marlin