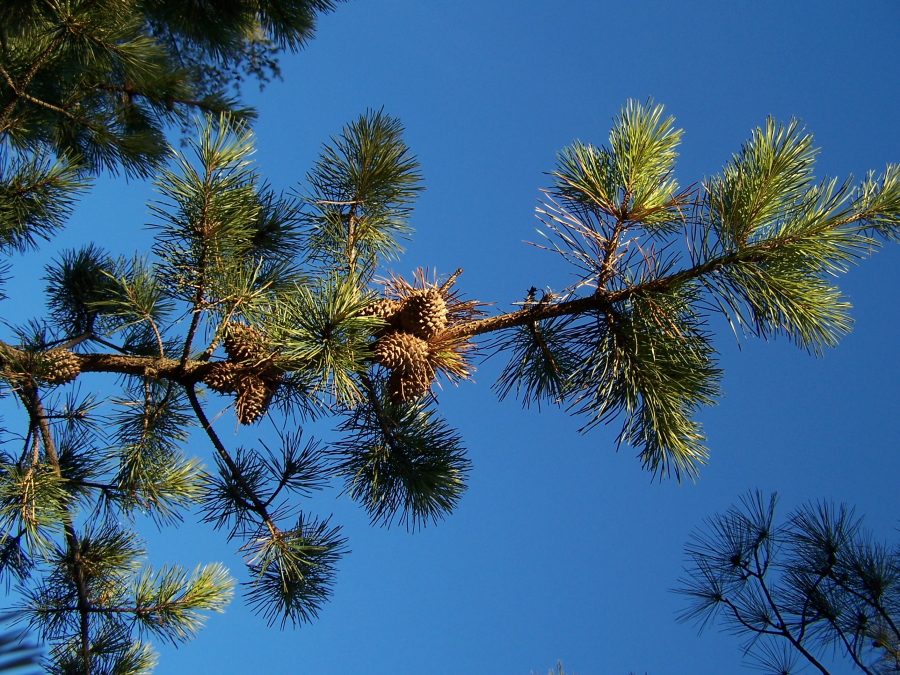 Table Mountain pine is also called hickory pine, mountain pine, or prickly pine. It is most often small in stature, eccentric in form, and exceedingly limby (I like to think they have character.) One large tree near Covington, VA, measures 70 cm (28 in) in d.b.h. and 29.6 m (97 ft) tall and has a crown spread of 10.4 m (34 ft). These pines are used locally for fuel and commercially for pulpwood, and they provide valuable watershed protection. The species epithet pungens derives from the Latin for "sharp-pointed", a reference to the characteristic stout hooked points on the cones.

Table Mountain pine, an Appalachian endemic, grows almost entirely within the range of pitch pine (Pinus rigida) and Virginia pine (P. virginiana), but is less frequent. In general, Table Mountain pine occupies xeric sites of Appalachian rocky and shaly mountainous areas from Georgia into Pennsylvania. It is frequently found on ridges of the precipitous gorges that dissect the Blue Ridge Mountains [1].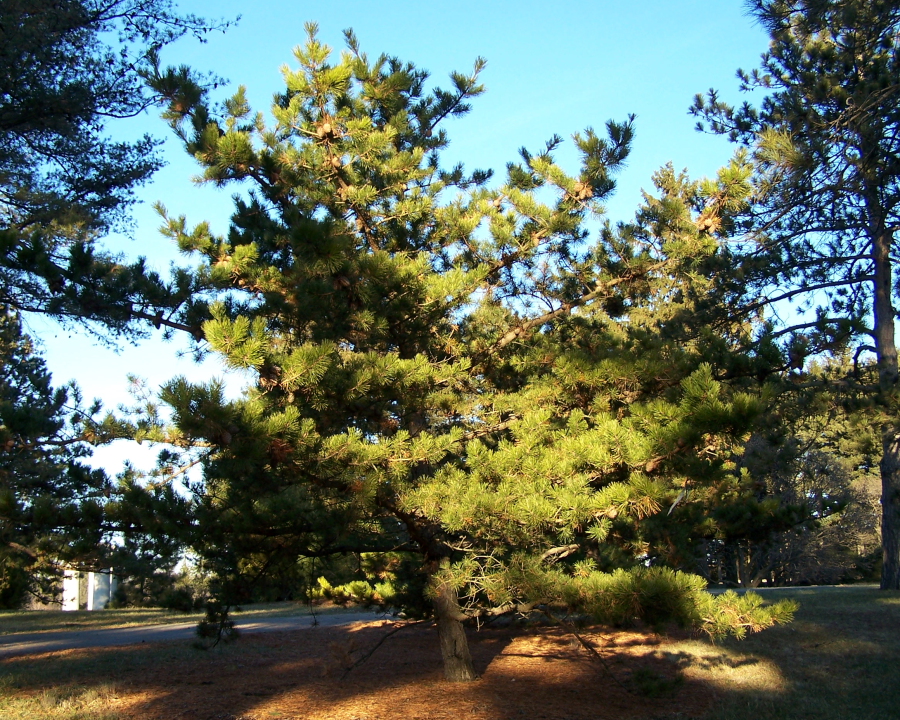 22-year-old Table Mountain Pine – Morton Arboretum Specimen started from seed
Damaging Agents- Weather-related factors such as high gusty winds, glaze, heavy wet snowfall, cloudbursts, tornadoes, and lightning have been known to damage stands and isolated trees of Table Mountain pine. The most serious diseases of Table Mountain pine are Phaeolus schweinitzii, which causes butt and root rot, and Phellinus pini, which causes heartrot in older or damaged trees. Dioryctria yatesi, a cone-boring insect, can in some years destroy entire local seed crops. Periodically, the southern pine beetle, Dendroctonus frontalis, decimates entire stands. The European pine sawfly, Neodiprion sertifer, at times defoliates trees of their previous year's needles, but seldom kills the trees.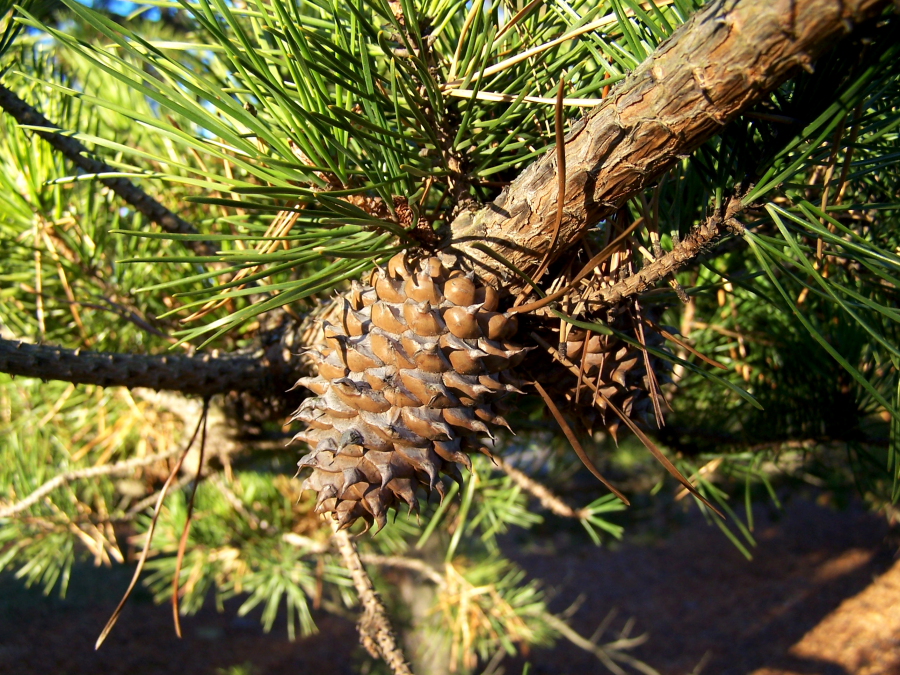 Species epithet pungens refers to the wicked sharp points on the cones
Table Mountain pine is used commercially for pulpwood, low-grade sawtimber, and firewood. The serotinous cones on many trees make seed available for wildlife on a year-round basis. Many of the short stubby limbs seen on Table Mountain pine are caused by squirrels that prune off the cone-bearing section of the limb to get at seed in the heavily armed cone cluster. Also, the heavy heath layer in Table Mountain pine stands provides plentiful wildlife food and cover. The often gnarly Table Mountain pines are a welcome sight on rocky, cliff-like areas of the Appalachians, but perhaps the most important use of the species is as protection forest; it stabilizes soil, minimizing erosion and runoff from the vast shale barrens and other rugged topographic features within its natural range [2].
Animals, chiefly squirrels, make use of this tree for food and shelter: Using its teeth, the red squirrel (T. hudsonicus) will cut a cone-bearing branch from the tree. Once on the ground, the cone is removed from the branch in the same manner. One by one, the squirrel chews away cone scales from the base to the apex of the cone and consumes the seeds inside. Because of this activity, Pinus pungens has locally been dubbed 'squirrel pine.' [1]
Tree Encyclopedia | Tree Index
Trees live longer than any other organism on earth. Trees commonly live more than 1,000 years, and many grow considerably older. Trees have been living on Earth for more than 370 million years, and today can be found almost everywhere from the Arctic Circle to the Sahara Desert. Explore over 2,000 large format pictures of trees in more than 400 species. Family Pinaceae: Pines, Cedars, Spruce, and Firs

Custom Search