Silver King Juniper
Juniperus scopulorum 'Silver King'
Family Cupressaceae
Silver King Juniper is a dwarf variation of the commonly named "Rocky Mountain" juniper.

Custom Search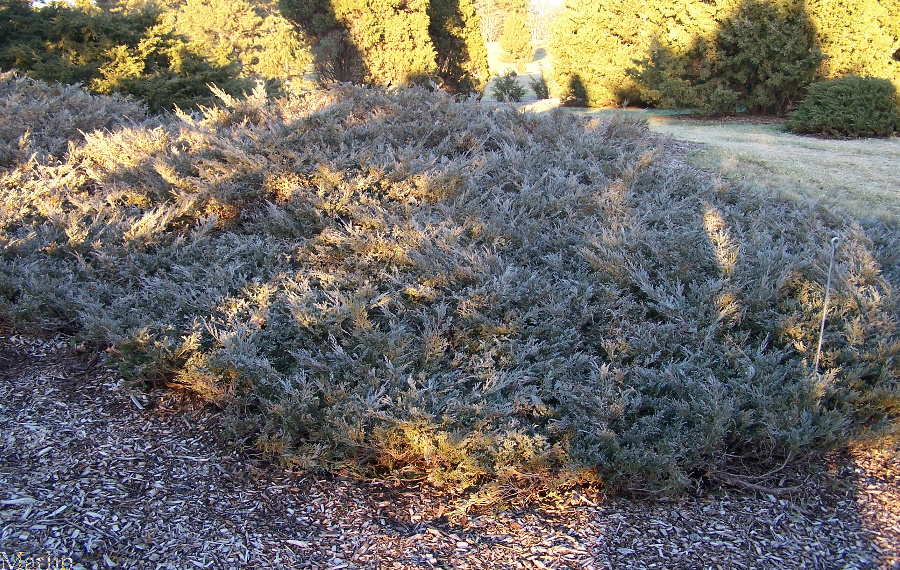 White's Silver King Juniper grows to 50 cm tall, densely spreading filiform branchlets, in silvery-blue foliage.
Juniperus scopulorum is a perennial, evergreen gymnosperm native to North America. The species grows as a shrub or tree to 30 feet (10 m) or more and has thin, fibrous bark that usually shreds with age. In the open, trees are stubby and broadly pyramidal with branches to ground level. In shaded areas, the trunk is less tapered and foliage arranges in "weeping sprays". Leaves are scalelike and 0.03-0.11 inch (1-3 mm) long or needlelike and 0.11-0.47 inch (3-12 mm) long.
Juniper prefers calcareous and somewhat alkaline soils
and grows best on moist, deep soils. It survives extremes of temperature well. Rocky Mountain juniper is considered hardy except for "burning" of foliage on trees exposed to northwest winds during winter in the northern Great Plains. It can tolerate shade when young, but becomes intolerant later in life. It is more drought tolerant than eastern redcedar and less so than other tree junipers in the west. In fact, during the 1930s drought, Rocky Mountain juniper woodland maintained and expanded range in the western Dakotas.
This plant grows throughout the drier mountains and foothills of British Columbia and Alberta; south through the Great Basin and Rocky Mountains to Arizona, New Mexico, and western Texas; and north across eastern Colorado, western Nebraska and North Dakota, Montana, and into Saskatchewan. It is also found on Vancouver and other Puget Sound islands, as well as the surrounding mainland.
Juniperus scopulorum is found over most of the range of pinyon pine woodlands. It is a major tree species in the higher elevations of pinyon-juniper woodlands in Colorado, northern New Mexico, and Arizona, and locally in Nevada and Utah. In pinyon-juniper woodlands, it is found in association with other juniper species such as alligator juniper, oneseed juniper, and Utah juniper, as well as Colorado pinyon, Mexican pinyon (P. cembroides), and singleleaf pinyon (P. monophylla).