Port Orford Cedar – Chamaecyparis lawsoniana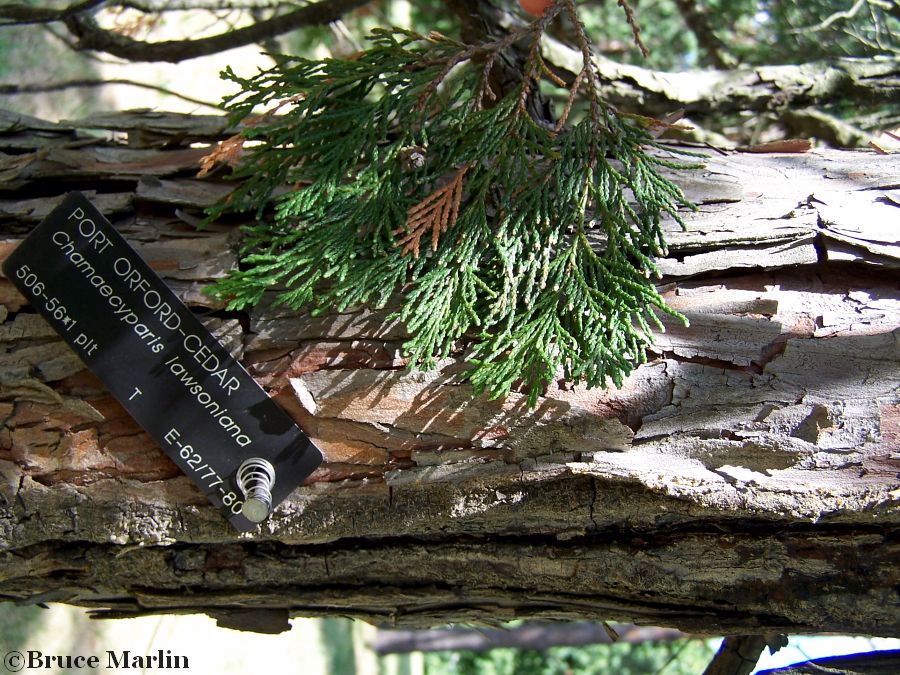 Family Cupressaceae – Arborvitae, Cedar, Cypress, Juniper, Redwood
Port-Orford-cedar, also called Lawson cypress and Port Orford white-cedar, is known for its grace in ornamental plantings and for its versatile wood. As logs, mostly exported to Japan, it brings higher prices than almost any other conifer in the United States. This valuable tree, however, has a very limited range and an uncertain future. Management of Port-Orford-cedar has become impossible in much of its range since the introduction of a fatal root rot that is still spreading. Old-growth forests are being depleted rapidly, and the use of second-growth forests is complicated because early growth is relatively slow.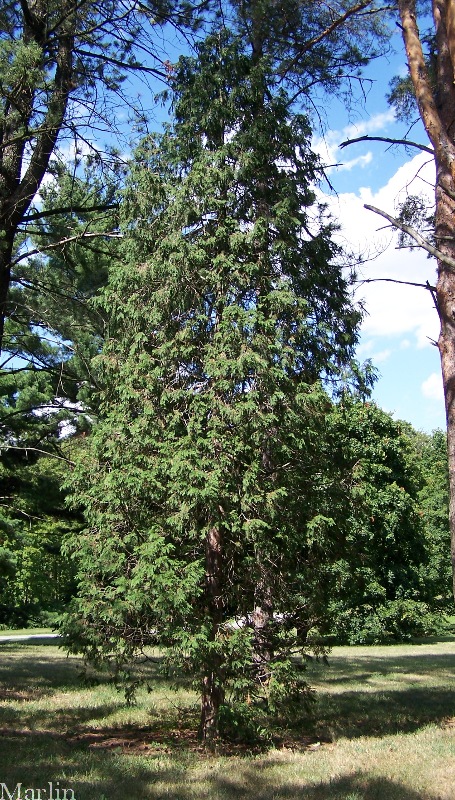 This Port Orford Cedar was planted 51 years ago
Damaging Agents- The major causes of damage to Port-Orford-cedar are fungi of the genus Phytophthora (11,13). An exotic root rot caused by P. lateralis was introduced into Coos County about 1952 and has decimated many stands in the area where Port-Orford-cedar grows best. Neither resistance to the rot nor effective treatment of it has been identified. Spores of the fungus are carried by water, so one introduction of the disease may spread to all stands in the watershed below.  (1)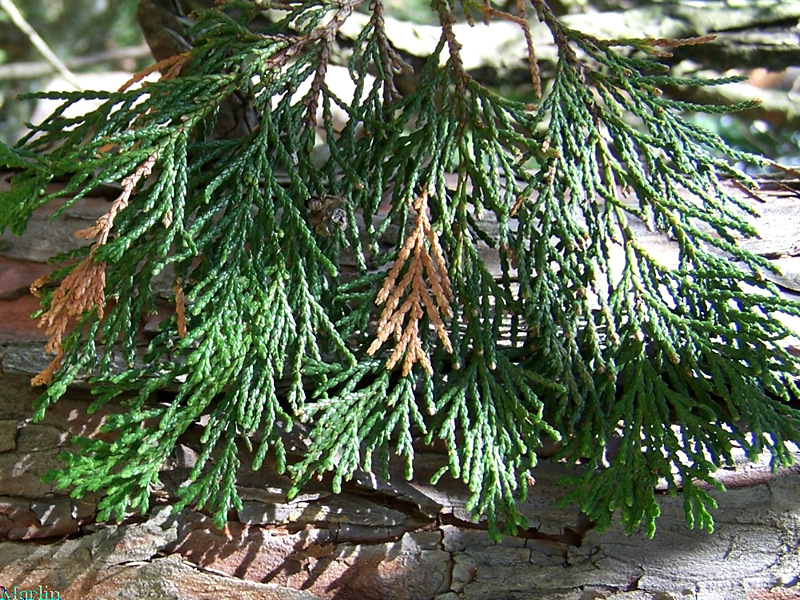 Port-Orford cedar grows in a small area near the Pacific coast, from about latitude 40° 50′ to 43° 35′ N. in southern Oregon and northern California. It is most important on uplifted marine terraces and in the Coast Ranges of southern Coos County and northern Curry County, OR. A secondary concentration is found at high elevations in the upper reaches of the Illinois and Klamath River drainages near the Oregon State boundary. Throughout the rest of its range, Port-Orford-cedar is found as small, scattered populations, most common in the drainages of the middle Rogue, upper Illinois, Smith, lower Klamath, and lower Trinity Rivers. A major inland disjunction includes small populations of the upper Trinity and Sacramento River drainages southwest of Mount Shasta, CA.
Special Uses: Outside its natural range, the major use of Port-Orford-cedar is as an ornamental. As such, it is usually referred to as Lawson cypress. More than 200 cultivars are known, varying in size, shape, foliar morphology, and color. It is suitable for hedges but is usually planted as separate individuals of either full-sized or dwarfed varieties.
References:
USDA Forest Service Northeastern Area State & Private Forestry Donald B. Zobel, Port-Orford-Cedar
USDA, ARS, National Genetic Resources Program. Germplasm Resources Information Network
Family Cupressaceae – Arborvitae, Cedar, Cypress, Juniper, Redwood
Trees Index | Pine Family | Beech, Oak | Nut Trees | Birch Family | Magnolias
Tree Encyclopedia / North American Insects & Spiders is dedicated to providing family-friendly educational
resources for our friends around the world through large images and macro photographs of flora and fauna.
Online since 2002