Pillar Crabapple – Malus tschonoskii
Family Rosaceae – Rose Family
Also called pillar crab, pillar apple, or chonosuki crab. USDA Hardiness Zones: 4-8.

Custom Search



| | |
| --- | --- |
| Pillar Apple Tree, from graft, is 23 years old | Same tree in autumn |
Pillar crab is a vigorous tree with distinctive columnar habit. Noted for its autumn color, it sports white flowers, tinged pink, in May followed by rounded red-flushed yellow-green fruit. It can grow to 30 ft by 6 ft (9 m by 1.8 m) in 20 years, with an ultimate height of 40 ft (12 m); so sayeth the Royal Horticultural Society. However, in my wanderings at The Morton Arboretum in northern Illinois, I have yet to see one taller than about 20 feet.
Grows best in full sun but will tolerate some shade. Best in rich, moist, well-drained soil. Tolerant of humid conditions, but shallow-rooted and must be watered during dry periods. It will also benefit with a 3-4-inch layer of organic mulch. Can be grown from seed or propagated by grafting in mid-winter [2].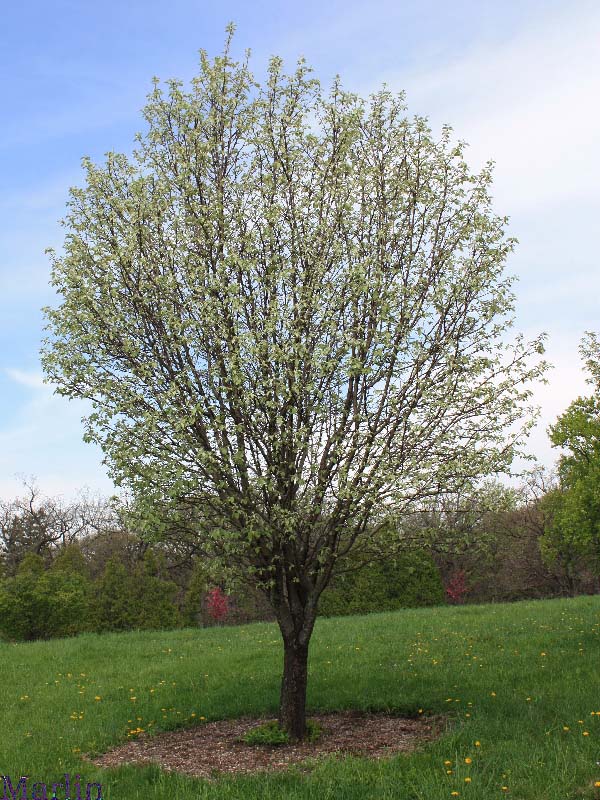 Pillar Apple acc. 59-84*1 is 25 years old
Pillar crab is scusceptible to apple scab, apple canker, powdery mildew, and fireblight. Wooly aphid and red spider mites can also inflict damage [2].