Autumn Blaze Maple / Family Aceraceae
Height: to 60 feet Spread to 30 feet. Hardy to Zone: 3-8. A fast-growing shade tree derived from a hybrid cross of red and silver maples.

Custom Search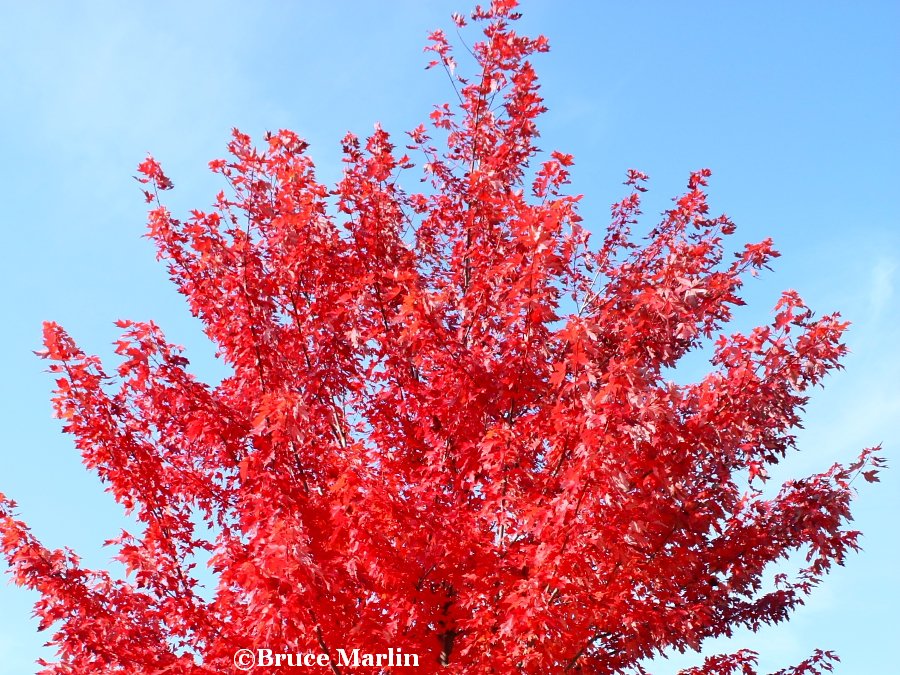 Acer x freemanii 'Jeffersred'
Named Urban Tree of the Year in 2003, the autumn blaze maple tree is patented by the late Glenn Jeffers of north central Ohio, reflected in the cultivar name 'Jeffersred'. Iowa's Nursery and Landscape Association named the autumn blaze maple tree of the Year.
Cultural Requirements: Prefers full sun; grows in a wide range of soil conditions; pH adaptable and drought tolerant. A hybrid of silver and red maple with a strong central leader and excellent branching habit. Fall color is an unbelievable fiery red. Excellent in street tree plantings or as a large shade tree. A good alternative to silver maple in heavy clay soils. [3]
Red Maple is easily transplanted and usually develops surface roots in soil ranging from well-drained sand to clay. It is not especially drought tolerant, particularly in the southern part of the range, but selected individual trees can be found growing on dry sites. This trait shows the wide range of genetic diversity in the species.
Branches often grow upright through the crown forming poor attachments to the trunk. These should be removed in the nursery or after planting to help prevent branch failure in older trees during storms. Select branches with a wide angle from the trunk and prevent branches from growing larger than half the diameter of the trunk. This will help reduce storm damage. [2]

Custom Search
Family Aceraceae – Maples
The Maples are some of our most familiar and beloved trees.  Most are native to the far east: China, Japan, Korea, Manchuria. Maples produce a distinctive winged fruit called a samara, also commonly known as helicopters or whirlybirds.
Tree Encyclopedia | Tree Index | Maple Index