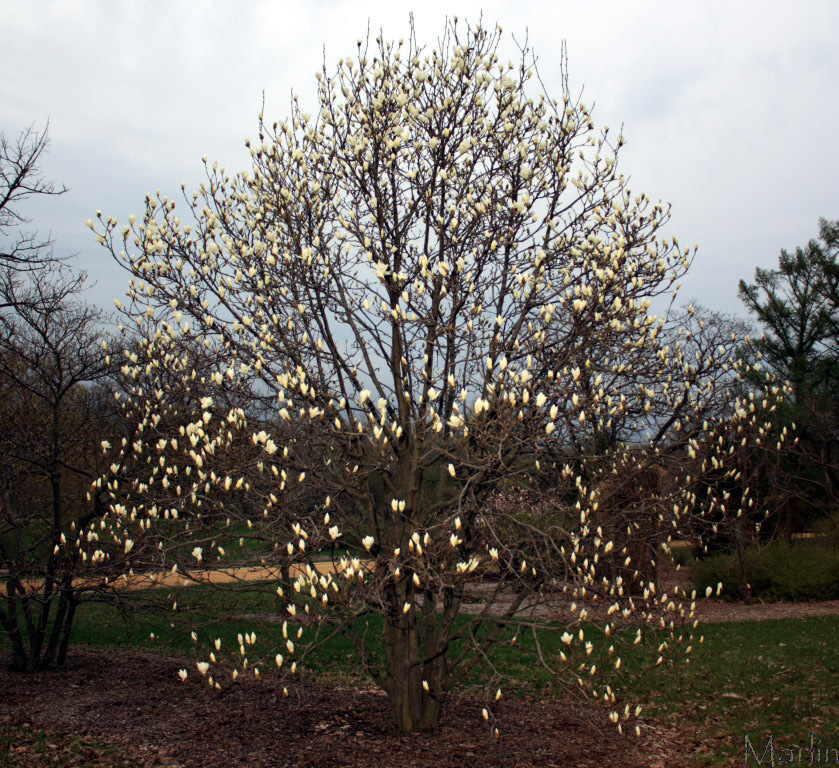 Magnolia Index | Tree Encyclopedia | Trees Index | Juglandaceae | Pinaceae
Most magnolias are natural understory plants and grow well in shade. They will, however, thrive and often flower better when placed in sunny areas. While some magnolias tolerate moist conditions, most prefer a well-drained soil rich in organic matter. The plants will grow best in soil with a pH range of 5.5 to 6.5. Since magnolia wood is somewhat brittle, they should be placed in an area protected from strong winds. Heavy wet snows can easily break branches, especially on evergreen magnolias [1].
Several species in the Magnolioideae are grown for their dried flower buds, known as xinyi, which are used medicinally. In addition, HOUPOEA officinalis (Magnolia officinalis) is extensively grown for its medicinal bark. All species in the family are ornamental, and many are grown in public and private gardens throughout much of China and in other parts of the world [7].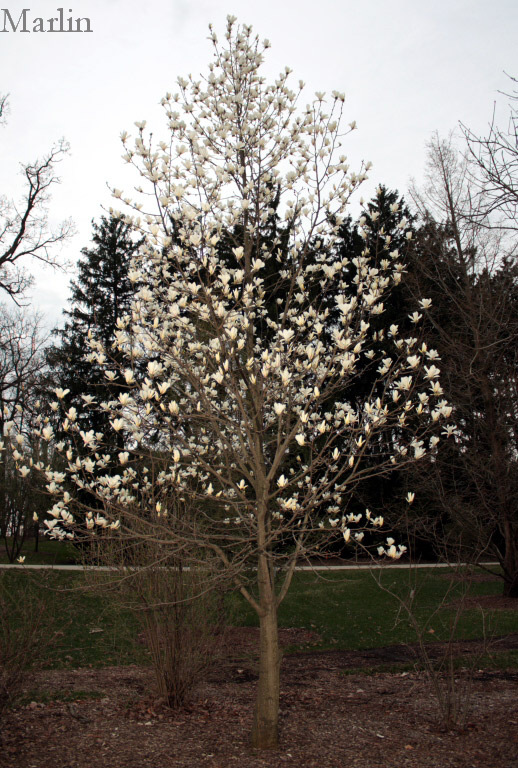 Yulan Magnolia, grown from seed, is 15 years old
Yulan magnolia is a native to the mountains and valleys of China at altitudes of 300-1500 m. It is a rounded, upright tree which will reach over 40 feet at maturity. The leaves are dark green and smooth above and pale green with fine hairs beneath, creating a silvery appearance. When the leaves fall, rough gray-brown bark is revealed.
The fragrant flowers, which appear in late-March, earlier than most other magnolias, begin as a vase-like form and open up to 5 to 6 inches across. The tepals, each up to four inches long, are creamy white to ivory in color. Because of their early appearance, the flowers are susceptible to damage from late frosts in all areas where they grow. This magnolia is one of the parents for some of the yellow magnolias.
References
Scott Arboretum of Swarthmore College, 'Magnolia Collection'
National Audubon Society, Field Guide to North American Trees
Yulan Magnolia, Morton Arboretum acc. 274-95*3 photos by Bruce Marlin
Magnoliaceae – Magnolia Family


The earliest flowering plants date back about 130 million years. According to Cronquist

Evolution and Classification of Flowering Plants

, the most primitive of all living angiosperms belong to the subclass

Magnoliidae

. This subclass contains several primitive plant families, including the water-lilies (Nymphaeaceae), and buttercups (Ranunculaceae).

Tree Encyclopedia | Tree Index | Magnolia Main