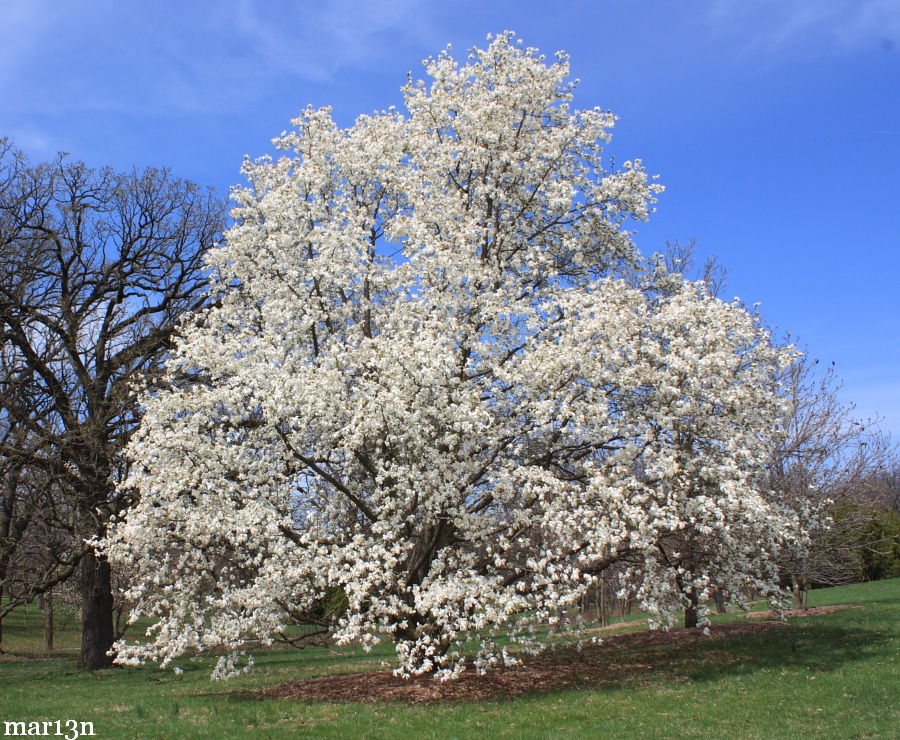 Also see Magnolia kobus var. borealis
Wada's Memory Magnolia is columnar in habit while young, growing to 30 feet and spreading as wide in maturity. A dense crown and coarse texture make this plant an outstanding specimen or street tree. 6 inch, fragrant white flowers appear before foliage in spring, giving way to pink fruits containing bright red seeds. [2]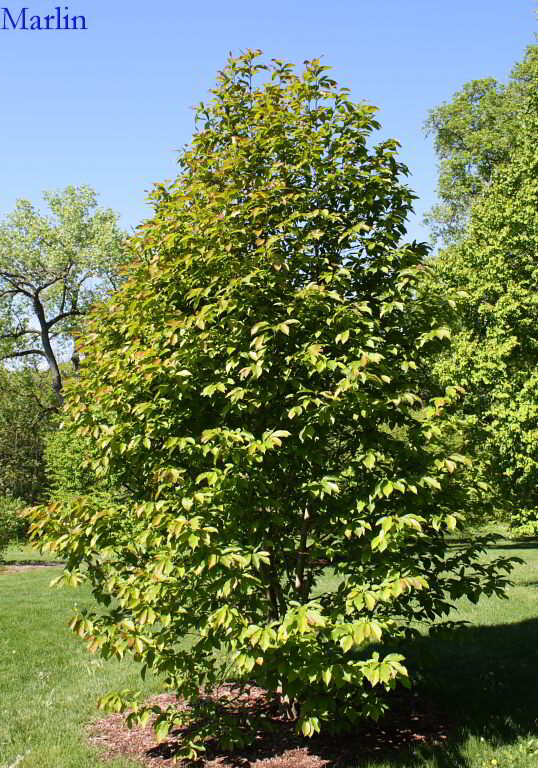 Wada's Memory Magnolia, from a planting, is 10 years old [1]
Leaf blade length: 4 to 8 inches. Flower color: white. Flower characteristics: pleasant fragrance; spring flowering; very showy. Fruit shape: elongated; irregular. Fruit length: 1 to 3 inches. Fruit covering: dry or hard. Fruit color: pink; red. Fruit attracts birds; no significant litter problem; showy. Bark is thin and easily damaged from mechanical impact, Branches droop as the tree grows, and will require pruning for vehicular or pedestrian clearance beneath the canopy. Can be grown with, or trainable to be grown with, multiple trunks.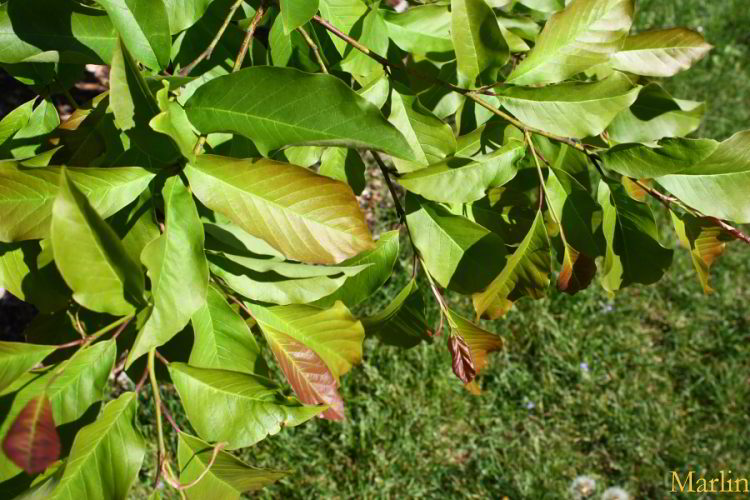 Drought tolerance: moderate / Aerosol salt tolerance: low / Soil salt tolerance: poor
Roots: surface roots are usually not a problem. Kobus Magnolia has winter interest due to its unusual form and persistent fruits. The lightly-fragrant blooms which appear in spring before the new leaves unfold are ivory-colored to pale pink and four inches in diameter. Young trees flower poorly. The pink fruits which develop split open to reveal bright red seeds, which sway from slender threads before dropping to the ground.
Kobus Magnolia should be grown in full sun or partial shade on any well-drained soil. Probably not for poorly-drained areas but supposedly tolerant of soil with an alkaline pH. The cultivar 'Wada's Memory' has black-green leaves, large, six-inch blooms and an upright or columnar growth habit (at least in youth). It will be available at selected nurseries. Propagation is easily done by cuttings. No pests or diseases are of major concern but occasionally bothered by scale as are other Magnolias [1].
References:
1. Wada's Memory Magnolia, Morton Arboretum acc. 327-2001-1, photographed by Bruce Marlin
2. Edward F. Gilman and Dennis G. Watson, University of Florida, "M. kobus 'Wada's Memory'"
Magnoliaceae – Magnolia Family


The earliest flowering plants date back about 130 million years. According to Cronquist

Evolution and Classification of Flowering Plants

, the most primitive of all living angiosperms belong to the subclass

Magnoliidae

. This subclass contains several primitive plant families, including the water-lilies (Nymphaeaceae), and buttercups (Ranunculaceae).

Tree Encyclopedia | Tree Index | Magnolia Main