Proctor's Magnolia – Magnolia x proctoriana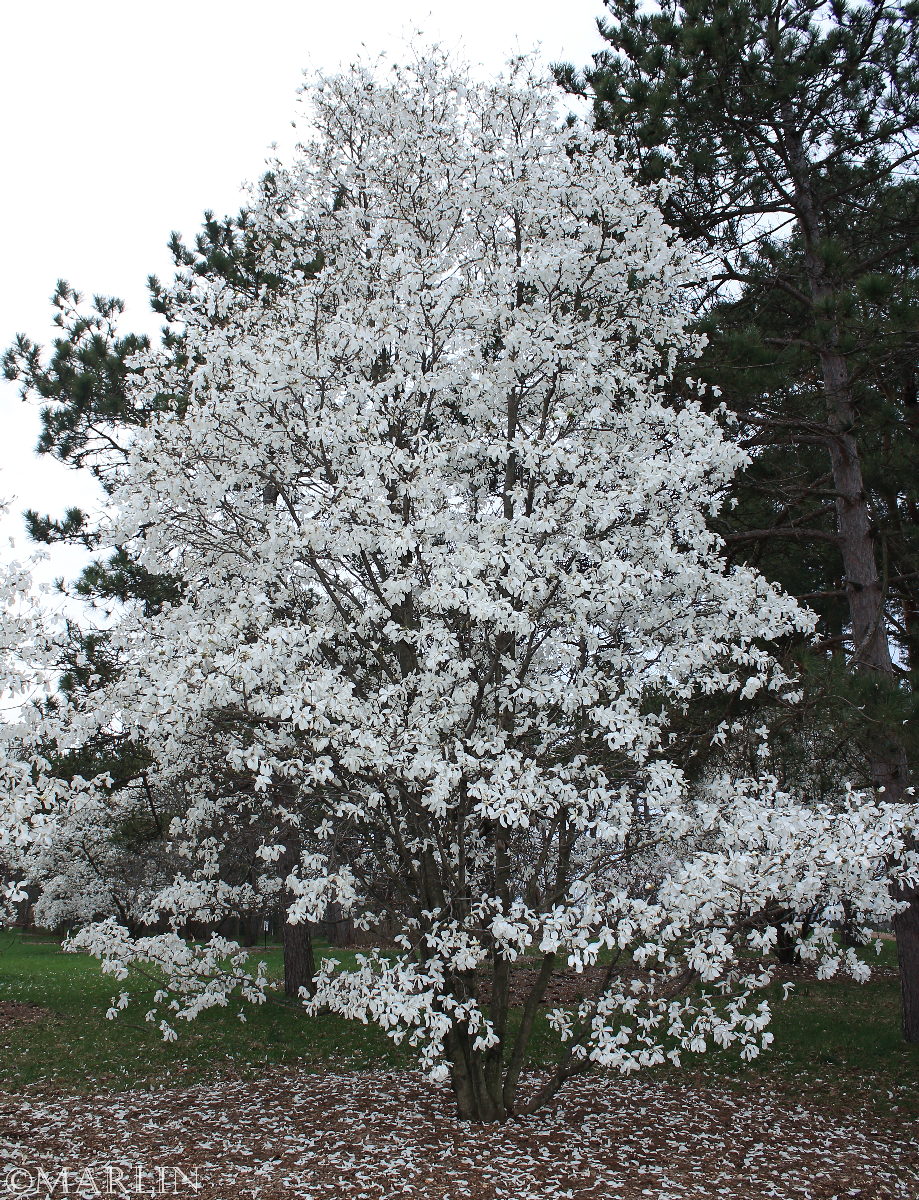 USDA hardiness zones: 5 through 8A
This ancient genus evolved before bees appeared.
Proctor's magnolia is a striking tree in summer or winter. Dropping its large, six-inch leaves in fall without any spectacular display of color, this Magnolia forms an attractive winter specimen with its rounded silhouette and multiple trunks originating close to the ground. Grows 30 to 40 feet tall but is most often 25 feet or less in an open, sunny landscape site and is capable of reaching 75 feet in height in its native forest habitat. In an open site, spread is often greater than height with 25-foot-tall trees 35 feet wide if given the room to grow unobstructed. Branches gracefully touch the ground on older specimens as the tree spreads, in a manner not unlike open-grown Live Oaks [1].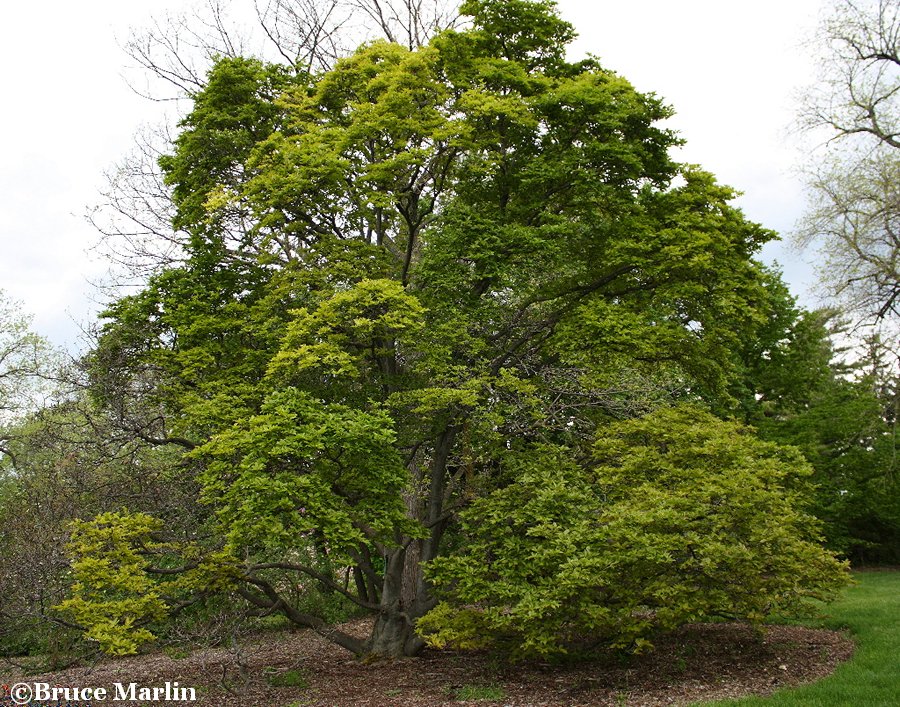 Proctor's magnolia is 64 years old [3]
Leaf blade length: 4 to 8 inches. Flower color: pink; white. Flower characteristics: pleasant fragrance; spring flowering; very showy. Fruit shape: elongated; irregular. Fruit length: 1 to 3 inches. Fruit covering: dry or hard. Fruit color: pink; red. Fruit attracts birds; no significant litter problem; showy. Bark is thin and easily damaged from mechanical impact, Branches droop as the tree grows, and will require pruning for vehicular or pedestrian clearance beneath the canopy. Can be grown with, or trainable to be grown with, multiple trunks.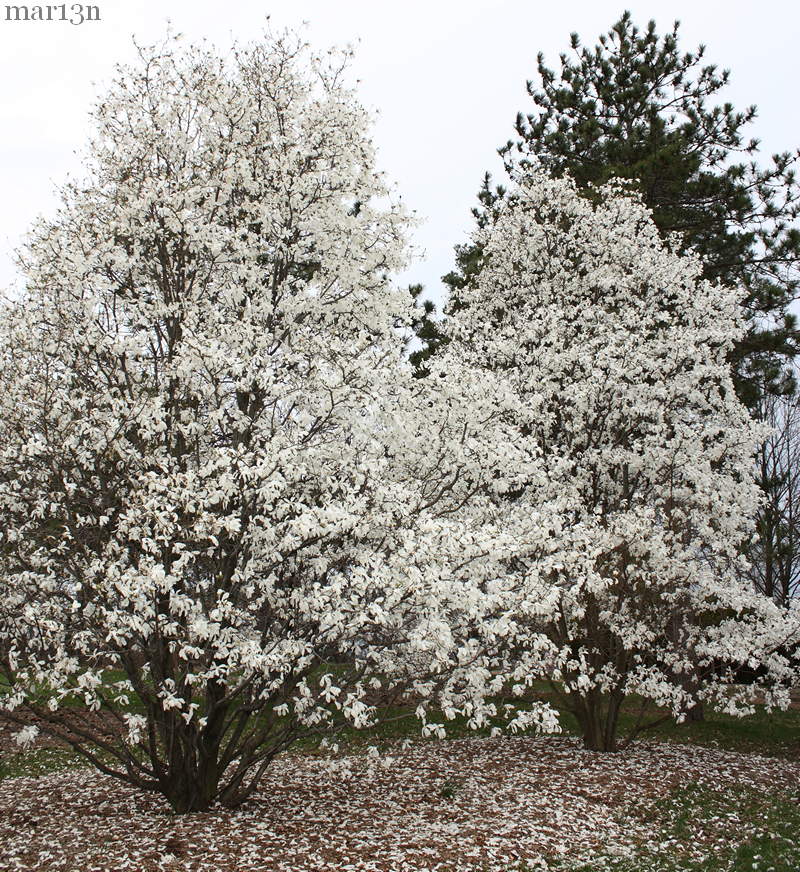 Drought tolerance: moderate / Aerosol salt tolerance: low / Soil salt tolerance: poor
Roots: surface roots are usually not a problem. Kobus Magnolia has winter interest due to its unusual form and persistent fruits. The lightly-fragrant blooms which appear in spring before the new leaves unfold are ivory-colored to pale pink and four inches in diameter. Young trees flower poorly. The pink fruits which develop split open to reveal bright red seeds, which sway from slender threads before dropping to the ground.
References:
1. USDA NRCS Fact Sheet ST-379
2. USDA, ARS, National Genetic Resources Program. Germplasm Resources Information Network – (GRIN)
3. Proctor's magnolia, Morton Arboretum acc. 181-45-1 photos © Bruce Marlin
Magnolia Main
Trees Index | Pine Family | Beech, Oak | Nut Trees | Birch Family | Magnolias
Tree Encyclopedia / North American Insects & Spiders is dedicated to providing family-friendly educational
resources for our friends around the world through large images and macro photographs of flora and fauna.
Online since 2002