Lenne Saucer Magnolia – Magnolia x soulangiana 'Lennei'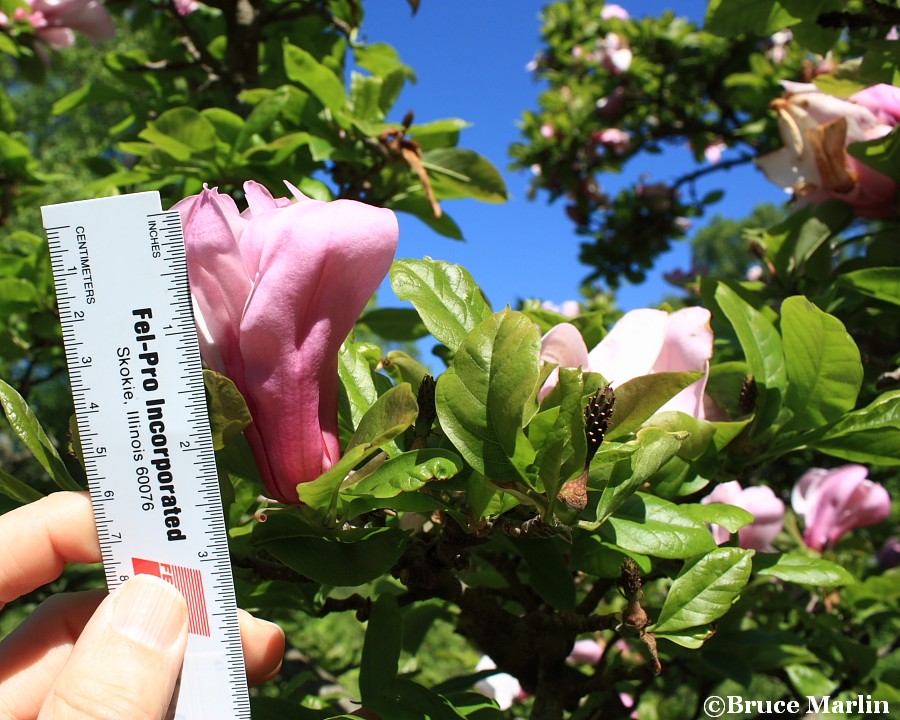 Spectacular flowers are Lenne's secret. USDA hardiness zones: 5A through 9A
Lenne saucer magnolia is an outstanding flowering tree for specimen plantings, growing to 20 feet tall and 15 wide, with a broad, pyramidal form [1]. Lenne saucer has a particularly outstanding floral display, with "goblet-shaped, deep magenta-purple flowers with white interior [1]. I photographed these flowers on May 5th, near Chicago.
Most magnolias are naturally understory plants and grow well in the shade. They will, however, thrive and often flower better, when placed in sunny areas. While some magnolias tolerate moist conditions, most prefer a well-drained soil rich in organic matter. The plants will grow best in soil with a pH range of 5.5 to 6.5. Since magnolias are somewhat brittle, they should be placed them in an area protected from strong winds. Also keep in mind protection from snow. Heavy, wet snows, which can easily break branches, especially on evergreen magnolias, should be removed from the tree if possible.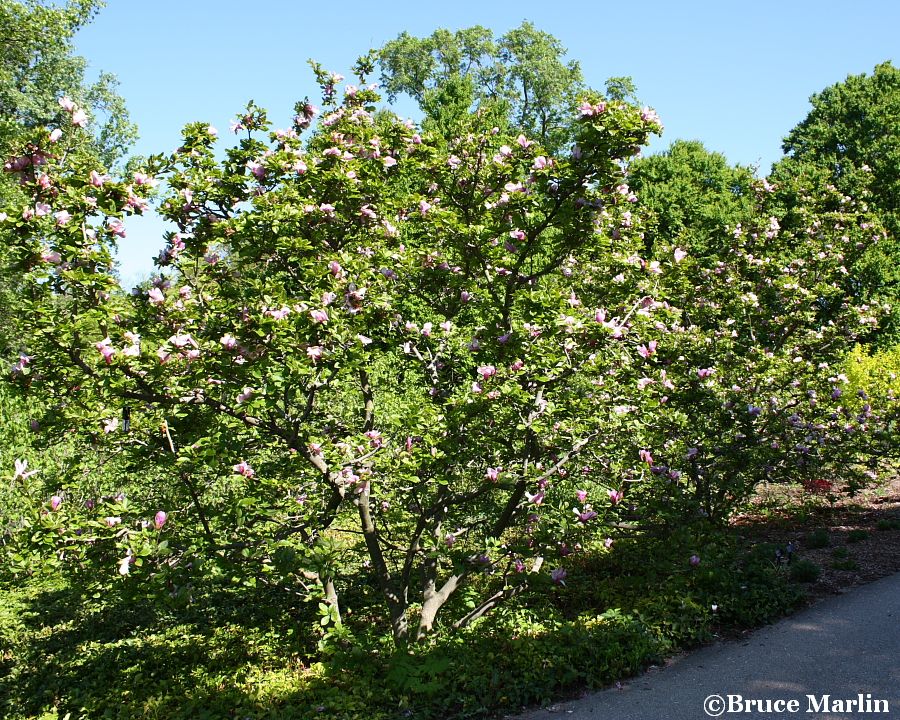 Lenne Saucer Magnolia – Magnolia x soulangiana 'Lennei' Morton Arboretum acc. 410-83*4
Saucer Magnolia grows best in rich, moist but well-drained soil. Will tolerate some shade, but growth may be sparse and the flowers less profuse. Saucer Magnolia dislikes dry or alkaline soil but will otherwise does well in an urban environment (although salt aerosols are to be avoided). Transplant in the spring, just before growth begins, or buy balled and burlapped or containerized plants. Older plants do not like to be pruned and large wounds may not close well [6].

The earliest flowering plants date back about 130 million years. According to Cronquist Evolution and Classification of Flowering Plants, the most primitive of all living angiosperms belong to the subclass Magnoliidae. This subclass contains several primitive plant families, including the water-lilies (Nymphaeaceae), and buttercups  (Ranunculaceae).
Magnoliaceae – Magnolia Family
Trees Index | Pine Family | Beech, Oak | Nut Trees | Birch Family | Magnolias
Tree Encyclopedia / North American Insects & Spiders is dedicated to providing family-friendly educational
resources for our friends around the world through large images and macro photographs of flora and fauna.
Online since 2002