Little-Leaf Linden – Tilia cordata
"What's eating my linden?" Some linden varieties are susceptible to near-fatal Japanese beetle infestation in northern Illinois.
Little-leaf linden can grow to 70 feet, but normally tops out in the 40-50 foot range. Its oval to pyramidal smoothly symmetrical form gives this lovely tree an appeal in formalized architectural plantings, as a specimen tree, and as a hardy, pollution-tolerant shade or street tree. The flowers are highly fragrant and attractive to bees.  Grows well on deep, fertile, well-drained loam and clay soils with a soil pH – 5.5 to 7.5.
Along with numerous other plants, both little and big-leaf lindens are struggling to survive increasingly widespread and severe Japanese beetle (Popillia japonica) infestations across the American Midwest. The beetles can skeletonize and defoliate an entire tree in just a few weeks. This poor linden at Oregon, Illinois, has ~75% of its foliage eaten during our horrendous drought of *2012.  The beetles had also attacked big-leaf Linden (Tilia platyphyllos) nearby, although the loss of foliage on that species was much less severe. In this small town along the Rock River just 33 miles south of the Wisconsin border, there are numerous linden specimens suffering.
*Update 2022 – The Japanese beetle infestations have eased over the last 2 years. I don't know why, but there are very few of these bugs around anymore. Lindens and other plants are not suffering nearly as much as when the beetles first appeared. Yay!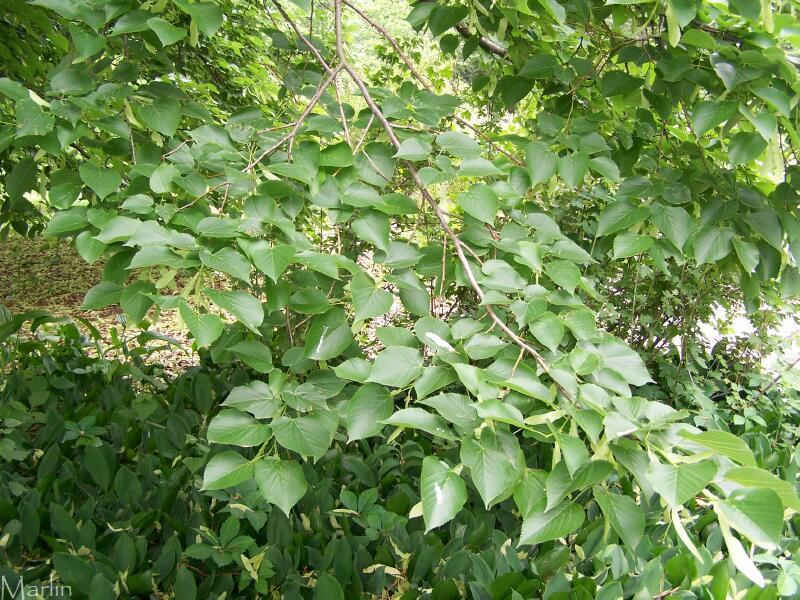 Not only lindens, mind you; two bare-root sugar maples I planted in my yard in the fall of 2011 were about 50% skeletonized – then had all their lower branches trimmed ignominiously by my resident crazy squirrels. Why do squirrels do that, anyone? They killed a weeping willow I planted in same wise – I saw this crazy squirrel capering like a cat with catnip, or a March hare, wildly biting those twigs and literally turning cartwheels simultaneously. What the hell is that all about?
Family Tiliaceae – Basswoods, Lindens
50 genera and 400 species; widespread in tropical and subtropical regions, with relatively few species in temperate regions. Especially abundant in Southeast Asia and Brazil.   The leaves of all the Tilias are heart-shaped and most are asymmetrical, and the tiny fruit, looking like peas, always hang attached to a ribbon-like, greenish bract.  Tree Encyclopedia | Tree Index | Tiliaceae Index