Japanese White Pine – Pinus parviflora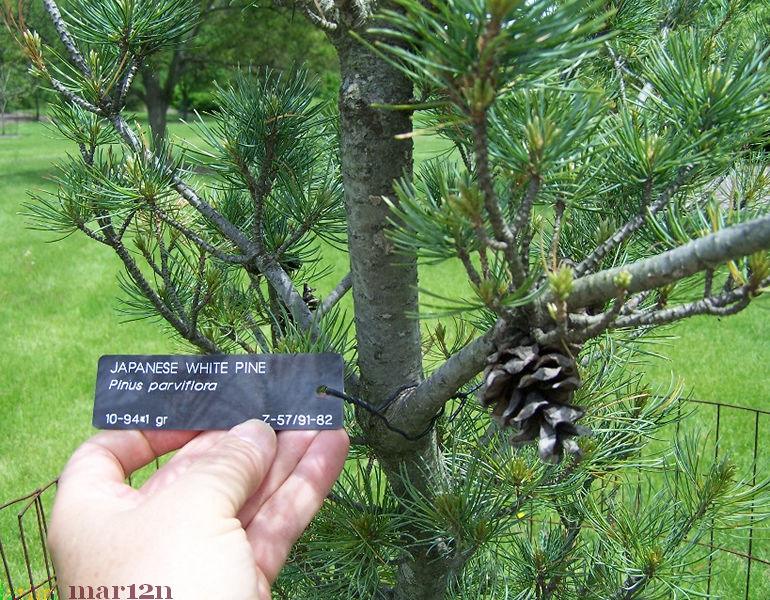 Family Pinaceae: Pine, Cedar, Spruce, Fir
Commonly called 'five-needle pine', This lovely tree has an outstanding irregular silhouette, making it a great specimen for nearly any landscape. It is also a popular subject for bonsai. Grows to 50 feet, with a spreading, irregular form, dense crown and slow growth rate.
Japanese White Pine creates a striking landscape element wherever it is used. Often seen as a dense, conical form when young, Japanese White Pine develops into a 25 to 50-foot-tall, graceful, irregularly shaped tree, with an equal or greater spread, and a broad, flattened canopy. The 1 to 2.5-inch-long needles are stiff and twisted, forming blue/green tufts of foliage at branch tips, and creating an overall fine texture to the tree's silhouette.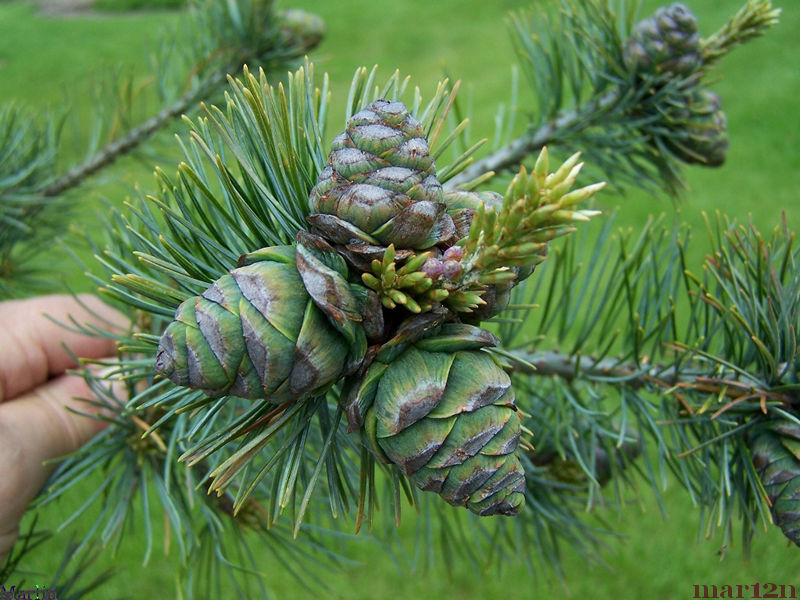 When looking for a small, picturesque specimen pine for a landscape, search no more. One of the best specimens in any landscape, Japanese white pine is a pleasure to behold with attractive foliage in all seasons. Set it off in the landscape with a low ground cover beneath or locate it in the lawn, but keep the grass cleared away from the thin-barked trunk. Japanese White Pine should be grown in full sun on well-drained soil with adequate moisture. The trees are salt-tolerant, and tolerate moderate drought and moist, clay soil.
Cultivars include: 'Brevifolia', upright, narrow tree, sparsely branched, blue/green foliage in tight bundles; and 'Glauca', available in nurseries, greenish foliage with a touch of silver, wide-spreading tree, 45 feet high or more. [1]
Japanese white pine ranges in Korea (Ullung Island) and Japan. Type variety in central W Honshu (southward from Fukushima Prefecture, mainly on Pacific Ocean side), Shikoku and Kyushu, growing at 200-1800 m elevation. Var. pentaphylla in S Hokkaido and N to central Honshu (in C Honshu mainly on Japan Sea side), growing on sunny rocky slopes at from 60-800 m elevation in Hokkaido, and 300-2500 m in Honshu (Iwatsuki et al. 1995). Along with another white pine, P. koraiensis, it is the characteristic pine is subalpine areas of Japan; these two pines probably covered much of the Honshu coastal area during the Pleistocene. [3]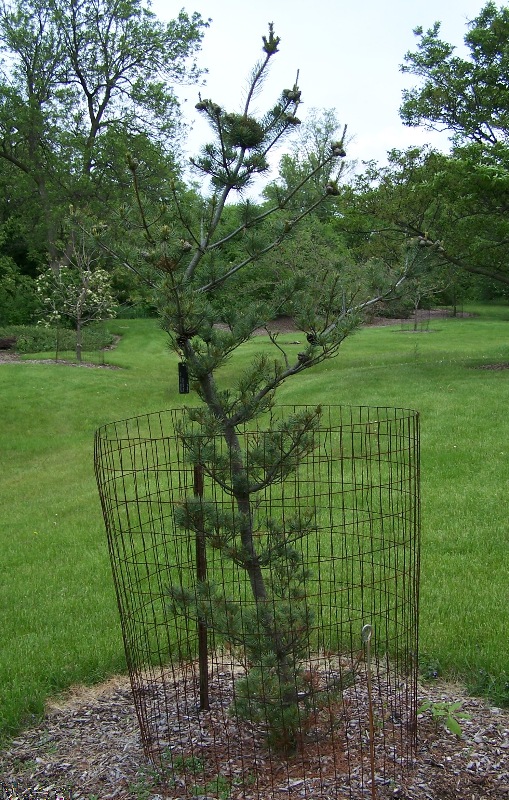 I hope to revisit this tree in the future and see how it is faring. (It's been 10 years now and I haven't been back to this spot!)
References:
1. Edward F. Gilman and Dennis G. Watson, USDA Forest Service Fact Sheet ST-470, Japanese White Pine
2. USDA, ARS, National Genetic Resources Program. Germplasm Resources Information Network – (GRIN)
3. Gymnosperm Database, www.conifers.org, Pinus parviflora Siebold et Zuccarini 1842
Family Pinaceae: Pine, Cedar, Spruce, Fir
Trees Index | Pine Family | Beech, Oak | Nut Trees | Birch Family | Magnolias
Tree Encyclopedia / North American Insects & Spiders is dedicated to providing family-friendly educational
resources for our friends around the world through large images and macro photographs of flora and fauna.
Online since 2002