Japanese Red Pine – Pinus densiflora 'Umbraculifera'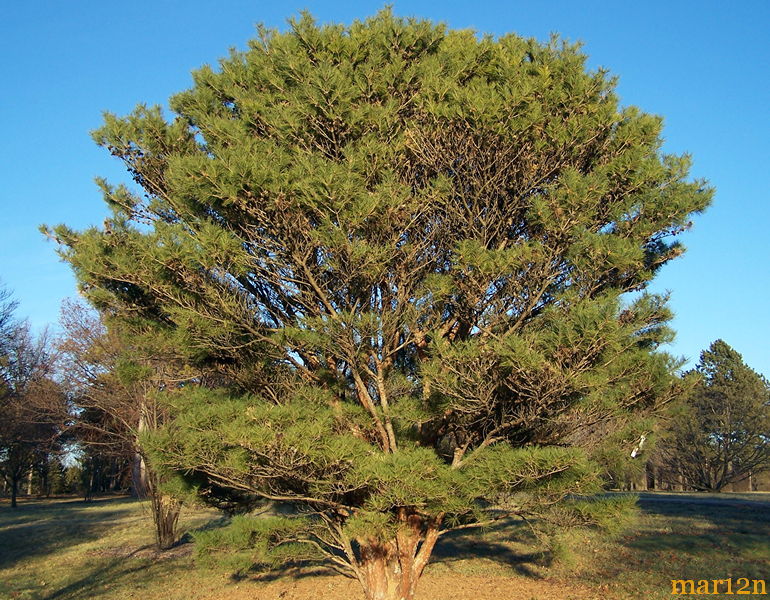 This cultivar of Japanese Red Pine reaches a height of 20 to 30 feet, but grows very slowly and is often seen much smaller. Needles are arranged in pairs and remain on the tree for about three years. A distinguishing feature of this tree is the upright, spreading branching habit which is uncommon in the Pine genus. The bark is unusually striking showing reddish-orange as it exfoliates. The form is compact and the tree stays small making it ideally suited for the residential yard. It can be used as a screen planted in mass or in a row, or alone as a specimen. Needles may turn yellowish during winter on some soils.
The tree prefers a site with full sun and a well-drained, slightly acid soil. Heavy clay soil is not suitable. This cultivar must be grafted for propagation. There are a few other cultivars: 'Alboterminata' – yellowish needle tips; 'Aurea' – yellow needles; 'Oculis-draconis' – Dragon's Eye Pine – two yellow lines on needles.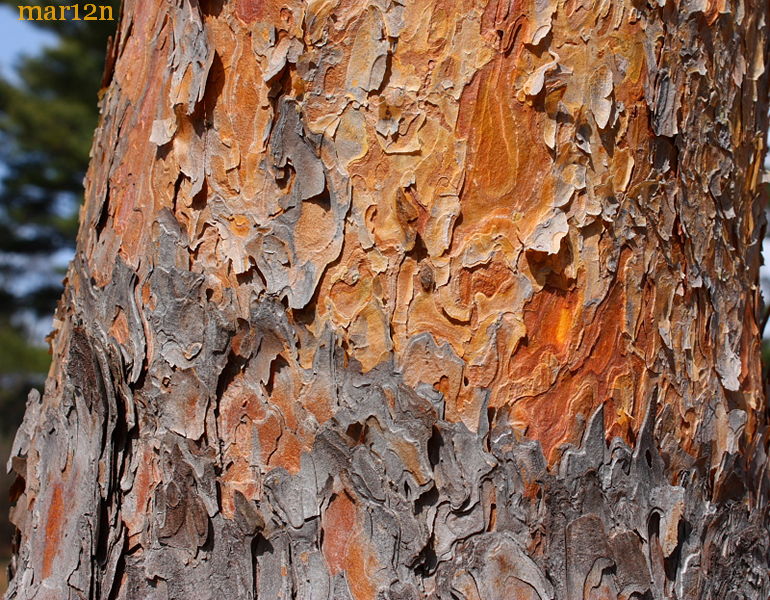 References:
1. Edward F. Gilman and Dennis G. Watson, USDA Forest Service Fact Sheet ST-461  Japanese Red Pine
2. USDA, ARS, National Genetic Resources Program. Germplasm Resources Information Network – (GRIN)
Family Pinaceae: Pine, Cedar, Spruce, Fir
Trees Index | Pine Family | Beech, Oak | Nut Trees | Birch Family | Magnolias
Tree Encyclopedia / North American Insects & Spiders is dedicated to providing family-friendly educational
resources for our friends around the world through large images and macro photographs of flora and fauna.
Online since 2002