Green Mountain Sugar Maple
Acer saccharum 'Green Mountain'
Height: 50' / USDA hardiness zones: 3 through 8A / Grows 1 foot per year in ideal conditions.

Custom Search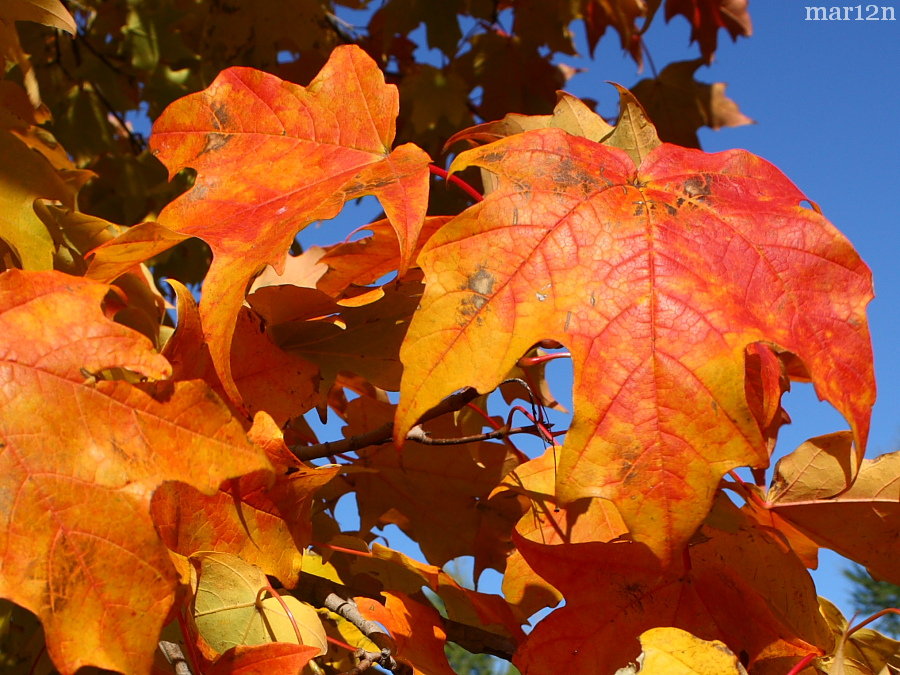 A A mature sugar maple can produce up to 9,000 pounds of seeds every year.
Sugar maple, sometimes called hard maple or rock maple, is one of the largest and more important of our hardwoods. It grows on approximately 31 million acres, or 9 percent of the hardwood forests in Midwest and northeast North America. The greatest commercial saw timber volumes are presently in Michigan, New York, Maine, Wisconsin, and Pennsylvania. In most regions, both the saw timber and growing stock volumes are increasing, with increased production of saw logs, pulpwood, and more recently, firewood.

The fruit of the sugar maple, called a samara, is a double-winged, papery seed-bearing fruit, commonly called a "helicopter" or "whirlybird." The aerodynamic properties allow the seeds to be dispersed more than 100 meters (330 feet) from the parent tree.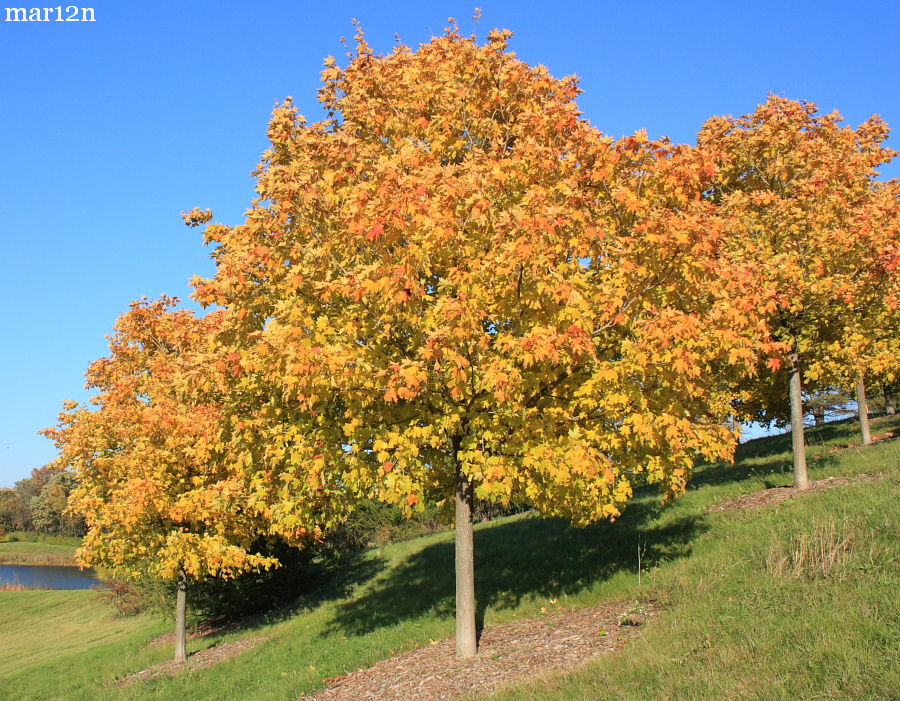 There are seven 16-year-old Green Mountain sugar maples on the hill overlooking Crabapple Lake at the Morton Arboretum
The dense, highly branched crown creates dense shade and will prevent good lawn growth. Branches are usually well-attached to trunks resulting in a low branch failure rate. The main ornamental feature of the tree is the brilliant red, yellow, or orange fall color that develops in the cooler part of its range. The yellows are more prominent in the south. The tree transplants fairly easily but may develop girdling roots which can reduce growth, or in extreme cases kill the tree.
Growing in full sun or shade, Sugar Maple will tolerate a wide variety of soil types (except compacted soil) but is not salt-tolerant. Established trees look better when given some irrigation during dry weather, particularly in the south. In the south, many leaves remain in the central portion of the canopy for much of the winter, giving the tree a somewhat unkempt appearance.
Sensitivity to compaction, heat, drought and road salt limit usage of Sugar Maple for urban street plantings, but it is still recommended for parks and other areas away from roads where soil is loose and well-drained. Black Maple, a similar species, is more tolerant of heat and drought.
| | |
| --- | --- |
| | |
Nurseries may offer one or several other cultivars of Sugar Maple: 'Bonfire' – brilliant orange-red fall color; 'Endowment Columnar' – 50 feet tall, columnar form, red and yellow fall color; 'Globosum' – a slow grower with a dense round crown and a mature height of about 10 feet; 'Goldspire' – dense, compact, pyramidal form, gold fall color; 'Majesty' – ovate form, resistant to frost crack and sun scald. 'Newton Sentry' – upright growth habit; 'Sweet Shadow' – cut leaves; 'Temple's Upright' – an upright growth habit. [1]
.
Sugar maple grows only in regions with relatively with cool, moist climates. They grow best with ranges in temperature from -40° F. in the north to 100° F. in the southwestern areas. Occasional extremes may be more than 20° F. lower or higher than these. It is expected the current man-made rise in global temperature will be deleterious to the species. Rainfall requirements are between about 20 inches and 100 inches. It is not known how global climate change will affect rainfall, although the vast majority of scientific data suggest there will be an increase in short and long-term droughts in areas previously unafflicted thus. 2012 was one such drought and it appears as if it will continue into 2013. I will revisit these trees in 2013 for an update.
References
1. Edward F. Gilman and Dennis G. Watson, USDA Forest Service, Acer saccharum Green Mountain
2. Morton Arboretum accessions 73-94*1 thru 7, photographed October 19, 2009 by Bruce Marlin