Dahurian Birch – Betula davurica
Native to northern China, Korea, and Japan, Dahurian Birch is hardy to zone 5. Grows to 60′ tall, deciduous, forms a rounded canopy with spreading branches and single or multiple trunks. Casts light shade. Dark green leaves 2″ to 4″ long, Very showy and interesting bark. A good lawn tree that is easy to grow.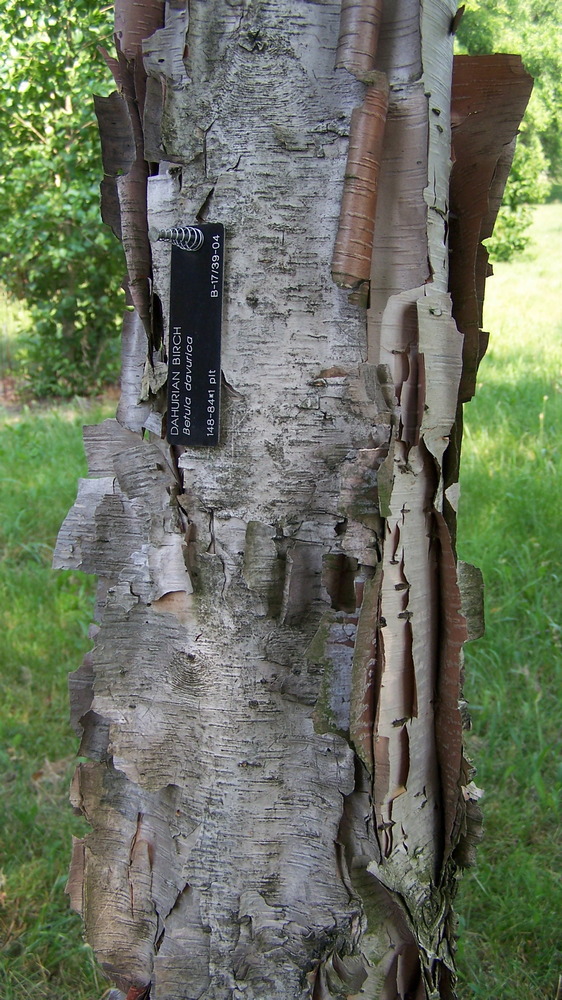 Dahurian Birch is resistant to Birch leafminer (Fenusa pusilla), a small sawfly whose larvae feed on tissue between the upper an lower leaf surfaces. Birches attacked by this insect may show no symptoms of decline for years after being attacked, but repeated leaf loss year after year can be fatal. [2]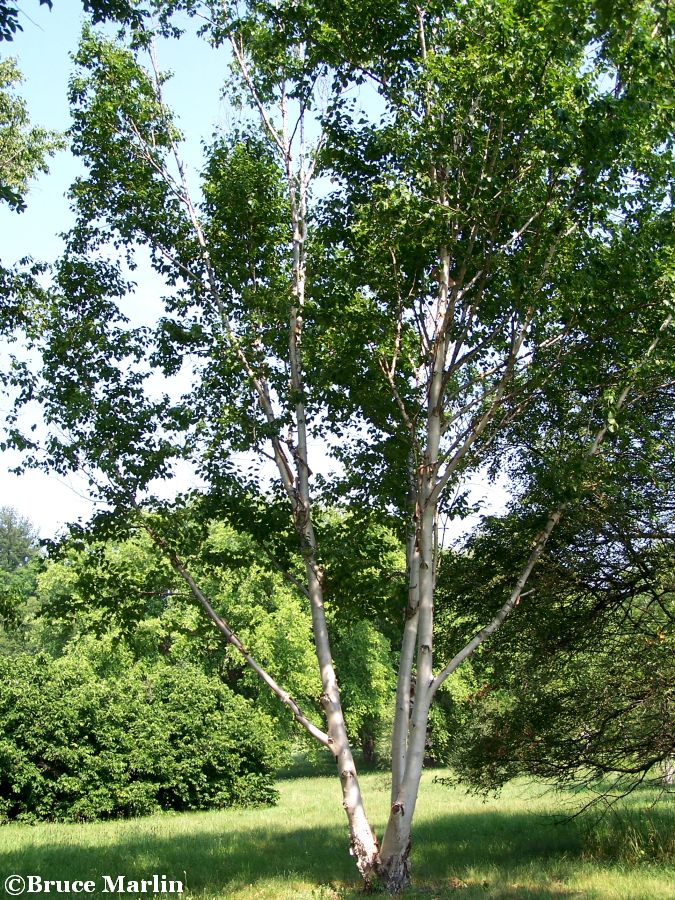 The graceful elegance of the birch allows it to be used as a specimen or for naturalizing, and is best used in large areas. It transplants easily and is most effective when planted in groupings. A multi-trunk specimen is more handsome than single-trunk trees. It should not be planted in high-use areas such as driveways, walks and patios, as dead branches tend to be messy. Periodic pruning is required to remove these branches; this can be done at any time of year.
References
Dahurian Birch, Morton Arboretum accessions 148-84*1, 3 and 369-94*6 photos by Bruce Marlin
Penn State Woody Ornamental Integrated Pest Management, "Birch Leafminer Fact Sheet"
Family Betulaceae – Alder, Birch, Hornbeam
The birches have long been popular ornamental trees in North America, chiefly in the northern United States and Canada. Our specimens include river birch, Dahurian birch, paper birch, Arctic birch, Manchurian birch, Manchurian alder, downy birch, Japanese white birch, and 10 other species.
Tree Encyclopedia | Trees Index | Elms & Zelkovas | Birch Index