Commendation Elm – U. 'Morton Stalwart'
Introduced by Chicagoland Grows, Commendation elm is a tough, fast-growing tree.
Once a very popular and long-lived (300+ years) shade and street tree, American Elm suffered a dramatic decline in the 1950s with the infestation of Dutch elm disease, a fungus spread by a bark beetle. Accolade, Commendation, Triumph, and numerous other elm varieties are the result of efforts to provide elms with more disease and insect resistance.
Cultivar 'Morton Stalwart', trade name Commendation, is a complex hybrid of the Morton Accolade (fig 2.) elm and
Ulmus pumilla x U. carpinifolia (fig.1) from eastern Russia. Listed as a fast-growing, tough, robust tree, this elm grows to 60 feet and spreads to 50. Extremely drought-resistant, cold tolerant, and resistant to Dutch Elm disease, it is nevertheless moderately susceptible to gypsy moth, Japanese beetle, and elm leaf beetle damage. [1]
Commendation Elm 'Morton Stalwart' is a hybrid of these two trees, themselves both hybrids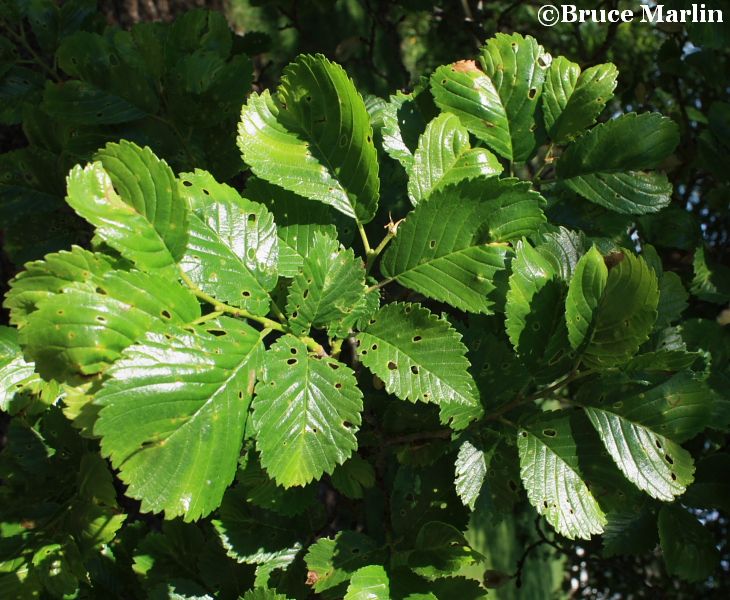 Chicagoland Grows is a corporate partnership among the Chicago Botanic Garden, the Morton Arboretum and the Ornamental Growers Association of Northern Illinois (OGA). Established in 1986, CG works collectively with industry professionals in the OGA and throughout North America to develop, select, evaluate, produce and market new and recommended plant cultivars. These selected plants offer fine ornamental attributes and proven dependability to both landscape professionals and home gardeners.
References
The Morton Arboretum, "Commendation Elm"
Commendation elm, Morton Arboretum acc. 274-97-1, photos © Bruce Marlin
Insects & Spiders Home | Elm Index | Tree Encyclopedia | Trees Index