Castor-Aralia – Kalopanax pictus
Ivy or Ginseng Family: Araliaceae
Also commonly called castor-leaved aralia.
USDA hardiness zones: 5 through 7

Custom Search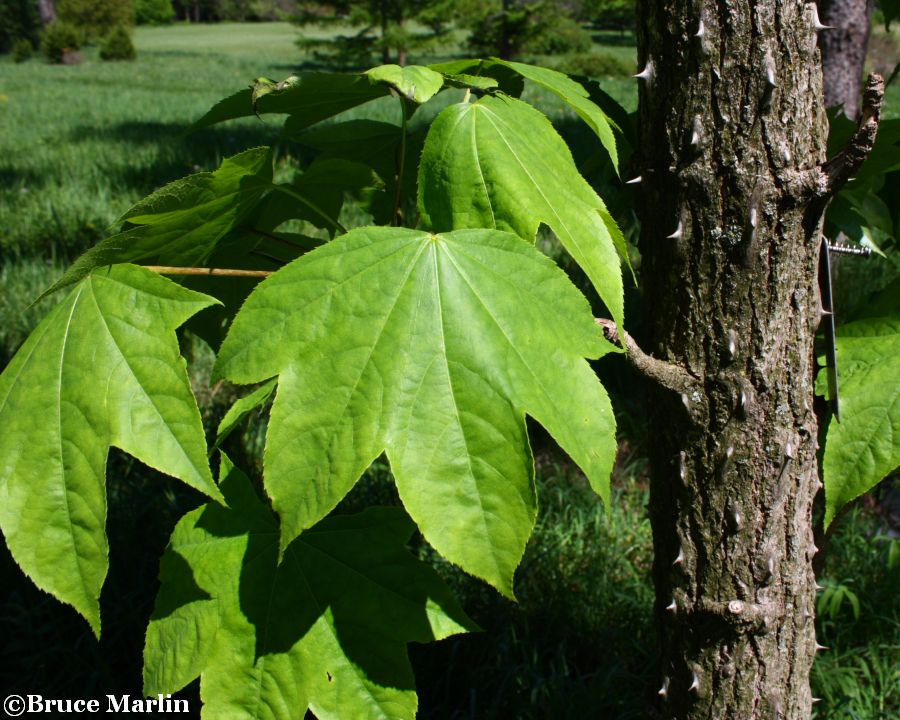 Castor aralia has 5-7 lobed leaves and wicked thorns up to 1 cm long on bark and twigs.
Family Araliaceae – Ivy or Ginseng Family
The Araliaceae comprise about 70 genera and 700 species of flowering shrubs, trees, climbing vines and herbs. The fruit is a berry or (rarely) a drupe (one-seeded fruit).

Castor-aralia is native to China, Korea and Japan. A slow-growing deciduous tree growing to 60 ft. and spreading equally wide under cultivation, young trees have a coarse, open growth habit. Mature trees fill in their branches and foliage into a robust, rounded crown forming dense shade.
One-inch diameter flowers appear in dense, 12 to 24-inch-long terminal panicles and attract quite a few bees. The small black fruit which ripens in early fall is eagerly consumed by birds. Autumn colors are not showy, faint red [3]. (I'll try to visit this tree in the fall.)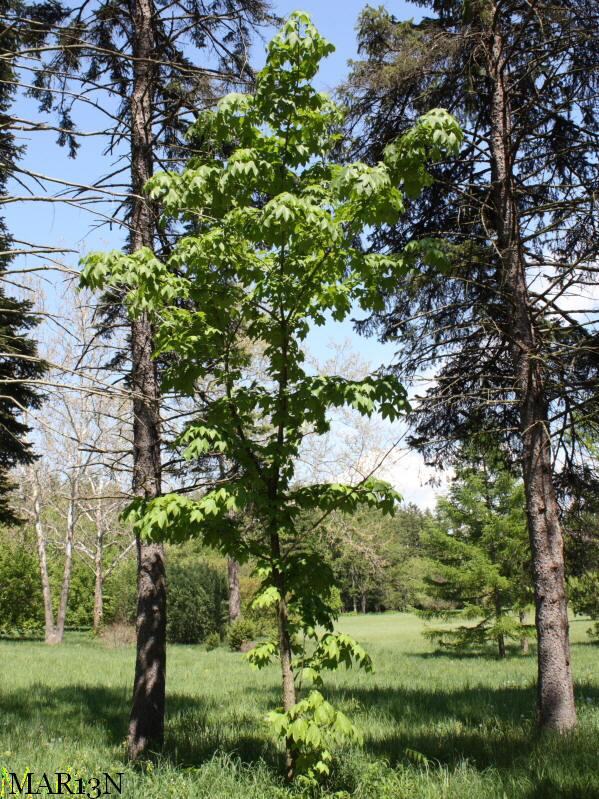 Young (this one is 23 years old) Castor-aralia are known for a gaunt habit.
A long-lived tree, Castor-Aralia should be grown in full sun on well-drained soil but will tolerate alkaline soil. Seeds germinate readily in the landscape. The large size and coarse texture make it best suited for large-scale landscapes, such as golf courses, parks, business complexes and campuses. [3]