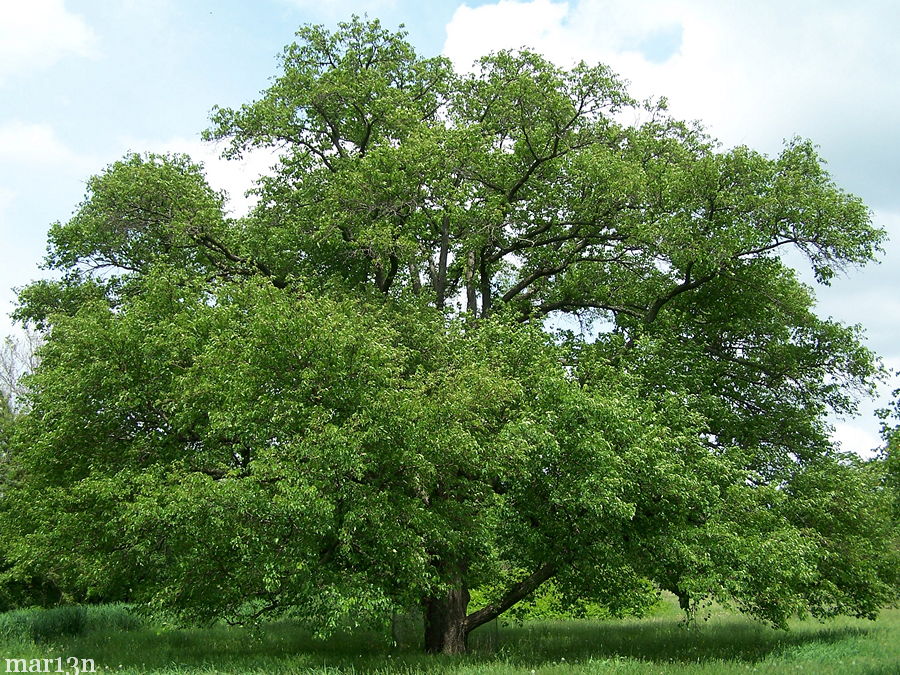 This Ussurian Pear at the Morton Arboretum is one of the original plantings of 1922.
Ussurian pear is native to the Soviet Far East (Russian Federation, Primorye), China, Japan and Korea. [1] Pyrus ussuriensis is the hardiest of the pears. Growth habit is rounded and dense, reaching 40 to 50 feet in height. The foliage is glossy dark green in summer, and reddish-purple or red in the fall. Flowers are 1 1/3 inches in diameter, pinkish buds opening to white flowers, in late spring. The fruit is round, greenish-yellow pome. It is the least susceptible to fireblight.
Used most often as a rootstock for other pears, this winter hardy species is vigorous and disease resistant. Hardy to -30F (-34.4C); height: 25ft. Under good growing conditions, wild pear trees have a remarkably slender form with a characteristic rising crown. In less favorable conditions they show other characteristic growth forms, such as one-sided or extremely low crowns. Trees can reach heights of 22 m with clean trunks up to 10 m, and diameters of 45-80 cm (maximum 130) at an age of 80-150 years (maximum 250).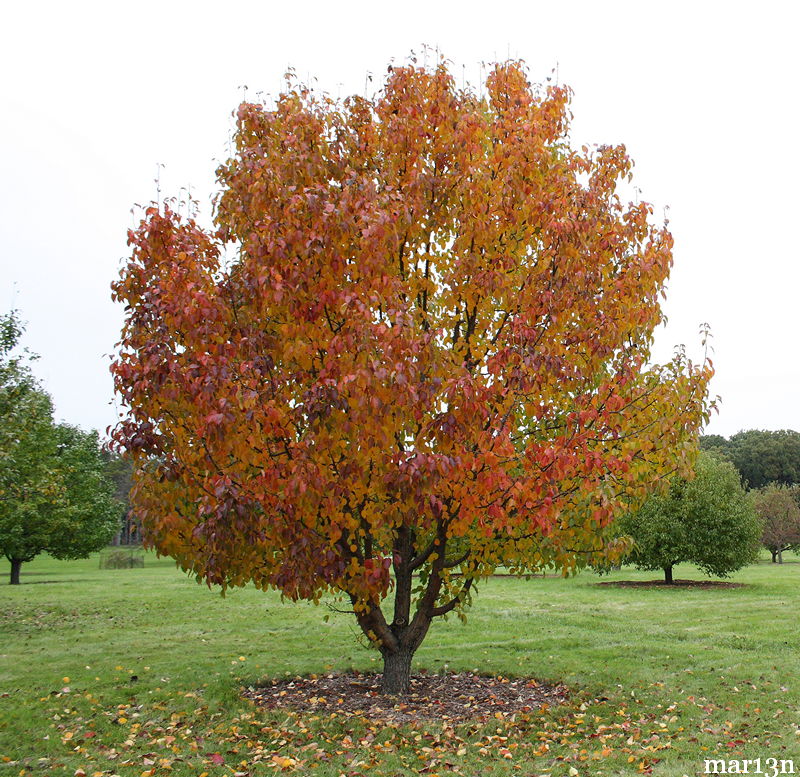 Fall colors

Wild cherry, apple, and pear belong to the plant family Rosaceae. These insect-pollinated species are autochthonous in nearly all European countries, but with a very scattered occurrence. They are generally rare species in mixed hardwood forests. Prunus avium still exists in natural populations of limited size, e.g. in France, Italy and Germany, although most of the trees occur as single individuals or in small groups. Owing to their weak competitive ability, M. sylvestris and P. pyraster exist mostly at the edge of forests, in hedges on farmland or on very extreme sites where the stronger competitors do not survive either. Even there they occur only as single individuals or very few trees in small groups.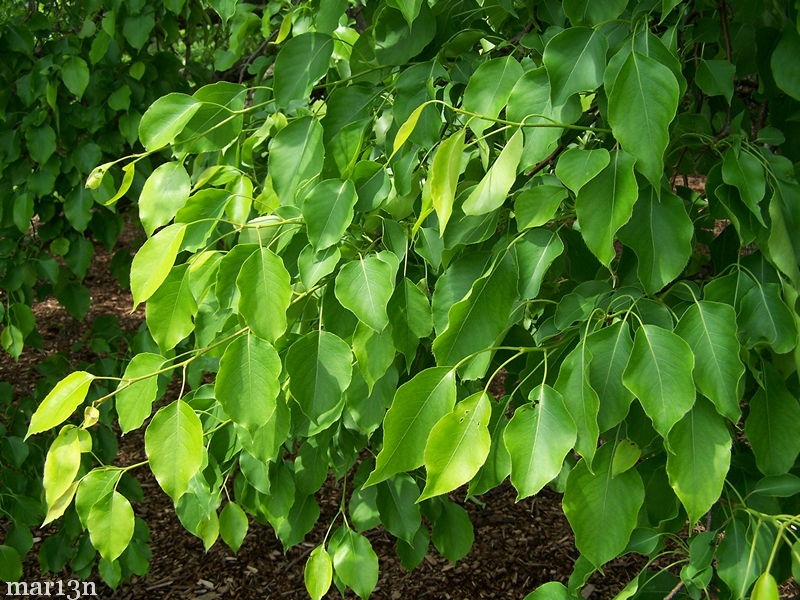 All three wild fruit tree species are native to central, western and southern Europe. Pyrus pyraster does not occur naturally only in the north European countries. Malus sylvestris and P. avium were introduced into new areas where they can be grown. Nevertheless, the knowledge about autochthonous origin is often insufficient. Therefore, it is necessary to prepare a survey of the natural range in Europe and to improve the information about the occurrence of autochthonous stands, groups or individual trees of the pure species not contaminated by domesticated cultivars or originating from those. This should be done in close cooperation between research institutions. The results of such surveys can be shown in maps as, for example, the occurrence of M. sylvestris or of P. pyraster in northern Germany. Each occurrence was registered by its geographical data and additional information was assessed.
In comparison with other tree species, one can also assume that these tree species migrated into southern refugia during the different glacial periods, e.g. into areas south of the Alps. There are also several closely related species, e.g. Pyrus nivalis in southeastern Europe or Pyrus amygdaliformis, which occurs only in southern Europe (e.g. Mtitlea and Slovenia). Malus sylvestris has a great intraspecific variability where several varieties can be differentiated. The intraspecific variability should be maintained by suitable conservation methods. (2)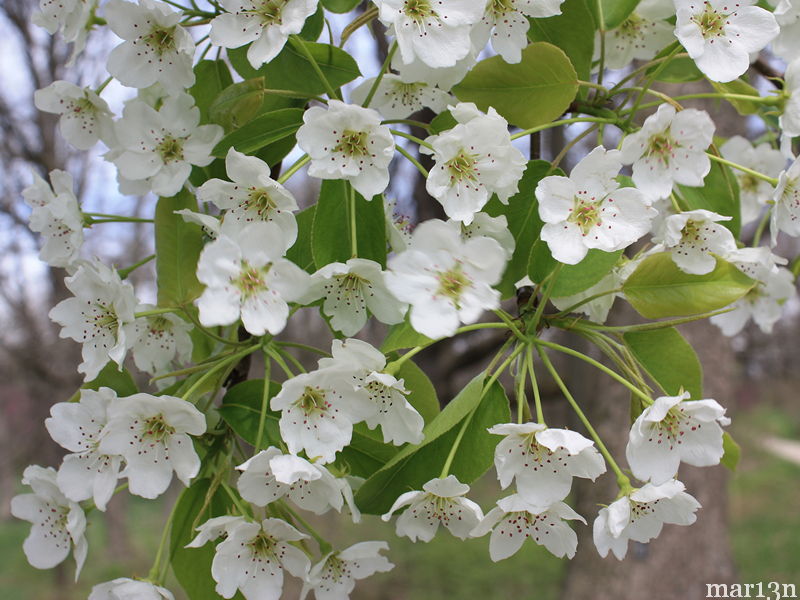 References
1. USDA, ARS, National Genetic Resources Program (GRIN) Pyrus ussuriensis Maxim
2. European Forest Genetic Research Program
3. Ussurian pear, Morton Arboretum Acc. 2490-22-1 & 290-92*1 photos by Bruce Marlin