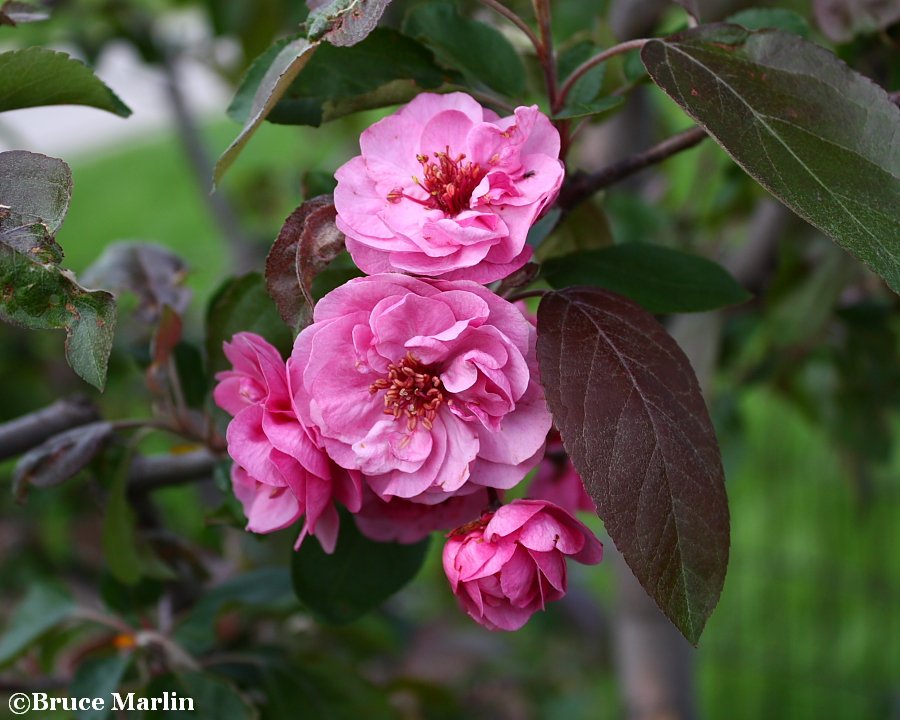 'Scarlet Brandywine' is an open-rounded crabapple tree
that typically matures to 15-20' tall and as wide. It is considered to be an improved version of Malus 'Brandywine'. It is noted for its rounded shape, fragrant dark rose-pink double flowers, pumpkin-orange fruit and excellent disease resistance. Pink buds open in spring to fragrant, deep rose-pink flowers (to 1.5" diameter). Flowers are followed by small, pumpkin-orange crabapples that mature in fall and provide showy winter interest. Birds are attracted to the fruit. Oval green leaves are tinged with maroon. Fall color is often quite attractive. [1]
There are about 55 different species in the genus Malus, and there are innumerable cultivars available in the landscape trade. The Morton Arboretum's Crabapple Collection was started in 1924. Part of this collection on the West Side participated in the National Crabapple Evaluation Program which evaluated new and disease-resistant varieties. As a result of the multi-year evaluation and additions, it has transformed into the West Side Malus collection which now contains 60 different kinds and over 140 specimens with highly desirable qualities.
Some of the specimens in this collection are almost large enough to be considered shade trees, while others are quite small. There is a great variety of shape as well, from wide to upright and narrow, weeping, and multi-stemmed. There is variety in flower color, ranging from white to pink, red, purple, and crimson. Some flower buds will be one color, and then open up to a completely different color! Fruits range in size from smaller than a pea, to nearly the size of most apples; they can be red, purple, orange, yellow, or green. [3]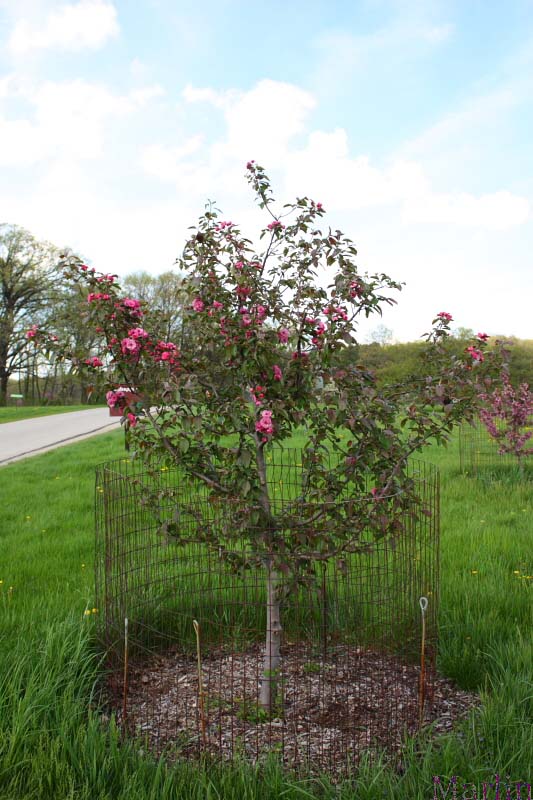 Scarlet Brandywineâ"¢ Crabapple –
Malus 'Scbrazam'
Disease resistance should be your primary consideration
. Many resistant cultivars are available and recommended in order to avoid the most common disease problems. Before making a selection, keep in mind that not all crabapples do well in every location. Disease intensity varies from region to region, and disease strength can vary from year to year. For instance, some crabapples will be more prone to disease susceptibility in areas with greater rainfall than in drier climates. Careful consideration of the following information will be helpful in choosing the right crabapple cultivar. There are four diseases that seriously affect crabapple:
Apple scab is one of the most serious diseases from an aesthetic standpoint, but usually not a serious threat to the health of the tree. It is a fungal disease, which develops in cool, wet springs. On susceptible crabapples, apple scab causes spotting of the leaves, premature defoliation, and unsightly spots on the fruit. There are numerous cultivars that are resistant or very tolerant (still susceptible but with little defoliation) so choose one based on its resistance. [3]