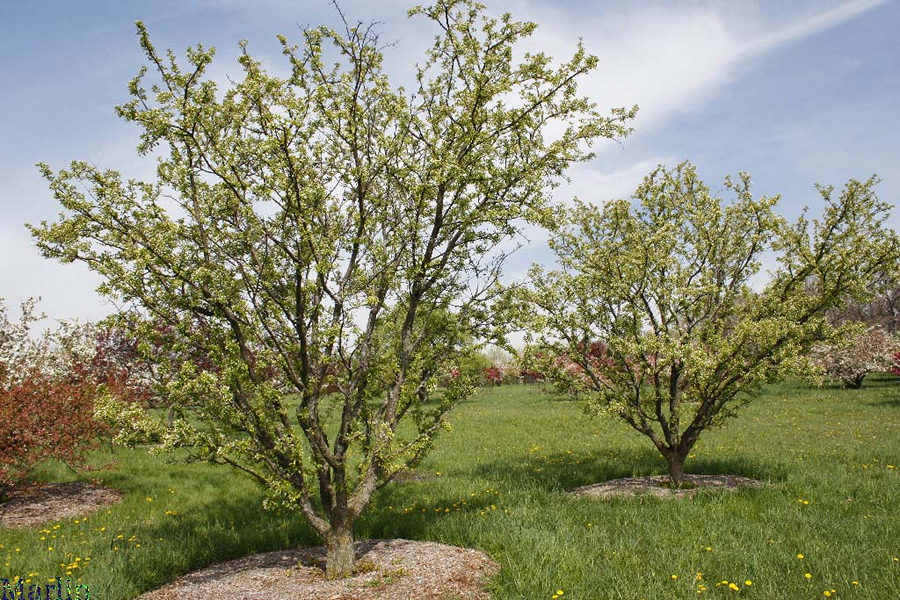 Red Jewel Crabapples –
Malus '
Red Jewel
'
, Morton Arboretum acc. 111-85*1 & (3 below) are 25 years old [2]
Red Jewel Crabapple
boasts an abundance of persistent red fruit that hang around nearly all winter. They are replaced by a profusion of snow-white flowers. Grows to 15 feet tall with an upright, spreading form. Moderately resistant to fireblight, good resistence to cedar-apple rust, scab, and mildew.
USDA hardiness zones: 4 through 8A / Planting month for zone 7: year round / Planting month for zone 8: year round [1]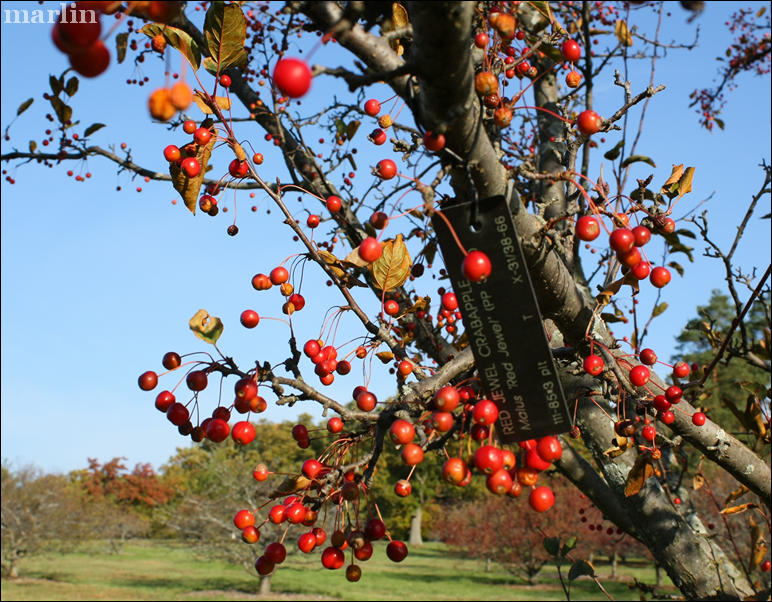 Red Jewel Crabapple is so-named for its bright red winter-persistent fruit
I consider the crabapple collection
at The Morton to be one of the most beautiful, colorful places on Earth during springtime. If you live anywhere near Chicago, you absolutely must see these trees in bloom. Yes, the cherry trees around the tidal basin in Washington D.C. are magnificent, but they are of only one variety and color (not to look a gift horse in the mouth), they can't hold a candle to the riot of red, pink, purple, white and seemingly every shade in between. It's good for the soul.
I would advise to consult the arboretum on blooming progress before planning your trip. With our recent warmest-ever March (2012), many trees bloomed 3-4 weeks earlier than usual. Of course, the crabs don't all bloom at the same time, but there is enough overlap that if timed correctly, you can see 80% of the trees near their peak at one visit. –and don't forget the flowering trees section on the west side!
Some of the specimens in this collection are almost large enough to be considered shade trees, while others are quite small. There is a great variety of shape as well, from wide to upright and narrow, weeping, and multi-stemmed. There is variety in flower color, ranging from white to pink, red, purple, and crimson. Some flower buds will be one color, and then open up to a completely different color! Fruits range in size from smaller than a pea, to nearly the size of most apples; they can be red, purple, orange, yellow, or green. Some of the smaller fruits persist on the tree throughout winter, providing a splash of color in the cold months. [1]