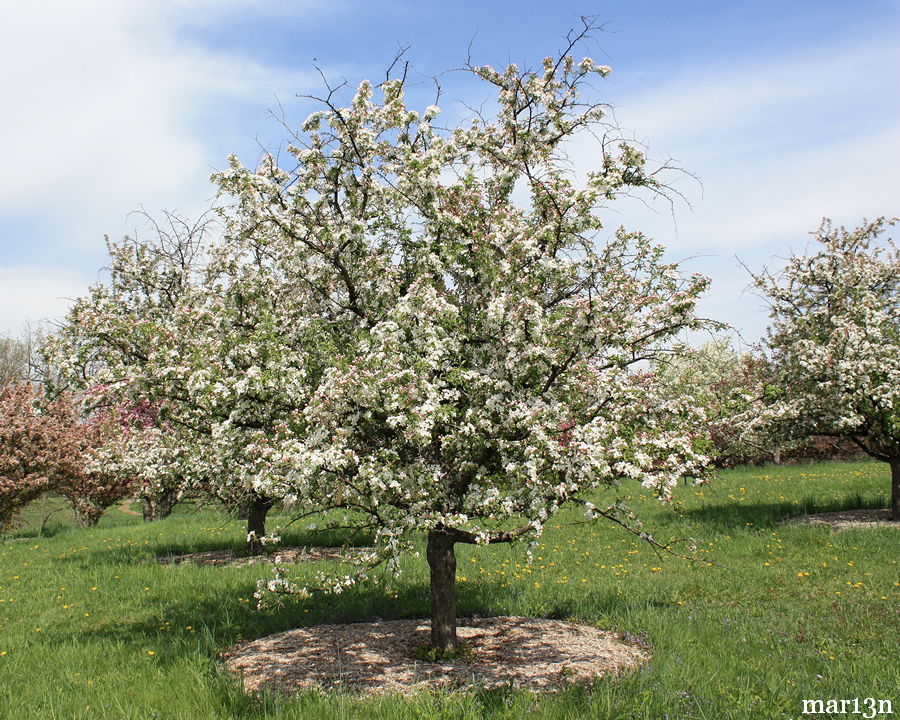 Professor Sprenger Crabapple, from a planting, is 11 years old. [2]
Professor Sprenger, I presume? This lovely crab
offers attractive dark green foliage and red buds opening into stunning white blossoms, all wrapped up in an open-crowned form. Outstanding 1/2" orange fruit add winter interest and food for wildlife (probably a mess on your patio, too, if you planted too close to the house).
There are about 55 different species in the genus Malus, and there are innumerable cultivars available in the landscape trade. The Morton Arboretum's Crabapple Collection was started in 1924. Part of this collection on the West Side participated in the National Crabapple Evaluation Program which evaluated new and disease-resistant varieties. As a result of the multi-year evaluation and additions, it has transformed into the West Side Malus collection which now contains 60 different kinds and over 140 specimens with highly desirable qualities.
Some of the specimens in this collection are almost large enough to be considered shade trees, while others are quite small. There is a great variety of shape as well, from wide to upright and narrow, weeping, and multi-stemmed. There is variety in flower color, ranging from white to pink, red, purple, and crimson. Some flower buds will be one color, and then open up to a completely different color! Fruits range in size from smaller than a pea, to nearly the size of most apples; they can be red, purple, orange, yellow, or green. Some of the persist on the tree through winter, providing color in the cold months. [1]
Most Morton Arboretum crabapples are planted in threes – I like to call them triptychs or triumvirates, and I always think of them as females. I'll revisit in a few years and see how they are doing. I've had the most fun shooting trees, especially crabapples, at the Morton. Crabapple Lake in the springtime is not to be missed!