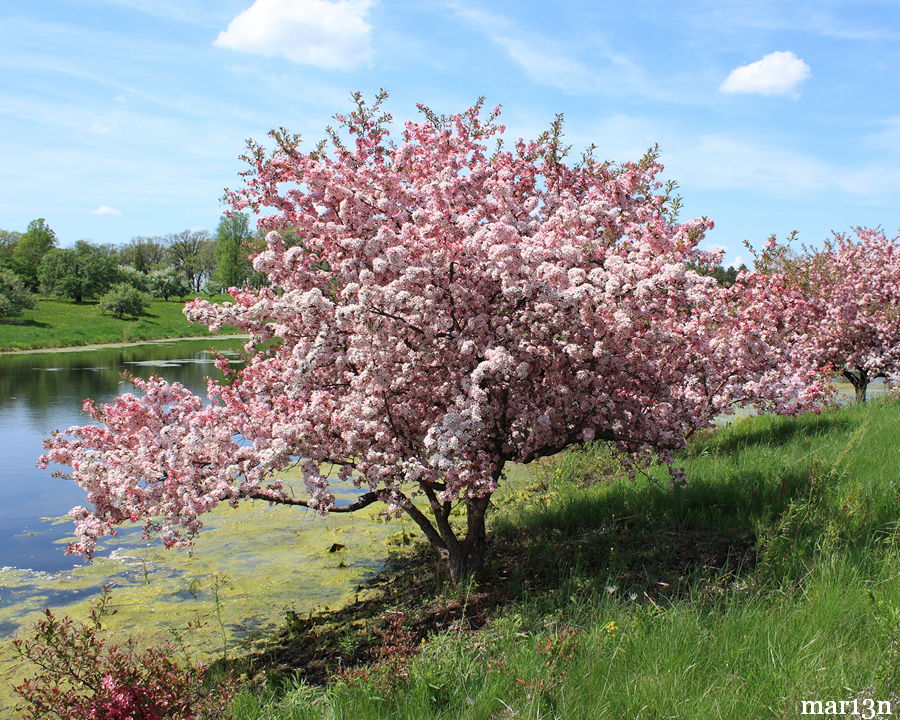 Prairie Maid crabs at Crabapple Lake at the Morton Arboretum grow right at water's edge. Accessions 186-83*3 & 2
Prairie Maid crabapples
have luscious red buds opening to spectacular pink blossoms. A low, spreading variety that's at home in just about any lanscape, this hardy ornamental will provide years of beauty – even on wet sites.
Crabapples are best grown in a sunny location with good air circulation and have no particular soil preferences, except soil should be well-drained. Root pruned trees transplant most easily. Tree size, flower color, fruit color, and growth and branching habit vary considerably with the cultivar grown but many grow about 20 feet tall and wide. A few Crabapples have good fall color and double-flowered types hold blossoms longer than single-flowered cultivars. Some Crabapples are alternate bearers, blooming heavily only every other year. Crabapples are grown for their showy flowers and attractive, brightly colored fruit. [1]
Plants are used for specimens, patios (small-fruiting types), and along streets to create a warm glow of color each spring. Most are attractive during the summer, bearing glossy green foliage. Popular around overhead power lines due to their small stature, a row of Crabapples along each side of the street or median strip can "make" a neighborhood.
I consider the crabapple collection at The Morton to be one of the most beautiful, colorful places on Earth during springtime. If you live anywhere near Chicago, you absolutely must see these trees in bloom. Yes, the cherry trees around the tidal basin in Washington D.C. are magnificent, but they are of only one variety and color (not to look a gift horse in the mouth), they can't hold a candle to the riot of red, pink, purple, white and seemingly every shade in between. It's good for the soul.
I would advise to consult the arboretum on blooming progress before planning your trip. With our recent warmest-ever March (2012), many trees bloomed 3-4 weeks earlier than usual. Of course, the crabs don't all bloom at the same time, but there is enough overlap that if timed correctly, you can see 80% of the trees near their peak at one visit. –and don't forget the flowering trees section on the west side!
Some of the specimens in this collection are almost large enough to be considered shade trees, while others are quite small. There is a great variety of shape as well, from wide to upright and narrow, weeping, and multi-stemmed. There is variety in flower color, ranging from white to pink, red, purple, and crimson. Some flower buds will be one color, and then open up to a completely different color! Fruits range in size from smaller than a pea, to nearly the size of most apples; they can be red, purple, orange, yellow, or green. [1]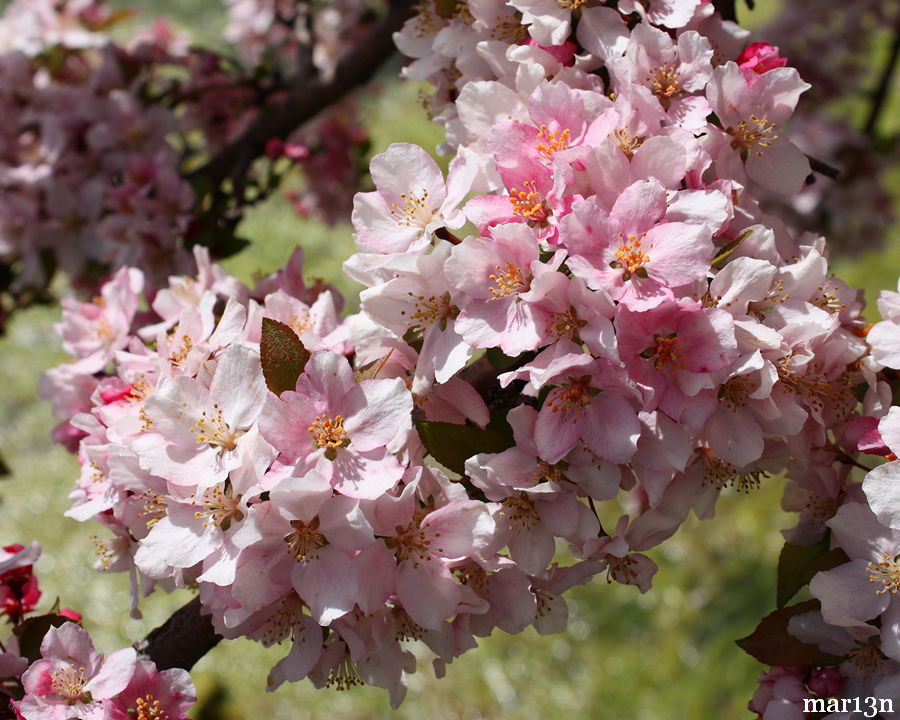 There are hundreds of crabapple cultivars with single or double, red, pink, or white flowers, and varying fruit size. Many are cultivars of Malus baccata and Malus floribunda. Since disease resistance can vary depending on where a particular cultivar is grown, be sure to choose a cultivar that has been shown to be resistant to disease in your area. Your urban forestry program could suffer if you plant the wrong cultivar, but it could blossom if you install the correct ones. Malus adapted for street tree and urban use include 'Adams', 'Bob White', 'David', 'Donald Wyman', 'Profusion', 'Red Splendor' and Malus floribunda. Be sure to specify tree form plants for street tree use since branching may be too low on trees grown for specimen use.
White flowered cultivars include: 'Baccata Columnaris' -narrow crown, white flowers, red or yellow fruit; 'Baccata Gracilis' – slow-growing, shrub-like, white flowers, fruit small and dark red, annual bearer; 'Baccata Jackii' – upright form, white flowers, bright red fruit, annual bearer, also good to excellent disease resistance; 'Callaway' – pink buds, white flowers, red fruit; 'David' – pink buds open to white flowers, scarlet fruit, good to excellent disease resistance; 'Dolgo' – pink buds, white flowers, large red fruits;
'Donald Wyman' – disease-resistant but susceptible to fire blight, glossy red showy fruit; 'Ellwangeriana' – red fruit, disease-resistant; 'Floribunda' – pink to red bud opens to single white flower, yellow or red fruit – commonly available; 'Gloriosa' – pink bud opens to white flower, red, large fruit; 'Golden Hornet' – upright arching habit, white flower, yellow fruit; 'Gorgeous' – pink bud opens to large, white flower, red to orange fruit; 'Harvest Gold' – white flowers followed by yellow fruits; 'Hupehensis' – tea crabapple – pink buds open to white flowers, greenish fruit; 'Katherine' – double flowers opening pink, fading to white, fruit yellow and red; 'Mary Potter' – pink buds