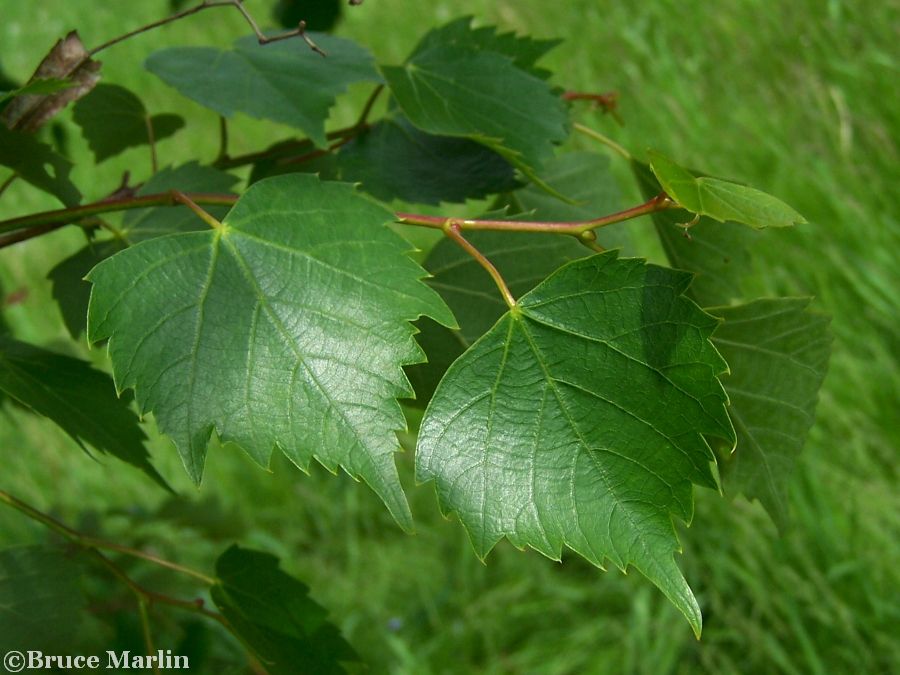 Foliage with heavily serrated margins
Native to China, This is one of the smallest of the lindens, and typically reaches heights of 30 feet. This plant has done reasonably well in urban situations and has exhibited a good deal of resistance to feeding of the Japanese beetle that causes problems for many of the lindens in acid soils. [1]

Trees to 10 m. Bark grayish, exfoliating irregularly; branchlets glabrous; winter buds ovoid, glabrous. Petiole slender, 2-3.5 cm, glabrous; leaf blade broadly ovate or orbicular, 4-6 × 3.5-5.5 cm, abaxially hairy only in axils of veins, adaxially glabrous, lateral veins 4-5 pairs, base slightly cordate or obliquely truncate, margin coarsely serrate, apex acuminate, usually 3-lobed. Cymes 6-12-flowered, 5-8 cm; peduncle glabrous. Pedicel slender, 5-8 mm.

Bracts on ca. 10 mm stalk, narrowly oblong, 3.5-6 × 0.6-1 cm, adnate to peduncle for 1/2 of length, both surfaces glabrous, base obtuse, apex obtuse. Sepals lanceolate, 4-5 mm, abaxially subglabrous. Petals 6-7 mm. Stamens as long as sepals; staminodes slightly smaller. Ovary hairy; style glabrous. Fruit obovoid, 5-angled or obscurely angled, 6-8 mm; exocarp thickly leathery, fragile, hairy, indehiscent. Fl. Jul. 2n = 164*.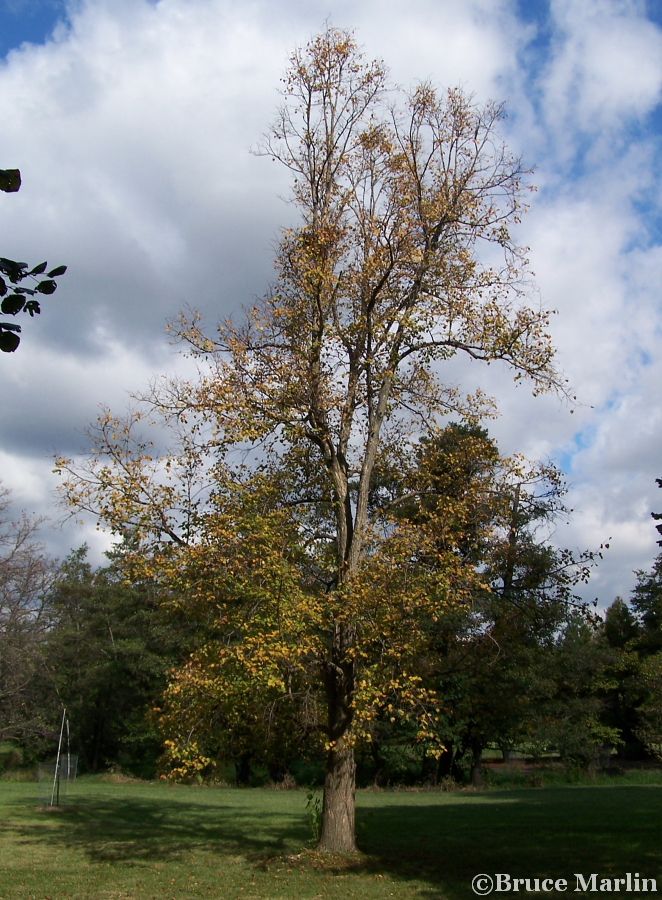 Older Mongolian linden at 52 years is about 12 m. tall
The relatively recent introduction of the Japanese beetle (Popillia japonica) into North America has placed several varieties of lindens into jeopardy through defoliation, especially the little-leaf linden Tila cordata. The beetles can skeletonize and defoliate an entire tree in as little as a few weeks. (See our article "What's eating my Linden?")

The flowers possess a nectar which attracts bees and produces a strong flavored honey. When this tree is in flower it will be full of bees, hence its common name "Bee Tree". During the three weeks that the Lindens bloom, bees forsake most other flowers. The honey that they make of Linden nectar is white in color, and highly regarded. The flowers when gathered and dried can be used to make tea. Linden flowers are used in the manufacture of perfumes.



When the flowers go to seed they form small nutlets that contain 1 or 2 seeds each, clustered beneath large leafy wing bracts which act as parachutes as they carry the seeds to the ground. The fruits are woody and about the size of peas. The leaves are heart-shaped, 2-3 inches long. Linden wood is soft and creamy, and it is much favored by woodcarvers because of its workability (it is said to "cut like cheese") and its even grain. In past centuries it was used to make ship's figureheads and cigar-store Indians. Today it is used for broom handles, beehive frames, piano sounding boards and certain parts of guitars. — USDA NRCS Plant Fact Sheet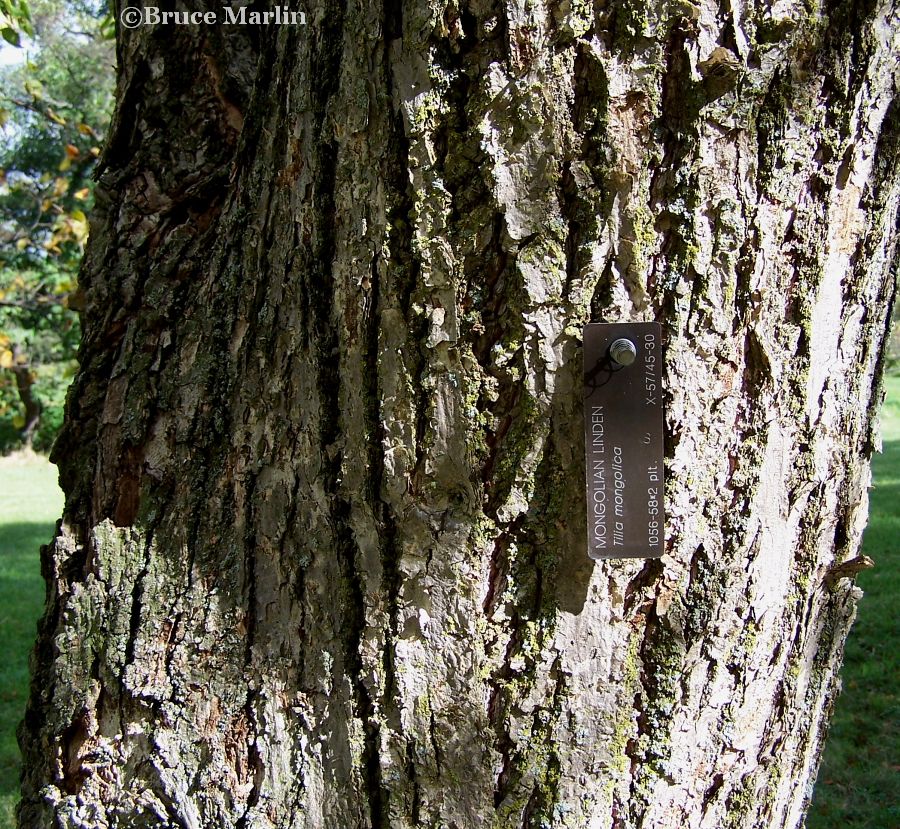 Linden wood is soft and creamy, and it is much favored by woodcarvers because of its workability (it is said to "cut like cheese") and its even grain. In past centuries it was used to make ship's figureheads and cigar-store Indians. Today it is used for broom handles, beehive frames, piano sounding boards and certain parts of guitars.
— United States Department of Agriculture NRCS Plant Fact Sheet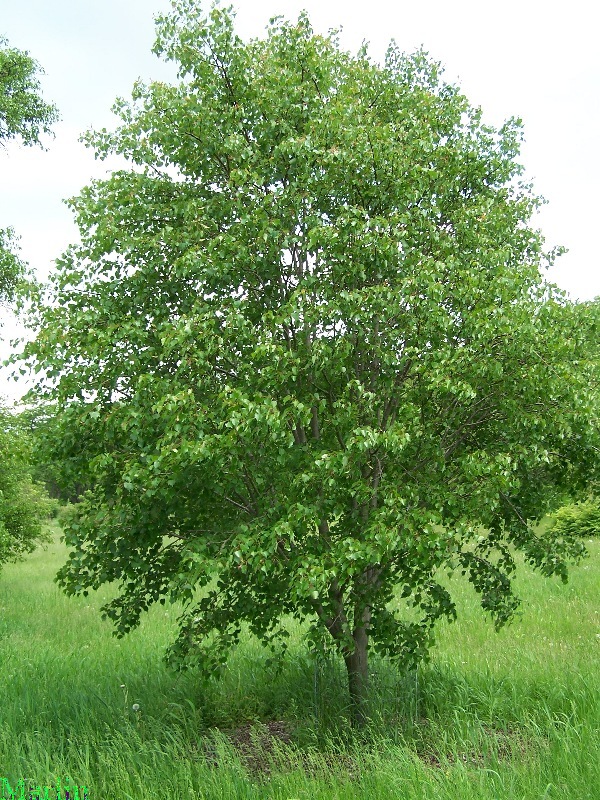 Mongolian linden, from seed, is 14 years old [2]
References
1. www.eFloras.org , Flora of China, Tilia mongolica
2. Morton Arboretum acc. 393-94-1 photos by Bruce Marlin
3. Colin Tudge, The Tree: A Natural History of What Trees Are, How They Live, and Why They Matter
Custom Search

Family Tiliaceae – Basswoods, Lindens
50 genera and 400 species; widespread in tropical and subtropical regions, with relatively few species in temperate regions. Especially abundant in Southeast Asia and Brazil. The leaves of all the Tilias are heart-shaped and most are asymmetrical, and the tiny fruit, looking like peas, always hang attached to a ribbon-like, greenish bract. Tree Encyclopedia | Tree Index | Tiliaceae Index