Mary Potter Crabapple – Malus 'Mary Potter'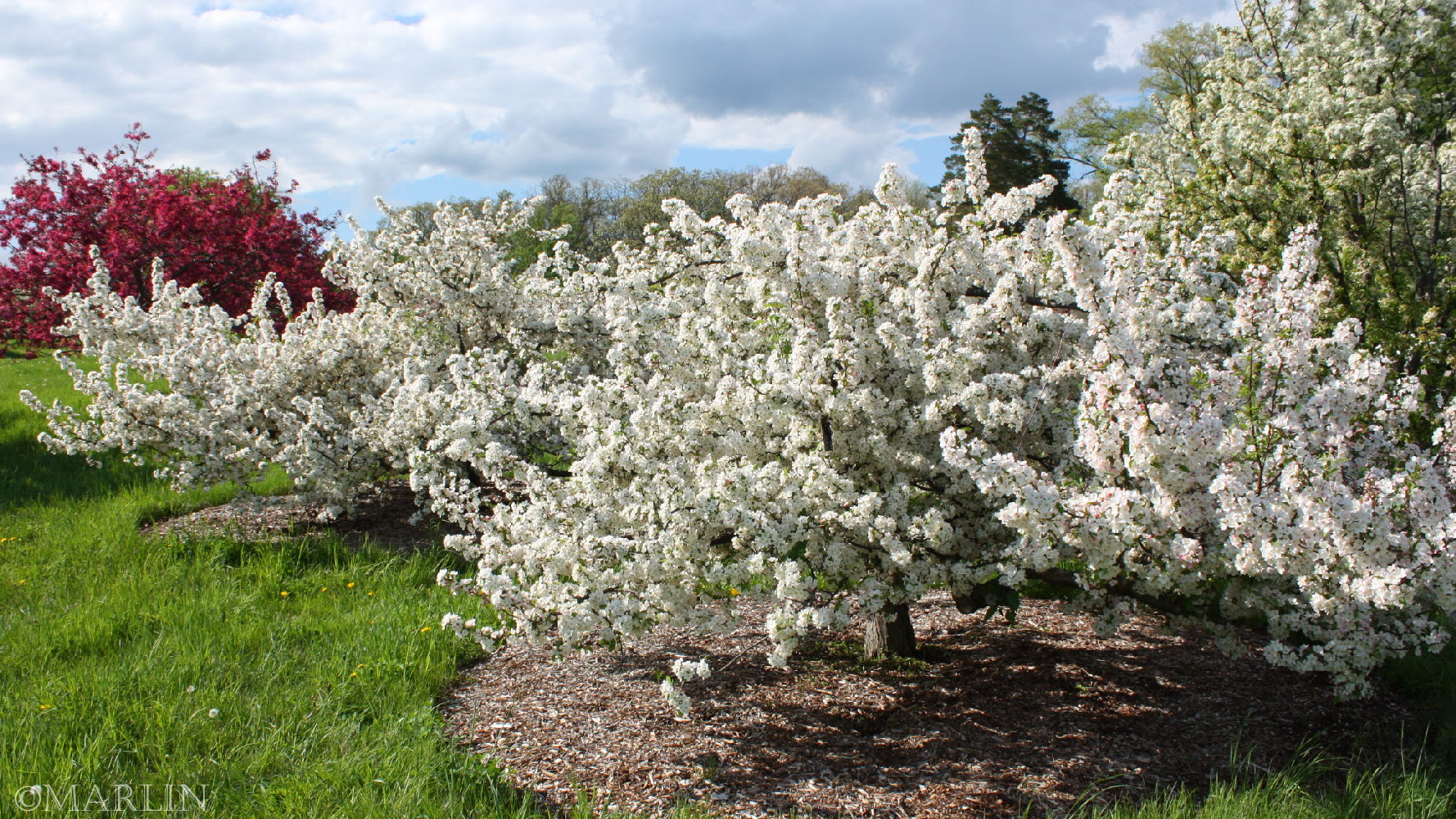 Red buds open to blindingly white flowers. USDA zones 4 through 7
Malus 'Mary Potter', a cross between M. sargentii 'Rosea' and M. atrosanguinea, was introduced by Dr. Sax in 1947 in honor of Mary Sargent Potter, daughter of the Arboretum's first director, Charles S. Sargent. In May its bright pink buds open to display clear white flowers. In full bloom, trees look completely snow-covered. But perhaps the tree's best feature is its form, which is unusually low-branching and spreading.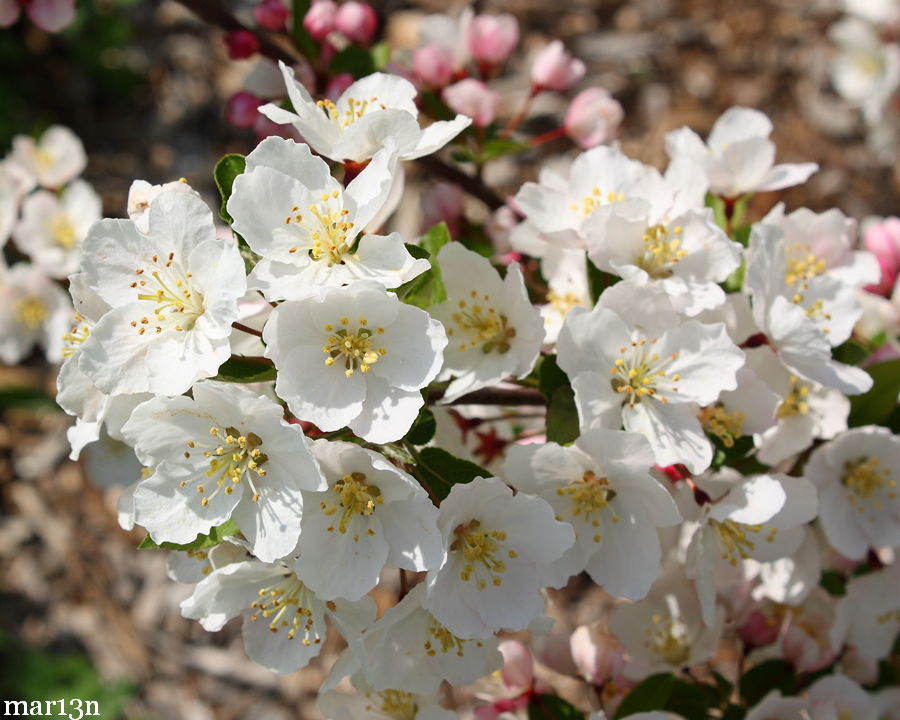 Introduced by The Arnold Arboretum of Harvard University, Mary Potter crabapple can be a ground-hugging, spreading form as witnessed by the three specimens pictured above. In my experience with crabs at the Morton, Mary Potter is one of the most spectacular bloomers, with profuse red-pink buds exploding to blinding-white blossoms in just a matter of hours it seems.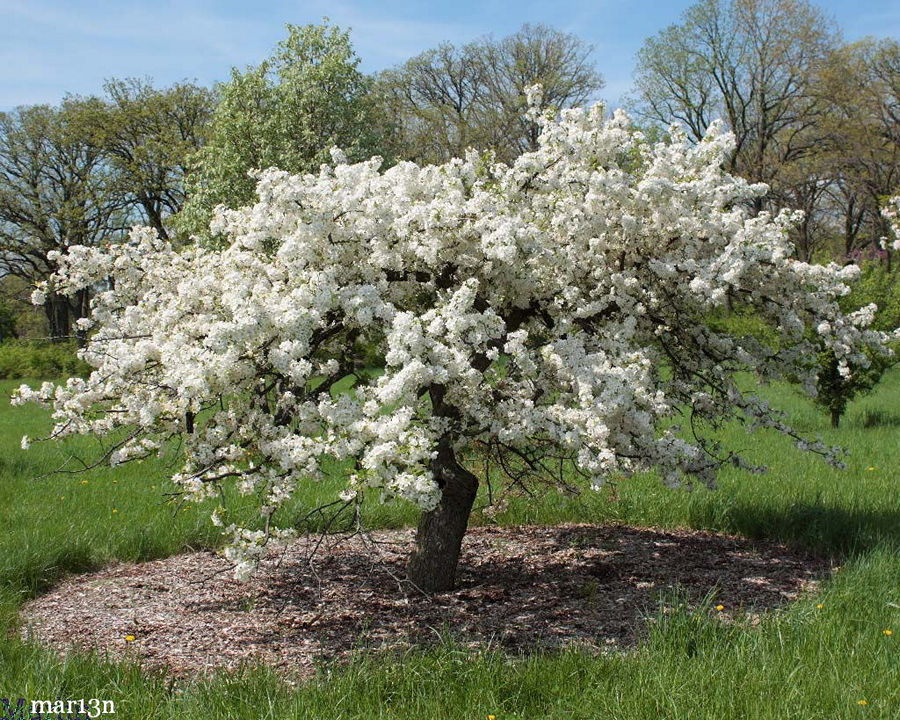 Mary Potter Crabapple, Morton Arboretum acc. 520-62*2 is 47 years old [2]
Crabapples are best grown in a sunny location with good air circulation and have no particular soil preferences, except soil should be well-drained. Root pruned trees transplant most easily. Tree size, flower color, fruit color, and growth and branching habit vary considerably with the cultivar grown but many grow about 20 feet tall and wide. A few Crabapples have good fall color and double-flowered types hold blossoms longer than single-flowered cultivars. Some Crabapples are alternate bearers, blooming heavily only every other year. Crabapples are grown for their showy flowers and attractive, brightly colored fruit. [1]
References
USDA National Forest Service Fact Sheet 393, Malus x 'Mary Potter'
Mary Potter Crabapples, Morton Arboretum accs. 42-84*1,2 & 3, 520-62*2 photos: Bruce Marlin
Morton Arboretum Crabapples For The Home Landscape
Family Rosaceae – Rose Family; Fruit Trees
Trees Index | Pine Family | Beech, Oak | Nut Trees | Birch Family | Magnolias
Tree Encyclopedia / North American Insects & Spiders is dedicated to providing family-friendly educational
resources for our friends around the world through large images and macro photographs of flora and fauna.
Online since 2002