| | |
| --- | --- |
| May 2008 (6 years old) | October 2010 |
Asian white birch is native to Korea
, Japan, and northern China. It is a deciduous, monoecious tree with white bark, growing as tall as 20 m.
The bark of the Japanese white birch is used in traditional herbal remedies as a tonic, haemetic, and to reduce inflammation. Chemical components with ascribed anti-fungal properties: Triterpenoids; lupeol, betulin, betulafolianediol, betulafolienetriol, oleanolic acid, platyphyllin, platypyllonol, betuloside, betuligenol, paeonol, betulafolienetetraol, betulafolienepentaol. Flavonoids; myricetin, myricitrin, hemiphloin, hyperoside. [2]
The antioxidant and anticancer properties of Betula platyphylla var. japonica are also being investigated. [3]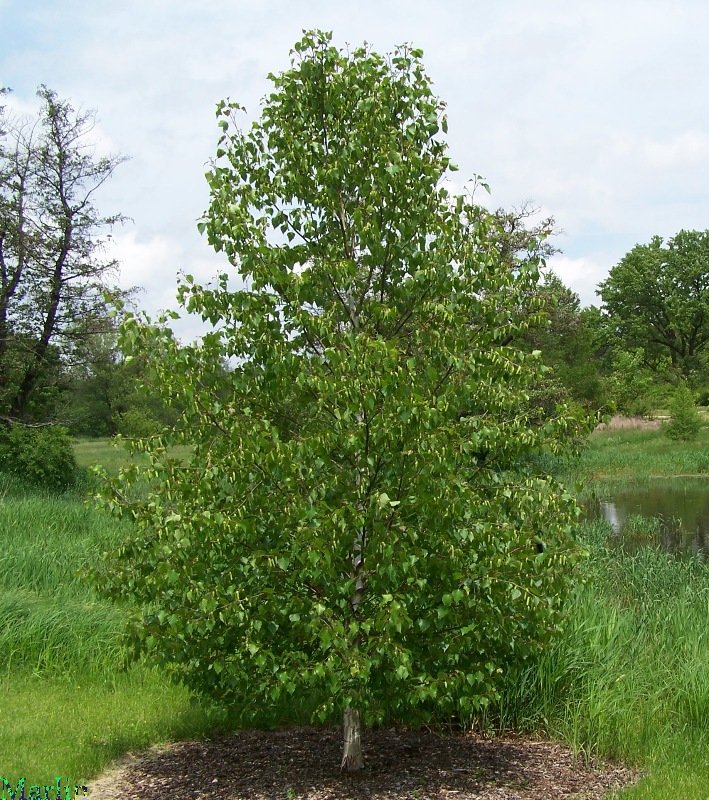 Japanese White Birch, from seed, is 6 years old
Leaves alternate, ovate to triangular-ovate, 5-7 cm long and 4-6 cm wide, acuminate, mostly broadly cuneate at base, unequally serrate, glabrous or sparsely short-pilose beneath, with brownish axillary hairs, petioles 1.5-2 cm long. Branchlets dark purple-brown, granular.
Flowers are unisexual, borne in catkins male catkins forming in autumn, remaining naked during the winter, and opening in spring, female catkins becoming conelike, with 3-lobed scales. Nuts narrowly obovate to ovate, 1.2-2.2 mm long, puberulous, wings 1.5-2 times wider than the nuts, ripening in Sep. Apr. – May. [2]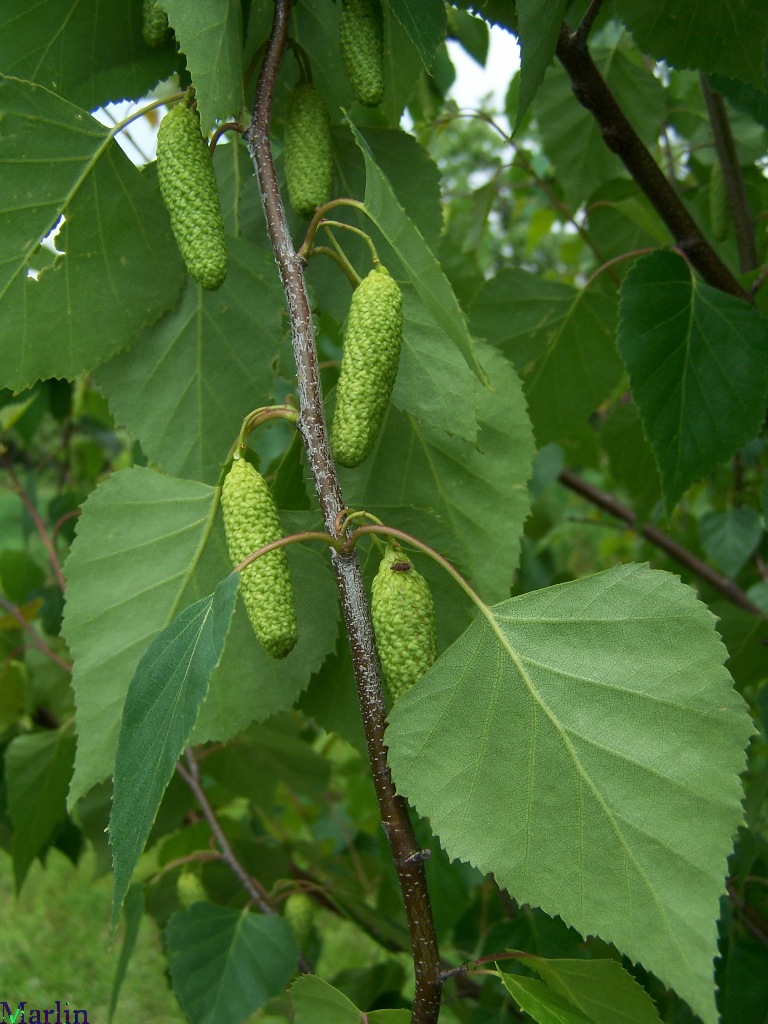 Foliage and Catkins
References
1. USDA, Natural Resources Conservation Service, Plants Profile Betula platyphylla var. japonica
2. World Health Organization, Medicinal Plants in the Republic of Korea, Betula platyphylla var. japonica
3. Eun Mi Ju et al., "Antioxidant and anticancer activity of extract from Betula platyphylla var. japonica,"
Life Sciences 74, no. 8 (January 2004)
Family Betulaceae – Alder, Birch, Hornbeam
The birches have long been popular ornamental trees in North America, chiefly in the northern United States and Canada. Our specimens include river birch, Dahurian birch, paper birch, Arctic birch, Manchurian birch, Manchurian alder, downy birch, Japanese white birch, and 10 other species.
Tree Encyclopedia | Trees Index | Elms & Zelkovas | Birch Index