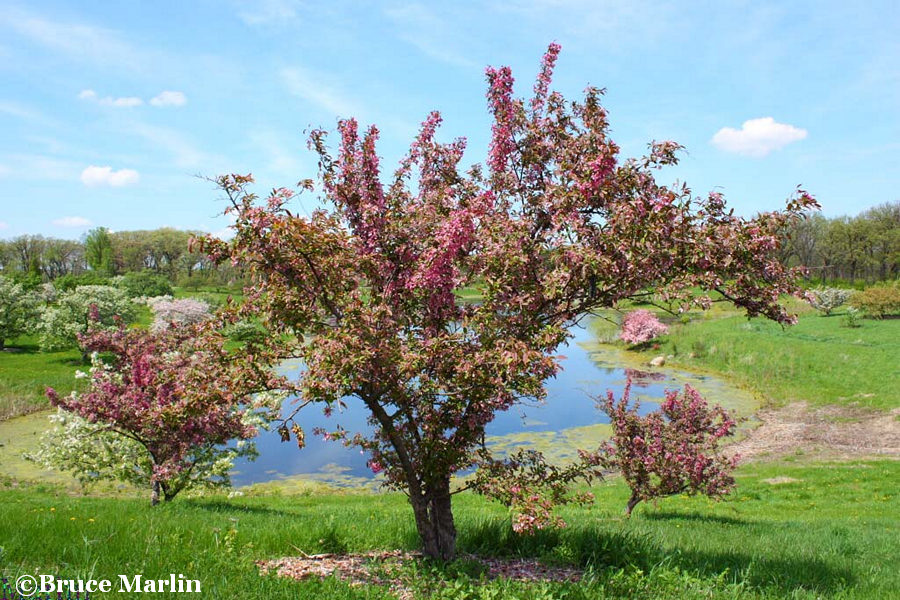 Indian Magic Crabapple Trio May 8th, near Chicago.
Indian Magic Crabapple
(Malus Indian Magic) 15' tall/spread. Unlike a few of its infamous crabapple predecessors, Indian Magic truly has multi-season appeal. Rose-pink flowers in spring, handsome fall leaf color (reddish-orange), and a generous crop of small, bright red fruit that turn reddish-orange after the first few frosts of the season, make this tree a perennial favorite of visitors to the ISU collection. In addition, its low, spreading habit, gains it entry into landscapes with overhead power and communication lines. Birds will take the fruit of Indian Magic after they've softened in late fall or early winter. [4]
Disease resistance should be one of your first considerations. Many resistant cultivars are available and recommended in order to avoid the most common disease problems. Before making a selection, keep in mind that not all crabapples do well in every location. Disease intensity varies from region to region, and disease strength can vary from year to year. For instance, some crabapples will be more prone to disease susceptibility in areas with greater rainfall than in drier climates. Careful consideration of the following information will be helpful in choosing the right crabapple cultivar.