Dusky Pear – Pyrus phaeocarpa
Dusky pear is native to China – commonly found on slopes in mixed hardwood forests of the Loess Plateau, between 100-1200m, in Gansu, Hebei, Shaanxi, Shandong, Shanxi, Xinjiang. Chinese common name: he li. [1] Dusky pear's chief economic importance comes from its use as stock for grafting other pear cultivars. [2]
Trees to 8 m tall. Branchlets purplish red when young, purplish brown when old, terete, white tomentose when young, glabrous when old, sparsely pale lenticellate; buds narrowly ovoid, apex obtuse; scales tomentose at margin… more at Flora of China. [2]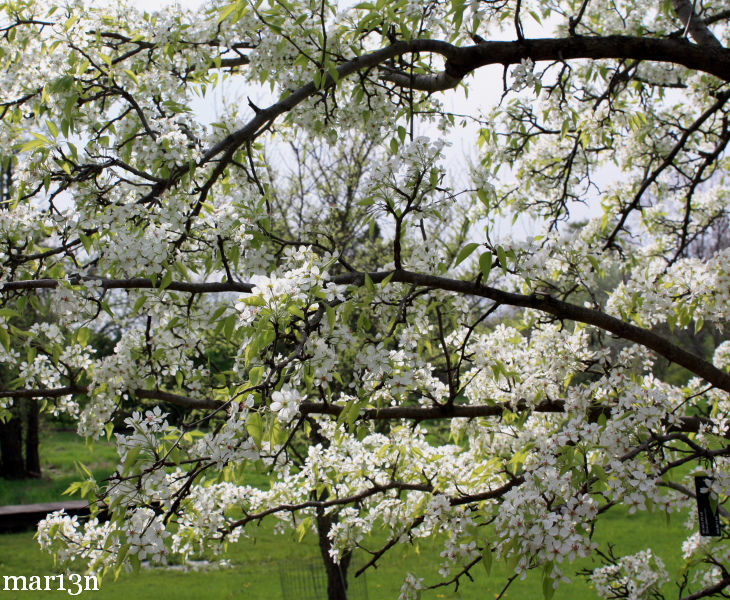 References
USDA, ARS, NGRP, Germplasm Resources Information Network – Pyrus × phaeocarpa Rehder
Flora of China, Pyrus phaeocarpa Rehder, Proc. Amer. Acad. Arts. 50: 235. 1915
Dusky Pear, Morton Arboretum accession 885-36-1 photos by Bruce Marlin
Family Rosaceae – Rose Family; Fruit Trees
Containing Hawthorns, Apples, Pears, Cherries, Plums, Peach, Almond, Mountain-Ash and Whitebeam. Rosaceae is a large family of plants with about 3,000 species in ~100 genera. Crabapple and other fruit trees provide some of our most outstanding flowering ornamentals, as well as food for birds and other wildlife.