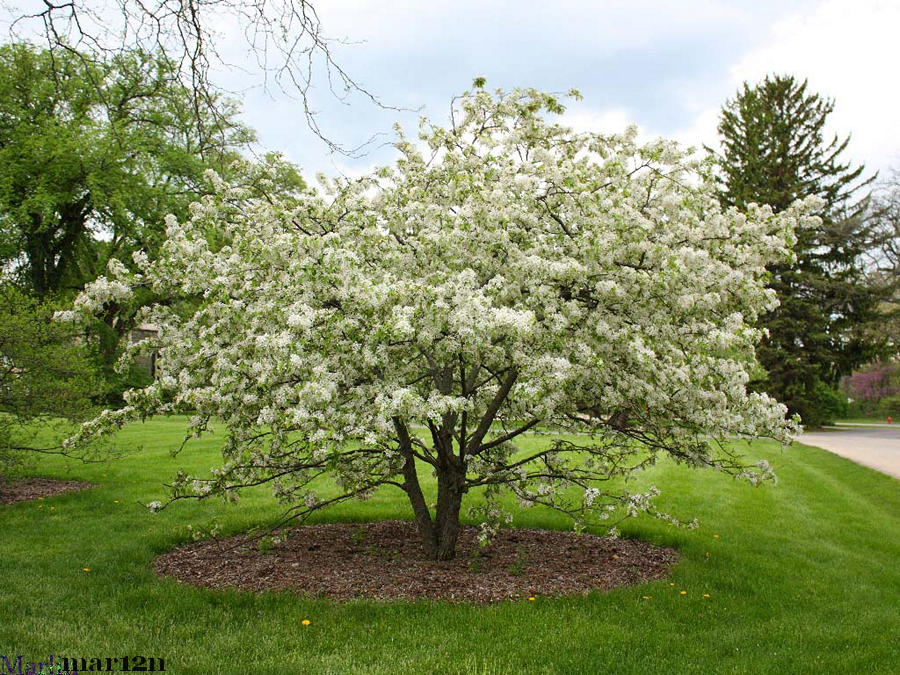 Crabapples are versatile, small, ornamental trees used in the urban landscape. Crabapples bloom in spring, usually in May, bearing flowers that vary a great deal in color, size, fragrance ,and visual appeal. It is common for flower buds to be red, opening to pink or white flowers. The fruit ripens between July and November, and varies in size from ¼ to 2 inches long or wide.
Crabapples thrive in full sun and grow best in well drained, slightly acidic soils (pH 5.5-6.5); however, they will grow well in many soil types. Most crabapple selections tolerate the cold winters and hot, dry summers prevalent in the Midwest. For many years, crabapple cultivars have been selected on the basis of their flowers, but with some cultivars, undesirable features, such as disease problems and early fruit drop, outweigh their short-lived spring beauty. No single cultivar can fulfill every landscaping need.  [3]
Christmas Holly Crabapple requires very little pruning but any that is needed should be completed before late spring, to ensure dormant flower buds are not removed. Trees used as street trees should be trained to develop a central trunk and should be occasionally thinned to eliminate water sprouts or crossed-branches, and to open up the crown. This allows for better air circulation through the crown and helps reduce disease.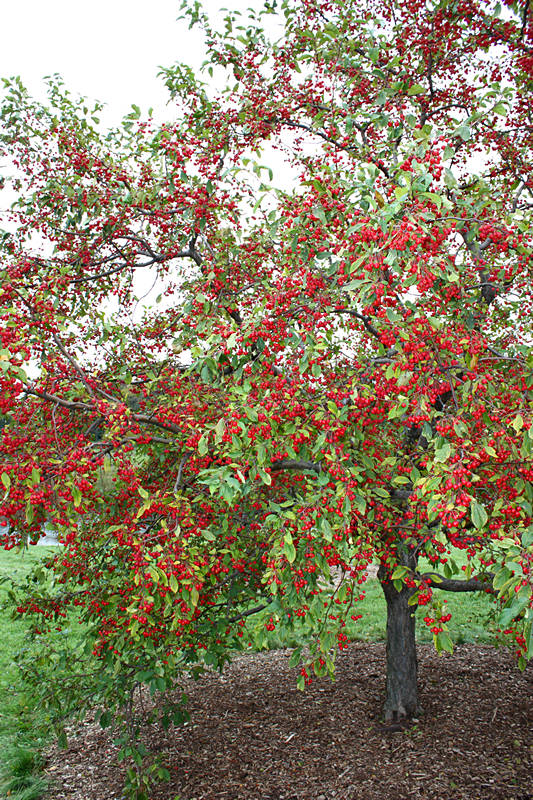 Bright red Christmas Holly fruits are persistent in winter
Crabapples are useful as median trees where the fruit will not fall on pedestrians. Placed in the lawn area as an accent so they receive occasional irrigation, Crabapple will give you years of wonderful flowers and showy fruit. It is best to locate them away from a patio or other hard surface so the fruits will not cause a mess.
Set it back just far enough so the crown will not overhang the walk, but close enough so the flowers and fruit can be enjoyed. Christmas Holly grows in moist, well-drained, acid soil in full sun locations for best flowering. They are not recommended for sandy soil due to their inability to tolerate drought, but any other soil is suitable, including some clay.  [1]
References
USDA National Forest Service Fact Sheet 393, Malus x 'Mary Potter'
Christmas Holly Crabapple, Morton Arboretum acc. 65-90-1, photos by  Bruce J. Marlin
Morton Arboretum Crabapples For The Home Landscape