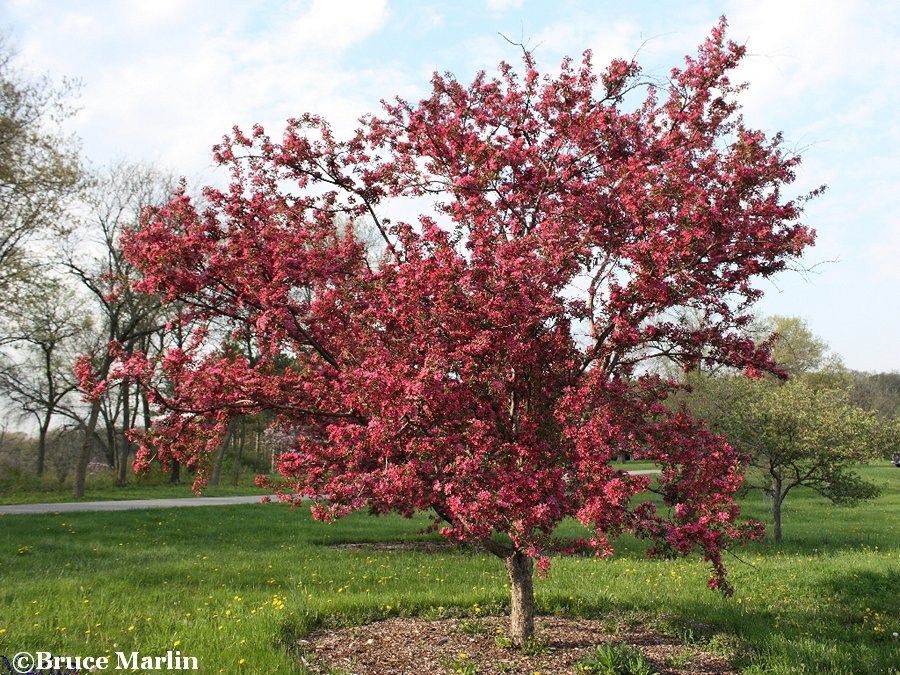 American Masterpieceâ"¢ Crabapple – Malus 'Amaszam', Morton Arboretum acc. 72-2000*1 [2] is eight years old
American Masterpiece crab thrives in full sun
and grows best in well drained, slightly acidic soils (pH 5.5-6.5); however, they will grow well in many soil types. Grows to 20 feet with equal spread. Red buds open to red flowers, with orange, winter-persistent fruit that birds love. With more and more songbirds confused in their migratory rhythms due to our continued string of mild winters, readily available food becomes more important.
Masterpiece has good resistance to apple scab and mildew, and excellent resistance to fire and rust. This tree requires very little pruning; any that is needed should be done before late spring to ensure flower buds are not removed.
| | |
| --- | --- |
| | |
Crabapple trees will give years of flowers and attractive fruit highly prized by birds and other wildlife. It is best to locate them away from a patio or other hard surface so the fruits will not fall and cause a mess. Set it back just far enough so the crown will not overhang the walk, but close enough so the flowers and fruit can be enjoyed. American Masterpiece grows in moist, well-drained, acid soil in full sun locations for best flowering. They are not recommended for sandy soil due to their inability to tolerate drought, but any other soil is suitable, including clay.
References
USDA National Forest Service Fact Sheet 393, Malus x 'Dolgo'
American Masterpiece, Morton Arboretum acc. 72-2000*1 & 4, photo Bruce Marlin
B. L. Teviotdale, UC ANR Publication 7414, Pest Notes "Fire Blight"
Morton Arboretum, Apple Scab
Cornell University, "Cedar-apple Rust"

Custom Search