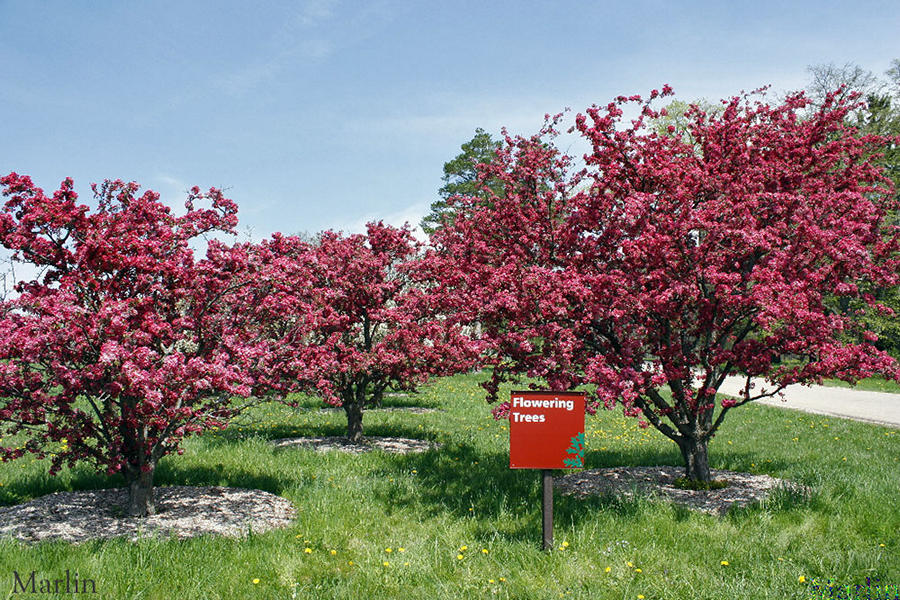 Mature 23-year-old Adams Crabapples – Malus 'Adams' acc. 110-86*1, 2 & 3. West Side Flowering Trees Section
The three Adam crabapples pictured welcome visitors to the Morton Arboretum's west side Flowering Plants section with a brilliant flaming burgundy flower extravaganza. It's an almost-overwhelming bath of color. One of my favorite places on Earth in springtime, and these three ladies are about the epitome of the botanist's art.
Backyard Gardener says the Adams crabapple cultivar is "very disease resistant." Michigan State University lists it as "Very Resistant, with only slight susceptibility to scab, fire blight, and mildew. Grows to 20 feet tall (6.5m) and 15 wide (5.5m), best in full sun and moist soil. Fruit persistent, dark, dull, glossy red, 5/8 in. diameter.
Summer Foliage: Reddish tint in spring, green all summer
Autumn Foliage: Golden yellow in late autumn, clean
Winter Color: Bright red fruit provides winter interest, all fruit usually eaten by winter birds or robins in springtime.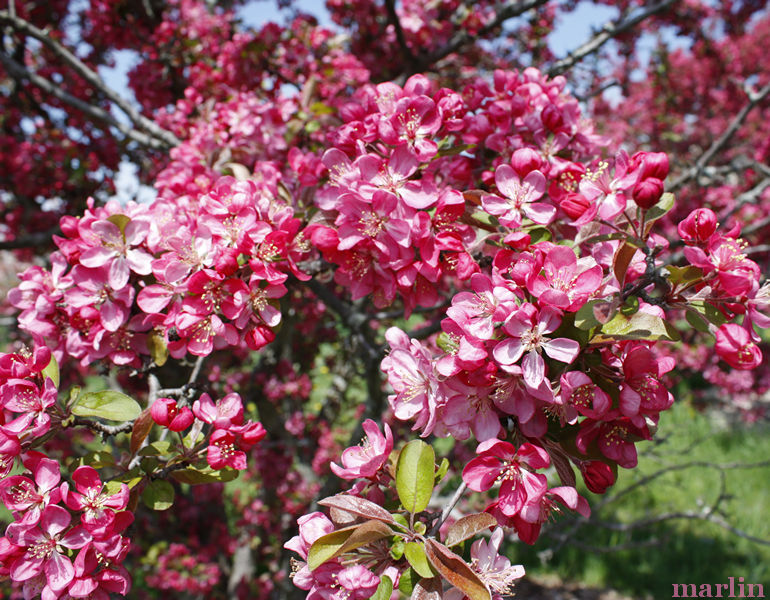 Crabapples thrive in full sun and grow best in well drained, slightly acidic soils (pH 5.5-6.5); however, they will grow well in many soil types. Most crabapple selections tolerate the (used to be) cold winters and hot summers prevalent in the American Midwest. There are about 55 different species in the genus Malus, and there are innumerable cultivars available in the landscape trade.
The Morton Arboretum's Crabapple Collection was started in 1924. Part of this collection on the West Side participated in the National Crabapple Evaluation Program which evaluated new and disease-resistant varieties. As a result of the multi-year evaluation and additions, it has transformed into the West Side Malus collection which now contains 60 different kinds and over 140 specimens with highly desirable qualities.
Yes, the cherry trees of Washington D.C. are magnificent, but they are of only one variety and color (not to look a gift horse in the mouth), they can't hold a candle to the riot of red, pink, purple, white and seemingly every shade in between you'll find at The Morton.