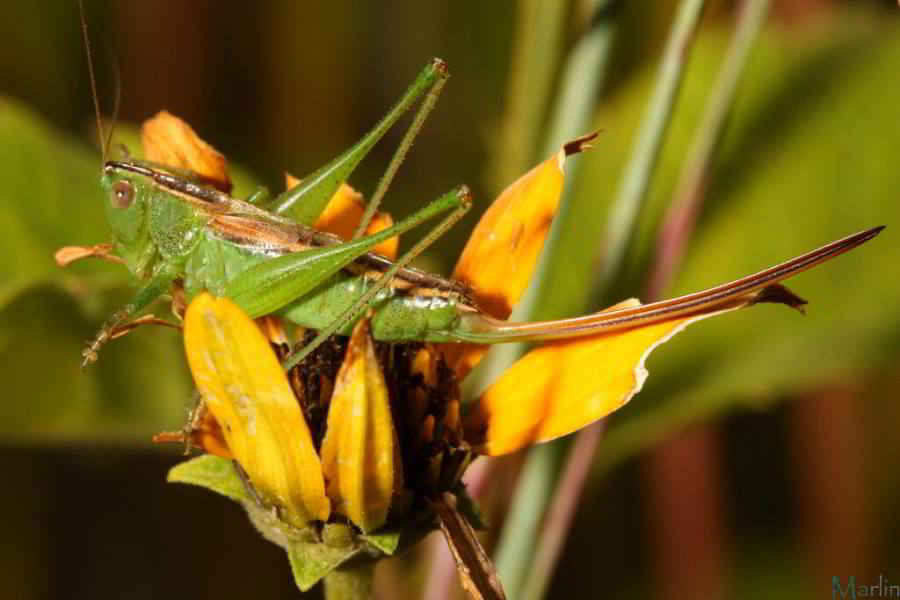 Katydids are large green insects with long antennae and large wings, eminently capable of flight. Most katydids are well-camouflaged in foliage and become virtually invisible amidst greenery the identical color. Family Tettigoniidae contains about 6000 species in 1070 genera.
This from Tree of Life: "Katydids are found on all continents except Antarctica and in an assortment of habitats from tropical forests (Heller 1995) and peat bogs (Vickery and Kevan 1985) to montane alpine zones 'far above the last outposts of trees'. Within these habitats, virtually all tettigoniids are associated with vegetation, particularly during inactive periods when the insects retreat into (or onto) leaves. Katydids are omnivorous, feeding on vegetation, seeds, carrion and occasional prey." [3]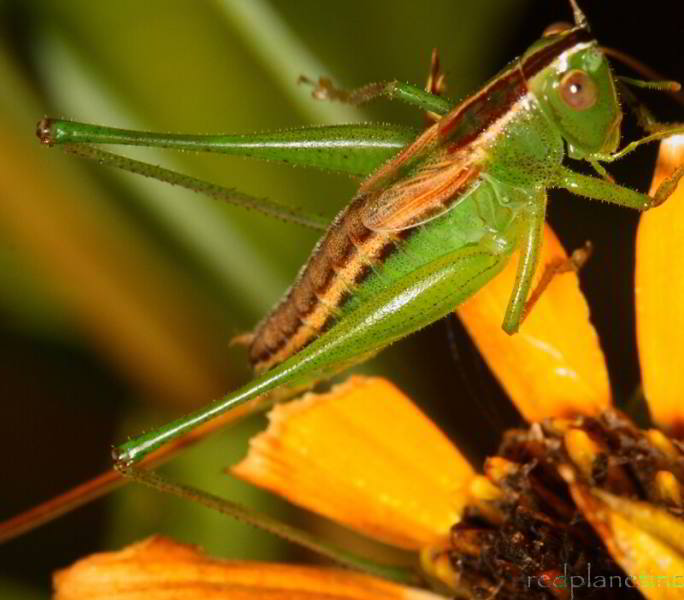 At about 15mm, ovipositor is slightly longer than the body. I always carry a small scissors for "gardening" tasks such as clipping the obstructing flower petal, but this gal was too skittish. You can hear the
song of the male of the species HERE
.
There are more than 20,000 species in the order Orthoptera. These diverse insects are found worldwide, although their numbers are concentrated in the tropics. They vary in size from less than 5mm to monster-big grasshoppers over 4 inches long, with 10-inch wingspans. Orthopterans are some of the most common insects in many landscapes, and the order includes some of the most destructive agricultural pests in the locusts and katydids. Most eat plants, but some species are omnivorous.
Females typically lay clutches of eggs either in the ground or on vegetation. Grasshoppers, crickets and katydids are all well-known for their jumping ability as well as the singing performed by the males (females are generally silent.) Grasshoppers are almost all active in the daytime, but crickets are nocturnal. Katydids are thought to be nocturnal, but I see an awful lot of them out and about when the sun is shining. There are few places on earth where the calls of these intriguing insects are not heard nearly constantly during the warm months.
The first fossil records of the order appear in the upper Carboniferous, or Pennsylvanian era, 310 – 290 million years ago.