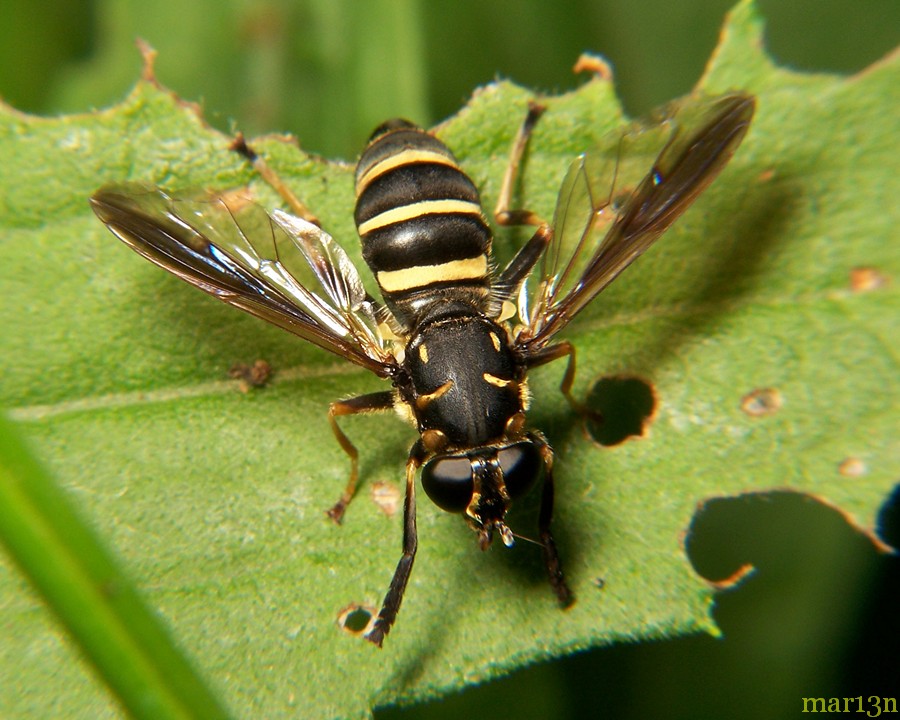 The syrphidae are famous for their bee and wasp mimickry, but this fly goes the extra mile – it uses its front legs to mimic the jointed wasp antennae of the Vespids. When the fly lands, it hold its front legs up in front of its face and waves them about. The effect is really quite convincing when you see one strike the pose. (The fly in the photos is doing it). Also, the clouded leading edge of the wing mimics wasp wings.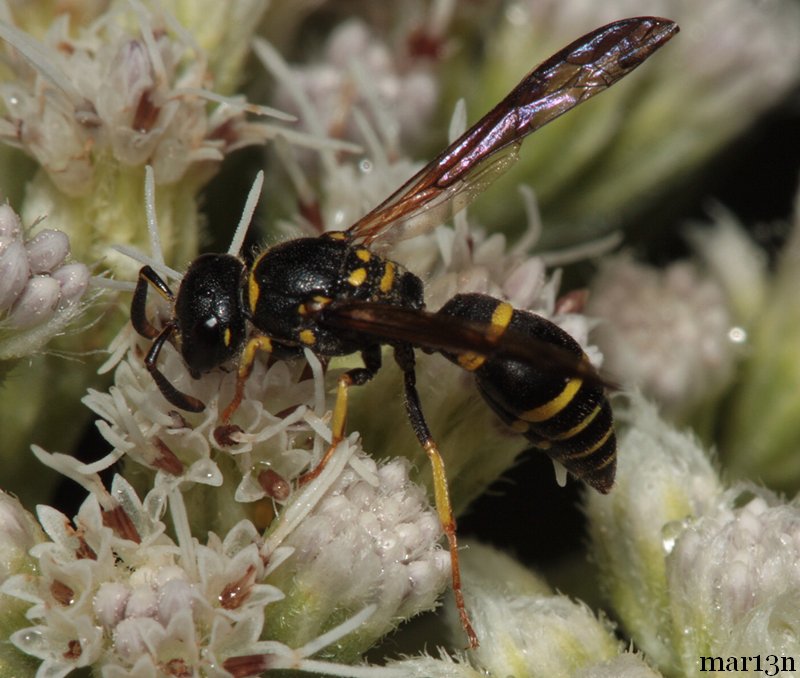 Compare to potter wasp
Some hoverflies' larvae are important predators of aphids, thrips, and other soft-bodied prey. Many Syrphids are important pollinators, and in both roles are considered beneficial insects. Home gardeners do well to plant flowers that attract them: Alyssum, Iberis umbellata, statice, buckwheat, chamomile, parsley, and yarrow. I know they like New England Aster as well. Heck, just about any flower will do!
The hover flies are a large group of generally beneficial insects. Their coloring and movements of most species mimic bees or wasps — they are either stout-bodied and covered with hair, resembling a bumble bee, or boldly patterned with yellow, orange and black, resembling wasps or honey bees. Some species even go so far as to wave their front legs in front of their face to mimic the jointed antennae of the potter wasps. Adult hover flies can generally be found hovering in midair or feeding at flower blossoms. They eat only nectar and pollen. However, their larvae can be rapacious predators of aphids, thrips, and mites, or parasitic in the nests of ants or solitary bees. Still other larvae scavenge in soil or decaying plant material or eat living plants. Some are aquatic.
Most hover flies are between 5-20 mm long, brightly colored in yellow and black, and have large compound eyes that nearly cover the head. One rule of thumb for identifying hover fly gender is, if the eyes meet at the top of the head, it's a male specimen. Each wing has a characteristic fold, or "false vein" which can be visible to the naked eye – it is located anterior to the first large vein that runs all the way to the outer margin of the wing. Of course, being true flies, they have only one pair of wings, plus the characteristic halteres, or bulb-like organs that evolved from the second pair of flying wings. In Syrphid flies, however, the halteres are fairly inconspicuous.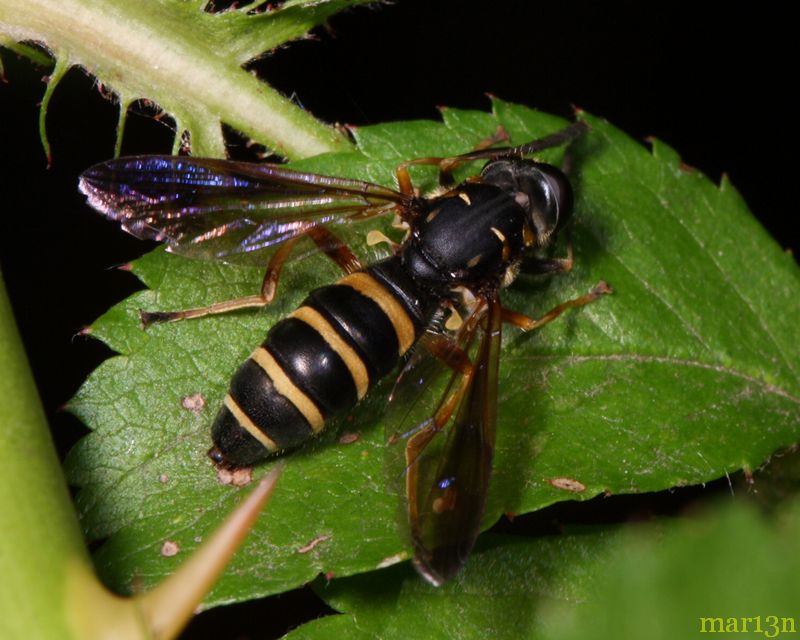 Flies of North America – Order Diptera.

Flies are prevalent in virtually all habitats, with over 16,000 species in North America. Flies can be distinguished from all other insects in that they only have one pair of normal wings. The other pair has evolved into small ball-like structures called

halteres

. Most flies have compound eyes and mouthparts adapted for piercing, lapping or sucking fluids.

Syrphidae | Flies Index | Tachinidae | Bee Flies | Robber Flies