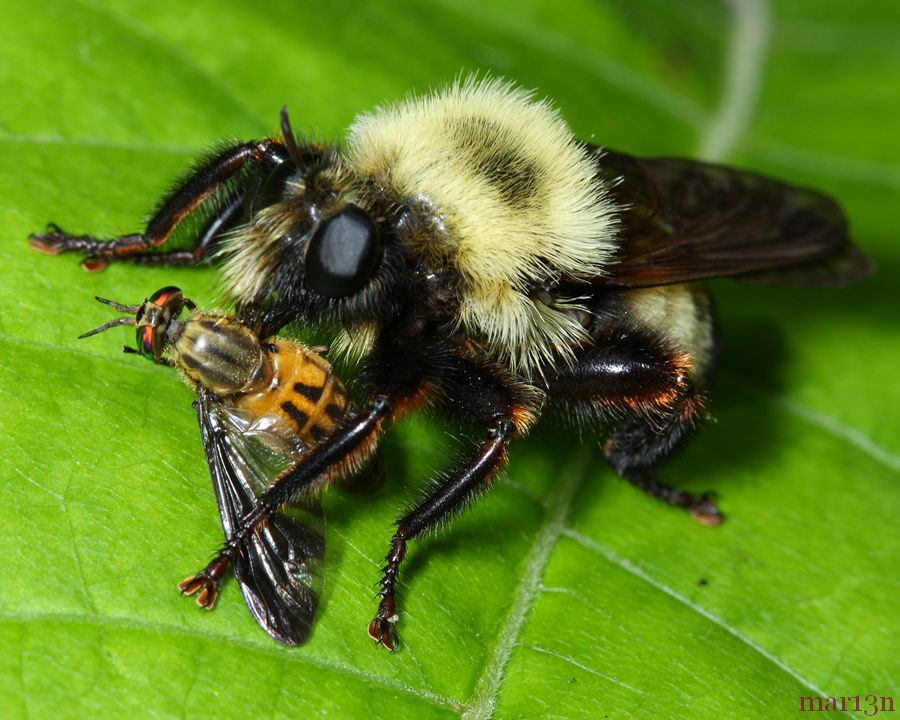 The backwash from this sucker's prop almost knocked me down yesterday when it did a close fly-by with a stunned
deer fly
held tenderly in its front claws, impaled on its proboscis. This is the largest (and in my opinion most stately) of the Laphria complex flies, a truly magnificent creation. Before I began photographing insects, I had no idea such a thing existed. Now it is my ardent wish every time I'm in the field for an opportunity to watch one of these clever creatures at work. For me, such a spectacle is every bit as fascinating as watching a lion or cheetah capture and consume a large mammal; a less dangerous pursuit certainly, accessible and inexpensive!
There are over 7,000 species of robber flies world wide; nearly 1,000 in North America. All robber flies have stout, spiny legs, a dense moustache of bristles on the face (mystax), and 3 simple eyes (ocelli) in a characteristic depression between their two large compound eyes. The mystax helps protect the head and face when the fly encounters struggling or stinging prey. The antennae are short, 3-segmented, sometimes with a bristle-like structure called an arista. The short, strong proboscis is used to stab and inject victims with saliva containing neurotoxic and proteolytic enzymes which paralyze and digest the insides; the fly then sucks the liquefied meal much like we vacuum up an ice cream soda through a straw. Many species have long, tapering abdomens, sometimes with a sword-like ovipositor.
| | |
| --- | --- |
| | |
HULL (1962): "The ROBBER FLIES, or ASILIDAE, comprise one of the largest and most abundant families of present-day insects. Distributed through all parts of the world, over 400 genera [
now 530
] and subgenera have been proposed and about 4,761 species are known [
now 7,003
]. In addition, 18 genera and 39 species have been described from Eocene, Oligocene, and Miocene; 15 of these genera are also recent [1] .
"Because of their predatory habit of feeding on other insects and their voracious appetites, they contribute to the maintenance of the natural balance among insect populations. To some extent, parasitic wasps and flies are taken by them, but much of their prey consists of plant-feeding insects. Certain species are known to seriously deplete the populations of apiaries. The adults are, with few exceptions, active flies, of considerable size and readily attract attention." [1]
Some robber flies are convincing bumble bee mimics. This evolutionary adaptation allows them to reap the benefits of aposematic (warning) coloration without the high metabolic cost of constructing and maintaining a venom-delivery system.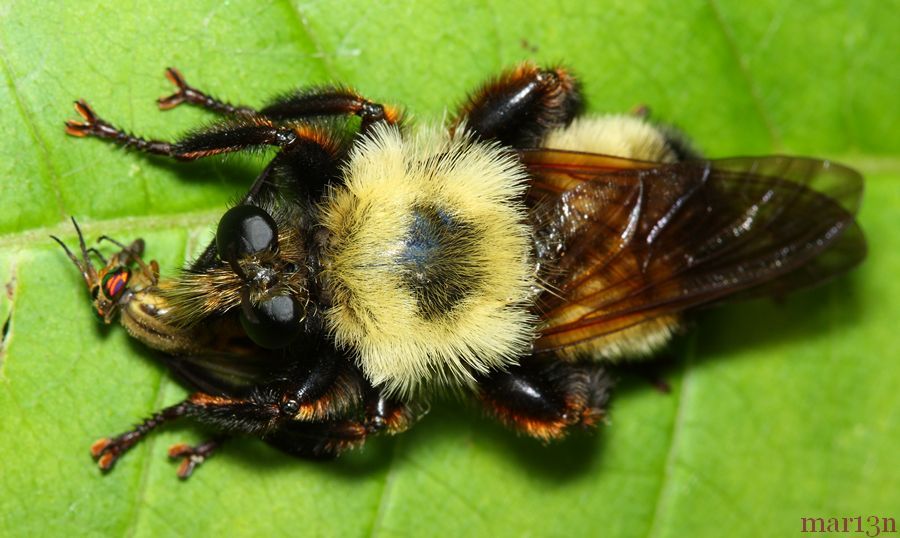 Flies of North America – Order Diptera.

Flies are prevalent in virtually all habitats, with over 16,000 species in North America. Flies can be distinguished from all other insects in that they only have one pair of normal wings. The other pair has evolved into small ball-like structures called

halteres

. Most flies have compound eyes and mouthparts adapted for piercing, lapping or sucking fluids.

Syrphidae | Flies Index | Tachinidae | Bee Flies | Robber Flies