Syrphid Fly – Spilomyia fusca
Some hoverflies' larvae are important predators of aphids, thrips, and other soft-bodied prey. Many Syrphids are important pollinators, and in both roles are considered beneficial insects. Home gardeners do well to plant flowers that attract them: Alyssum, Iberis umbellata, statice, buckwheat, chamomile, parsley, and yarrow. I know they like New England Aster as well. Heck, just about any flower will do!
Syrphid flies are routinely used as a biological control in the lettuce fields of California's vegetable-producing regions, where the fly's larvae are generally effective in controlling lettuce aphid (Nasonovia ribisnigri). It is primarily the Syrphidae that enable organic romaine growers on California's central coast to produce harvestable crops. Syrphidae larvae are, in turn, parasitized by wasps in the Hymenoptera families Ichneumonidae and Pteromalidae [1].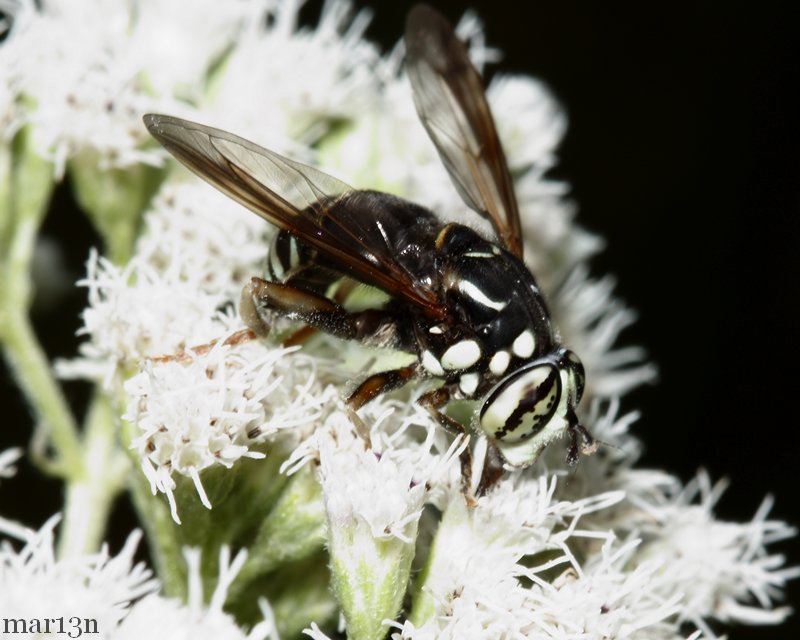 Most hover flies are between 5-20 mm long, brightly colored in yellow and black, and have large compound eyes that nearly cover the head. One rule of thumb for identifying hover fly gender is, if the eyes meet at the top of the head, it's a male specimen. Each wing has a characteristic fold, or "false vein" which can be visible to the naked eye – it is located anterior to the first large vein that runs all the way to the outer margin of the wing. Of course, being true flies, they have only one pair of wings, plus the characteristic halteres, or bulb-like organs that evolved from the second pair of flying wings. In Syrphid flies, however, the halteres are fairly inconspicuous.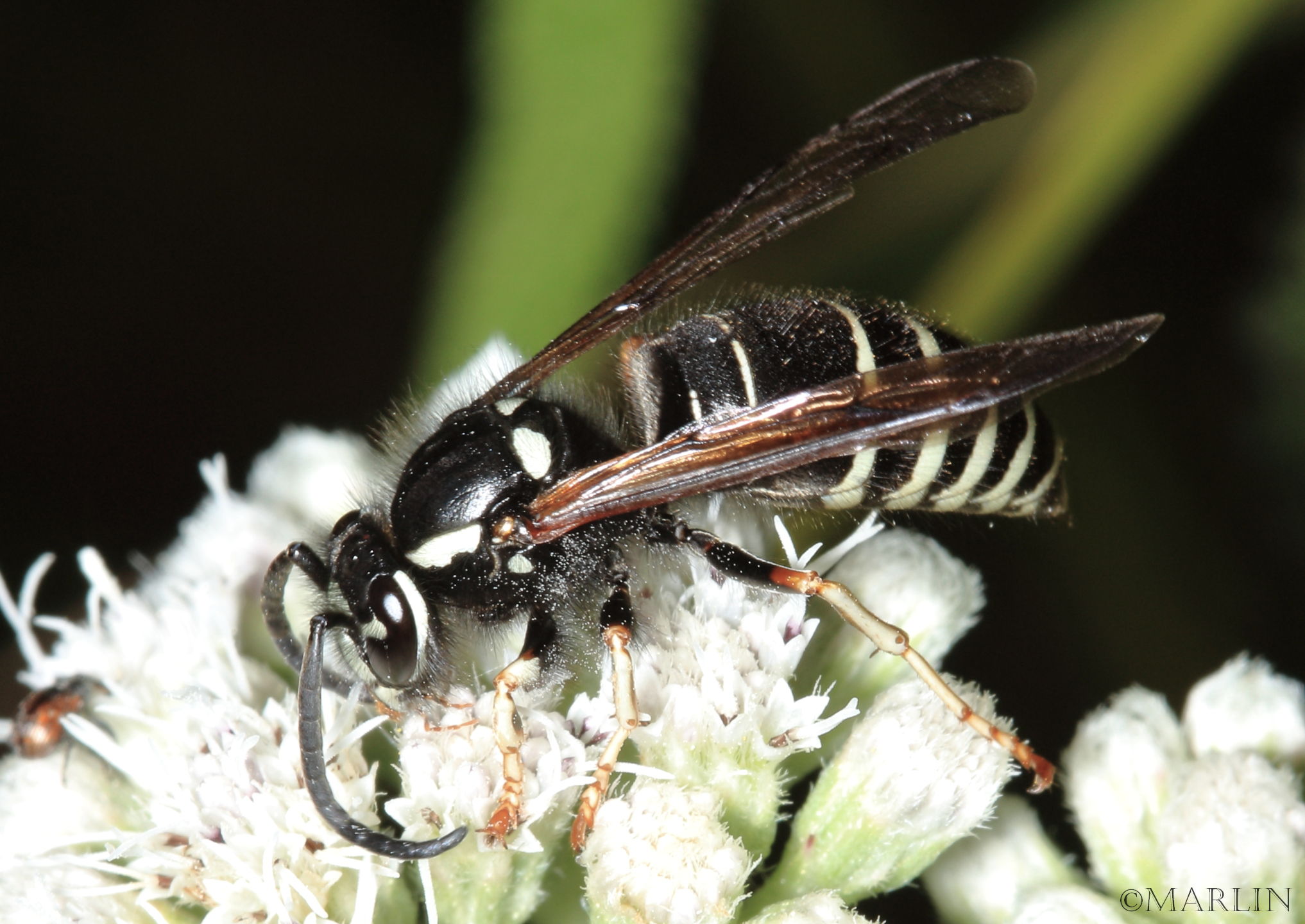 I believe S fusca is mimicking the blackjacket wasp (above) or perhaps the bald-faced hornet (below)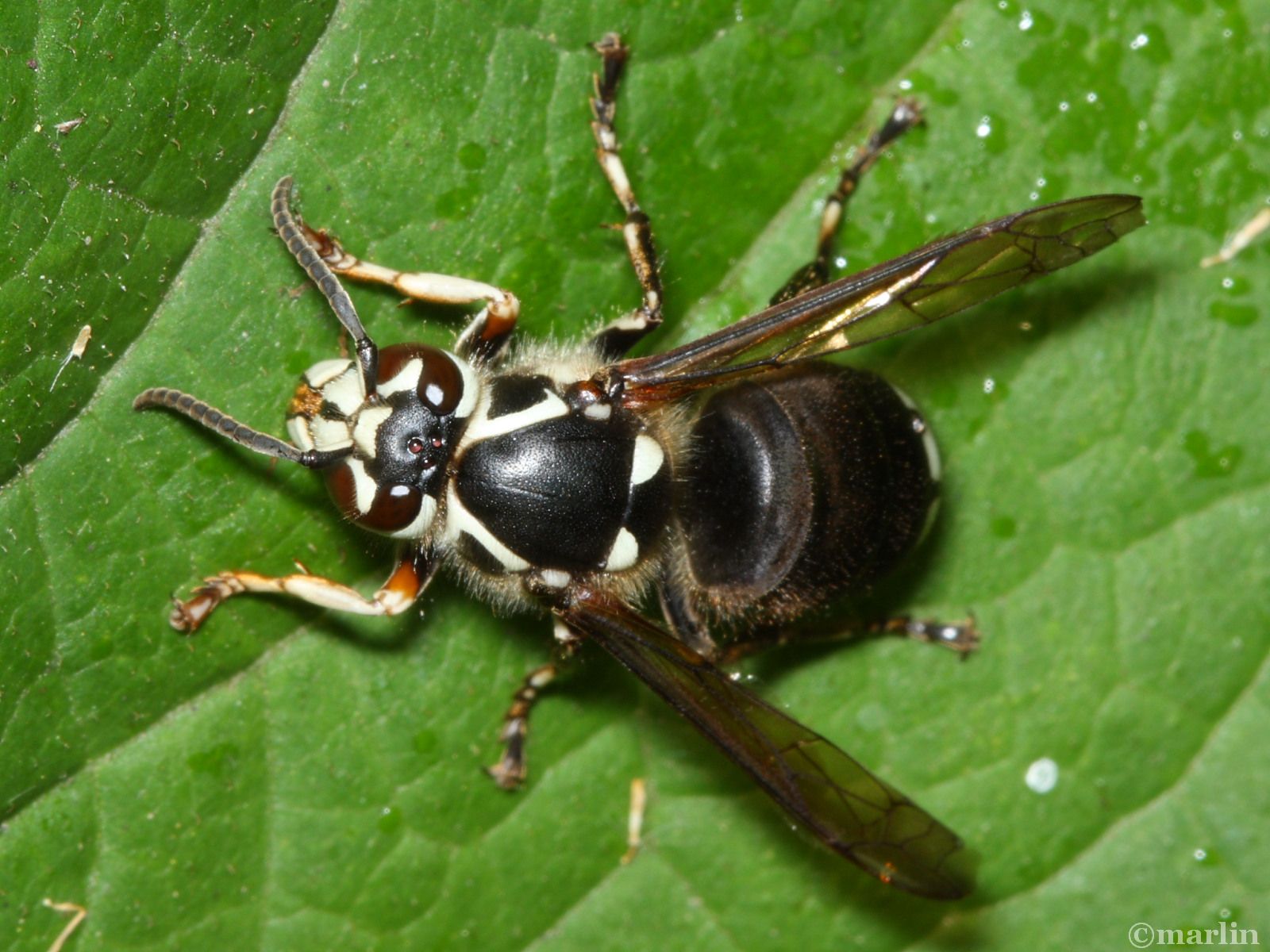 References
Bugguide.net, Syrphid Fly – Spilomyia fusca
University of California, DANR, "Biological Control Agents for Aphids in Vegetable Crops"
Order Diptera | Family Syrphidae – Flower Flies, Hover Flies
Live adult male Syrphid fly photographed in the wild at Marienville, Pennsylvania, USA.
Insects & Spiders | Flies Index | Tachinidae | Dung Flies | Bee Flies | Robber Flies