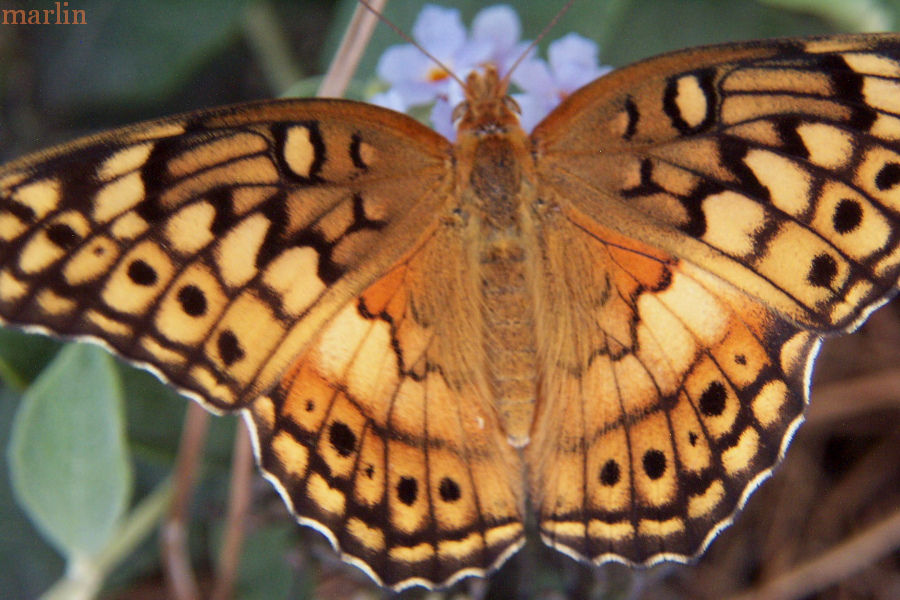 The Variegated Fritillary is widespread and common in the southern U.S. It is mainly found in grasslands, farmland, roadsides and other open areas; mountain meadows, everywhere but dense forests. Frequently strays northward in such numbers as to become common all the way to Canada. Its flight is low and direct, with very little swooping or diving, and it is an avid visitor of flowers and other liquid sources [1].
Life cycle: Eggs are cream-colored, ribbed, laid on various hostplants including violets and pansies (Viola), Flax (Linum), Passionflower, stonecrop, moonseed, and plantain. Caterpillar to 32mm ( 1¼"), white with red banding, black spines. Red head has two long black spines. Pupa (chrysalis) 19mm (¾"), pale shiny blue with black, yellow and orange marks with gold bumps. Adult butterflies can overwinter only in the south. Flies spring to fall, with 2-3 broods. Range: Resident Arizona – Florida, southern plains. Emigrates to Southern California, Southern British Columbia, NW Territories and Quebec [2].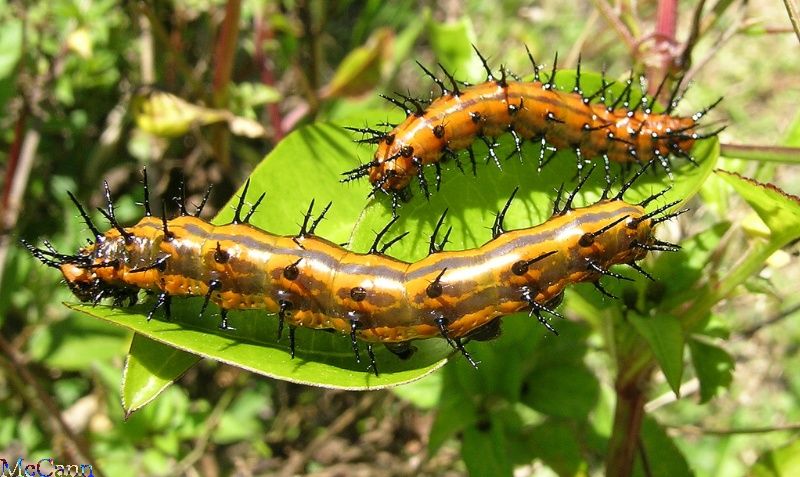 Fritillary Caterpillars
Subfamily Heliconiinae – Heliconians and Fritillaries
can be divided into 45-50 genera and were sometimes treated as a separate family (Heliconiidae) within the Papilionoidea.
Larvae of the Variegated Fritillary eat a more varied diet of plants than just about any other variety of butterfly. Both the caterpillar and chrysalis are considered among the most beautiful of any of the North American butterflies. This butterfly has characteristics of the true fritillaries (Speyeria) which feed only on violets, and the longwing fritillaries (Agraulis) whose larvae eat only passion flowers. The V. fritillary caterpillar thrives on both types of plants [2].