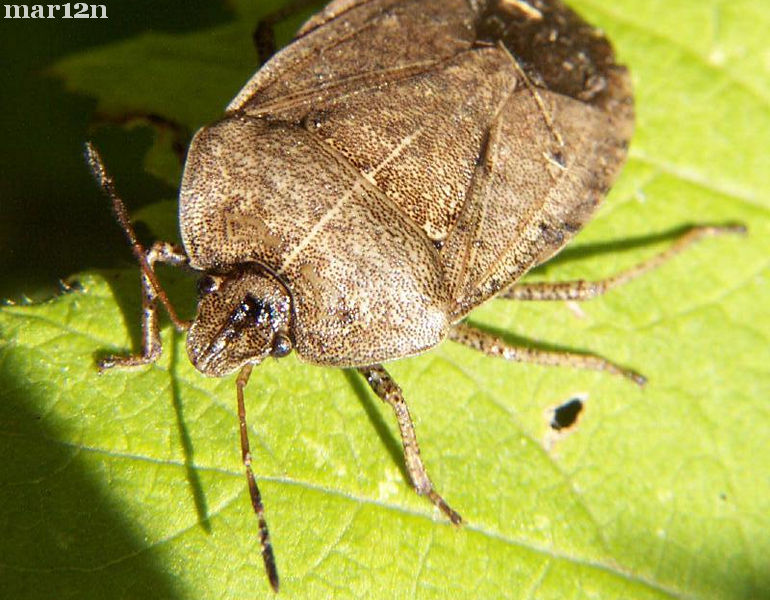 Stink Bugs
have 5-segmented antennae; a large, triangular scutellum; head relatively small and often "tucked into" a concavity in anterior margin of pronotum; ocelli present. Body (as viewed from above) divided into 5 sections: pronotum, scutellum, two basal leathery portions of hemelytra [one on each side of the scutellum], and two apical membranous portions of hemelytra that completely overlap and act like a single section [1].
Exclude Stink Bugs from your house: Mechanical exclusion is the best method. Cracks around windows, doors, siding, utility pipes, behind chimneys, and underneath the wood fascia and other openings should be sealed with good quality silicone or silicone-latex caulk. Damaged screens on doors and windows should be repaired or replaced.
Exterior applications of insecticides may offer some relief from infestations where the task of completely sealing the exterior is difficult or impossible. Applications should consist of a synthetic pyrethroid (i.e. deltamethrin, cyfluthrin, lambda-cyhalothrin, cypermethrin, sumithrin or tralomethrin) and should be applied by a licensed pest control operator in the fall just prior to bug congregation. Unfortunately, because insecticides are broken down by sunlight, the residual effect of the material will be greatly decreased and may not kill the insects much beyond several days or a week.
If numerous bugs are entering the living areas of the home, attempt to locate the openings where the insects gain access. Typically, stink bugs will emerge from cracks under or behind baseboards, around window and door trim, and around exhaust fans or lights in ceilings. Seal these openings with caulk or other suitable materials to prevent the insects from crawling out. Both live and dead stink bugs can be removed from interior areas with the aid of a vacuum cleaner.
It is not advisable to use an insecticide inside after the insects have gained access to the wall voids or attic areas. Although insecticidal dust treatments to these voids may kill hundreds of bugs, there is the possibility that carpet beetles will feed on the dead stink bugs and subsequently attack woolens, stored dry goods or other natural products in the home. Although aerosol-type pyrethrum foggers will kill stink bugs that have amassed on ceilings and walls in living areas, it will not prevent more of the insects from emerging shortly after the room is aerated. For this reason use of these materials is not considered a good solution to long-term management of the problem. Spray insecticides, directed into cracks and crevices, will not prevent the bugs from emerging and is not a viable or recommended treatment.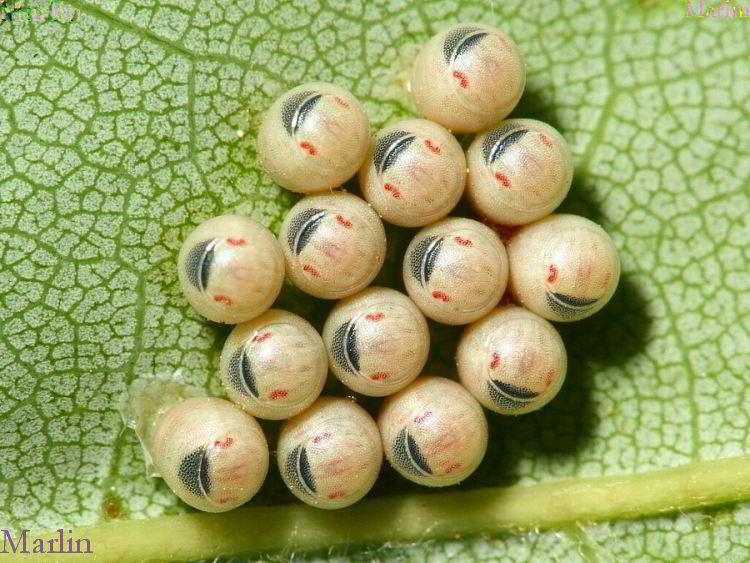 Stink bug eggs on underside of maple tree leaf. Each egg is just 1mm in diameter (about .04 inch).
Stink bugs feed on developing seed
of many hosts including trees, shrubs, vines, weeds and many cultivated crops. They may also feed on the stems and foliage when seed are not present. Both nymph and adult stink bugs pierce plants with their needlelike mouthparts and suck sap from pods, buds, blossoms and seeds. The degree of damage depends on the developmental stage of the plant when it is attacked. Immature fruit and pods become deformed as they develop. Seeds are often flattened and shriveled. Germination can be reduced, or the seeds may fail to germinate at all.
The family name, Pentatomidae, comes from the Greek "pente" (five) + "tomos" (a section); perhaps a reference to the 5-segmented antennae, or perhaps a reference to the body, which, when viewed from above, appears to be divided into 5 large sections. The scutellum is the largest section.
Stink bugs characteristically deposit their eggs on the underside of leaves in clusters with tight rows of individual barrel-shaped eggs. After overwintering, adult females seek out suitable hosts in early spring and deposit their eggs on host plants. Often these overwintering populations are found along field borders, particularly along tree lines near their overwintering sites.
Later-developing cultivated plants become more attractive when these initial wild hosts dry down, and their proximity allows easy access for stink bug colonization in crops. Shortly after egg deposition and hatching, emerging nymphs are gregarious in habit and remain on or near the egg mass. As they develop, they begin to feed and disperse.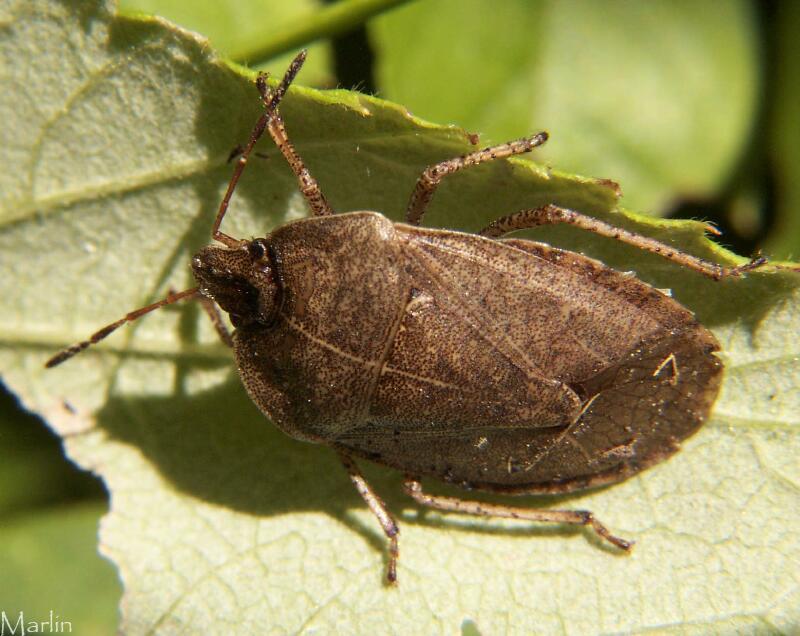 Stink bugs feed on many varieties of plants, including native and ornamental trees, shrubs, vines, weeds, and many cultivated crops. Stink bugs inflict mechanical injury to the seed as well as transmit the yeast-spot disease organism. The degree of damage caused by this pest depends to some extent on the developmental stage of the seed when it is pierced by the stink bug's needlelike mouthparts. The younger the seed when damaged, the greater the yield reduction. [2]
References
Line, Les. The Audubon Society Book of Insects. Harry N Abrams, 1983.
Order Hemiptera:

True Bugs number almost 5,000 species in North America, and 40,000 worldwide. They have mouthparts formed into a beak, adapted for sucking plant juices or the liquefied insides of their animal prey.

Suborder Auchenorrhyncha – Cicadas & Planthoppers
Suborder Sternorrhyncha – Aphids, scales, mealybugs, jumping plant lice

.