Longhorn Beetle – Brachysomida bivittata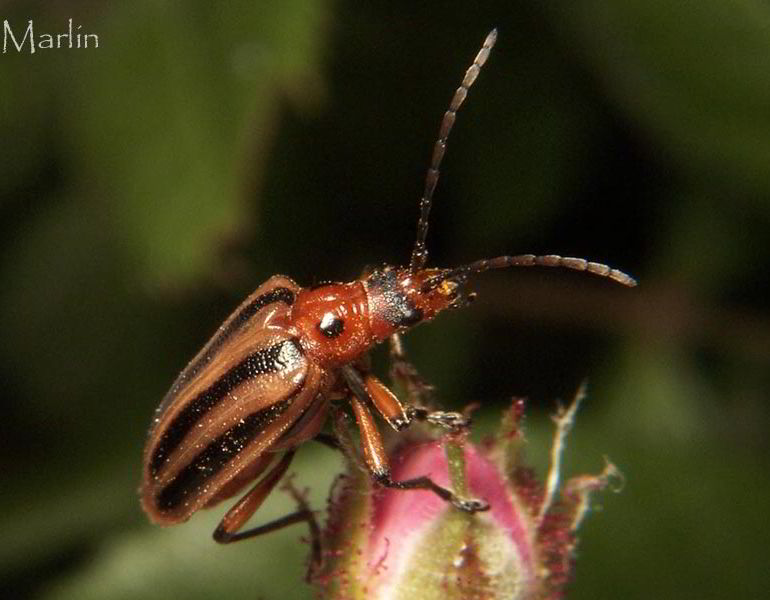 Family Cerambycidae – Longhorn Beetles / Subfamily Lepturinae – Flower Longhorns
Live adult beetles photographed at DuPage County, Illinois. Size: 7mm
Cerambycidae is a cosmopolitan family of beetles characterized by extremely long antennae, often longer than the beetle's body. There are over 20,000 species described. Many longhorns are serious agricultural pests, as their larvae have the unfortunate habit of boring wood. The Asian Longhorned beetle, for instance has been responsible for the preventive destruction of thousands of trees in Northern Illinois and other locations in the United States and Canada.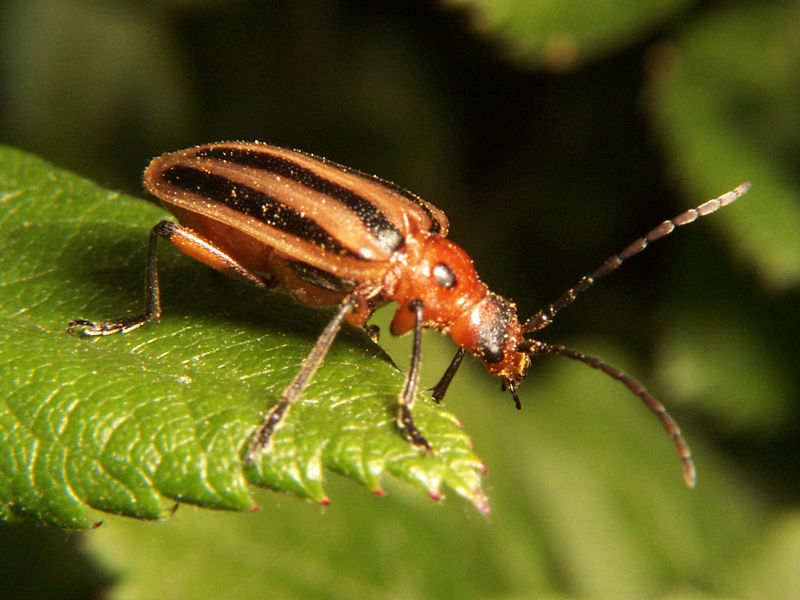 This beetle is fairly dusted with pollen
Most Cerambycidae larvae feed within dead, dying or even decaying wood, but some taxa are able to use living plant tissue. Girdlers (adults of the Onciderini, larvae of genera in the tribes Methiini, Hesperophanini and Elaphidiini) sever living branches or twigs, with the larvae developing within the nutrient-rich distal portion. The larvae of a few species move freely through the soil, feeding externally upon roots or tunneling up under the root crown. Most adult cerambycids, particularly the brightly color ed ones feed on flowers and pollen, and as such can be important pollinators of some flowering plants. Other species consume sap, leaves, blossoms, fruit, bark or fungi [2].
The genus Magnolia contains about 200 species of flowering trees and shrubs, with innumerable cultivars and varieties being developed all the time. Magnolia is an ancient plant lineage, first appearing in the fossil record about 20 million years ago, while evidence of plants in the family goes back to 90 mya [2]. Plants in Family Magnoliaceae are trees or shrubs, deciduous or evergreen, usually with perfect flowers [3].

Having evolved before pollinators in Hymenoptera (bees, wasps & ants) appeared, the progenitors of our modern ornamental magnolias relied on beetles for their sexual gratification. Their large, showy flowers are a direct result of the plant's strengthening its delicate flower parts against the beetle's comparitively "rough handling" while feeding on pollen.

Left: Primitive beetle ancestor inside 50 million year old Baltic amber [4].
References
Bugguide.net, Brachysomida bivittata
Wikipedia contributors, "Magnolia" retrieved April 19, 2012
www.efloas.org, Flora of China, "Magnoliaceae"
Beetles Index | Longhorns | Leaf Beetles | Soldier | Blister | Lady | Scarab