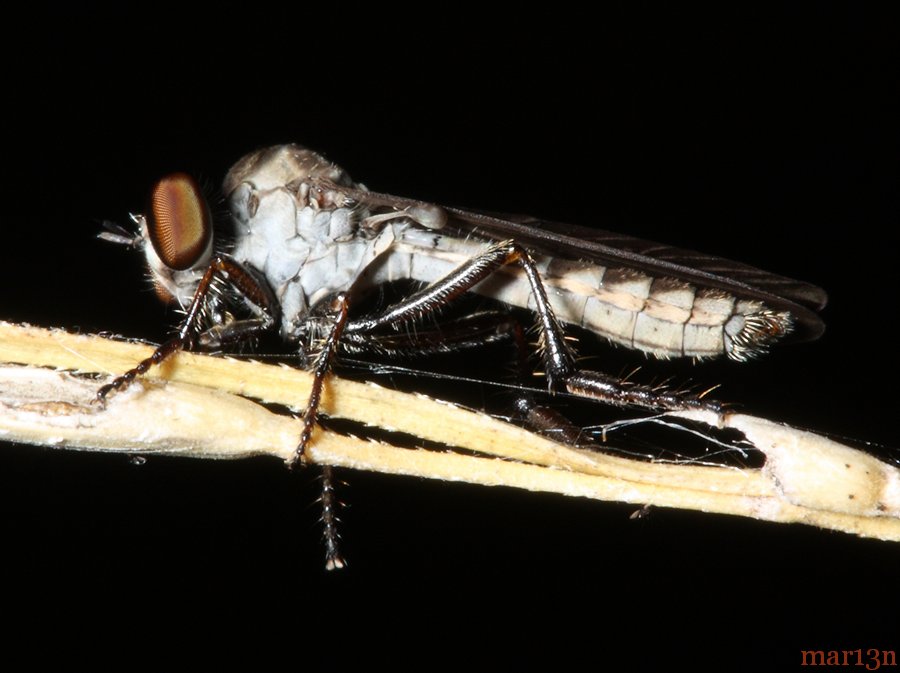 This is a small fly as robbers go. Very ethereal and difficult to follow, I have never been able to photograph with prey or witness any hunting.
There are over 7,000 species of robber flies world wide; nearly 1,000 in North America. All robber flies have stout, spiny legs, a dense moustache of bristles on the face (mystax), and 3 simple eyes (ocelli) in a characteristic depression between their two large compound eyes. The mystax helps protect the head and face when the fly encounters prey bent on defense. The antennae are short, 3-segmented, sometimes with a bristle-like structure called an arista.
The short, strong proboscis is used to stab and inject victims with saliva containing neurotoxic and proteolytic enzymes which paralyze and digest the insides; the fly then sucks the liquefied meal much like we vacuum up an ice cream soda through a straw. Many species have long, tapering abdomens, sometimes with a sword-like ovipositor. Others are fat-bodied bumble bee mimics; the effect is quite convincing.