Family Hesperiidae: Skipper Butterflies comprise nearly 3,000 species worldwide, 250 of which call North America home. Roughly one third of North American butterflies belong to this family. Skippers are named for their rapid, erratic flight. Skippers differ from the true butterflies in their proportionately larger bodies, smaller wings, and hooked antennae, among many other structural differences. The skipper family is further divided into subfamilies. Skippers can be the most difficult butterfly species to identify; their markings are maddeningly similar.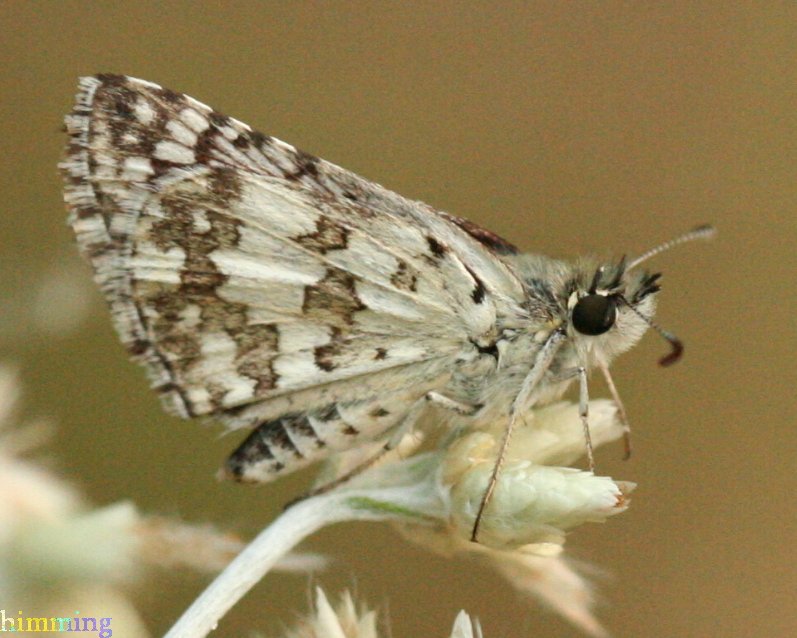 Identification: Wings are dark brown. Upper side of male forewing has a dark black stigma; female forewing has transparent white spots. Underside of hindwing has dark and light patches and a violet-blue sheen.
Skipper butterflies can be divided into five subfamilies:
Pyrginae, or spread-wing skippers. These butterflies bask with their wings spread open flat, although there are a few that sit with the wings folded over their back. The cloudy wings sit with their wings partly open. Most spreadwings are patterned in gray, black and white. Caterpillars feed on many different types of plants, especially legumes.

Grass Skippers, subfamily Hesperiinae constitute the largest grouping, and perhaps the most challenging for those seeking to identify specimens. They are smaller than the spread-wing skippers, and many are patterned with yellow, orange and black. These erratic flyers sit with their forewings and hind wings at different angles – I think the configuration resembles an F-15 Eagle fighter jet. Grass skipper larvae feed mostly on … guess what? Yep. Grasses.

Giant Skippers, subfamily Megathyminae includes the largest skippers. These are rare butterflies, even where there host plants, the Agaves and Yuccas are common. They are very fast and powerful flyers.

Skipperlings, subfamily Heteropterinae includes only a handful of small species living in the north and west. They lack the narrow extension (apiculus) of the antenna club. Many skipperlings sit with the wings open flat. They are often lumped into the grass skipper family. Note: Some skippers are called skipperlings but do not actually belong to this subfamily.

Firetips, subfamily Pyrrhopyginae. Only one species of this group inhabits North America: the Atraxes skipper.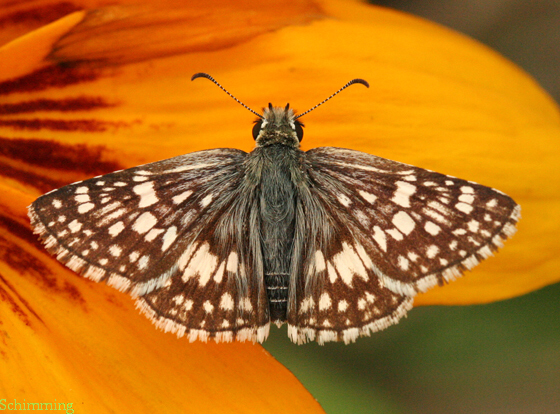 Custom Search

Order Lepidoptera, which contains both butterflies and moths, includes at least 125,000 known species including 12,000 in North America. Butterflies are revered for their brightly colored wings and pleasing association with fair weather and flowers.
Learn to identify many of the American Midwest's common species through descriptions and large diagnostic photos of live, wild specimens.
Butterfly Index | Moth Pictures | Moths Index | Skipper Butterflies