Chicago & Northwestern Railway Company in Illinois
I grew up during the '50s and '60s in Des Plaines, Illinois, a city criss-crossed by railroads. The Chicago & Northwestern Railway Company ran trains on its 3-track northwest line, chiefly commuter trains, the Soo Line had a single track which bisected the city, and both the C&NW and Milwaukee Road (The Minneapolis, St. Paul & Pacific, to be precise) rolled freight on the "new line" which skirted the western edge of O'Hare Field. All three of these railroads intersected at Deval Crossing, about 1 mile west of the city center. Deval today is still one of the best places in Illinois to watch trains.
 

July 1966 -C&NW
#1758 EMD GP9

Milwaukee Road GP40 #2038
southbound near Deval, 1979

Soo Line F7 northbound
crossing C&NW at Deval, 1978
I lived near the Norma Junction where the new line crossed Thacker Street, and a single track split from the 2-track main line and ran straight north to Seeger Junction where it met up with the northwest line. When we first moved to Des Plaines in 1954, there was a water tower and some related structures at Norma, just south of Thacker and east of the tracks. I have not been able to find any pictures of these structures, which were torn down in 1956 perhaps.
I have no recall of seeing steam power on the new line, but do distinctly recall steam locomotives pulling commuter coaches at the station in Des Plaines. Anyway, I became enamored of these railroads when I was a child, and when I was 13, I took to hanging out near the tracks, dogging the men who ran a switch engine around Bryn Mawr and the Norma Yard. I had my trusty Kodak Brownie camera at times, and many of the photos here were taken with that humble camera, back in 1966.
| | |
| --- | --- |
| Soo Line F7 northbound at Deval, 1978 | Wisconsin Central #7515 at Deval, 2002 |
Derailment at Deval in Des Plaines, Illinois, August 1966.

I was awakened one early summer morning in 1966 by one of my friends banging on our screen door and yelling for me to get my camera, there was a wreck on the Soo Line. Too Cool. As you can probably tell by the photos I took, it was a different world in those days. I was fairly crawling through the wreckage, me, a 13-year-old boy, and nobody said anything to me!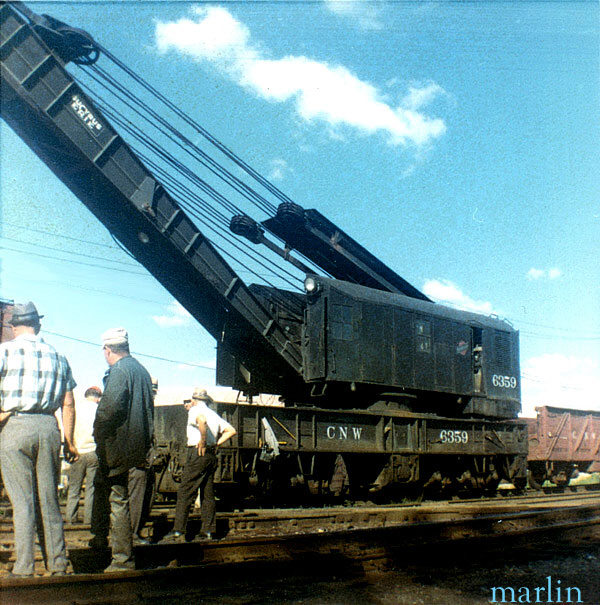 7 or 8 cars of a southbound Soo Line freight derailed at exactly the crossing of the Chicago & Northwestern northwest commuter line. The Soo Line F7 in the large picture above is traveling on the exact spot of this derailment. I know the location well, and the slant imparted to the trackside equipment by the derailed rolling stock tells me the train was southbound. There was a shattered wooden refrigerated boxcar with cases of Land O' Lakes butter scattered all over the place; I saw police officers looting and placing case after case of butter into the trunks of their squad cars. Like I said, it was a different world back then. If you look closely underneath the Norfolk and Western boxcar, you can see police officers and squad cars in the parking lot in front of the businesses at the corner of First and North Avenues. I hung around for most of the morning, but I must have gotten bored or maybe finally chased away by the cops. I'm hoping someone has more pictures or perhaps a news story about this wreck. I have found other pictures of the same black Bucyrus Erie #6359 crane at a wreck in Palatine, IL in 1949.
Pictures taken at Norma Coach Yard 1966. We kids used this place as a playground.