1200 South Lake Shore Drive, Chicago
Phone: 312 939-2438.
Directions: On the lakefront museum campus between the Field Museum and Adler Planetarium.
The Romanesque facade and building is the work of the famous Chicago architectural firm Graham, Anderson, Probst and White. They also produced other famous Chicago landmarks: The Wrigley Building, Merchandise Mart, Chicago Union Station, and The Civic Opera House are all GAP&W designs. They were well known for using sculptural elements in the buildings, such as the numerous bas relief panels inset into the walls inside and out (below).
Chicago's John G. Shedd Aquarium opened its doors May 30, 1930. The Shedd shares Chicago's lakefront museum campus with the Adler Planetarium and the Field Museum of Natural History. One of the most visited aquariums in the world, it attracts 2 million visitors annually.
The aquarium contains over 25,000 fish, and was at one time the largest indoor aquarium in the world.  It was the first inland facility to host a permanent saltwater fish collection. With the addition of the 3 million gallon Oceanarium in 1991, it became also the largest indoor marine mammal facility in the world.
Its exhibition of captive Beluga whales, white-sided dolphins, and other aquatic mammals has stirred controversy and drawn opprobrium from animal-rights activists. The whole collection comprises more than 1500 species of fish, mammals, birds, reptiles, amphibians, and arthropods.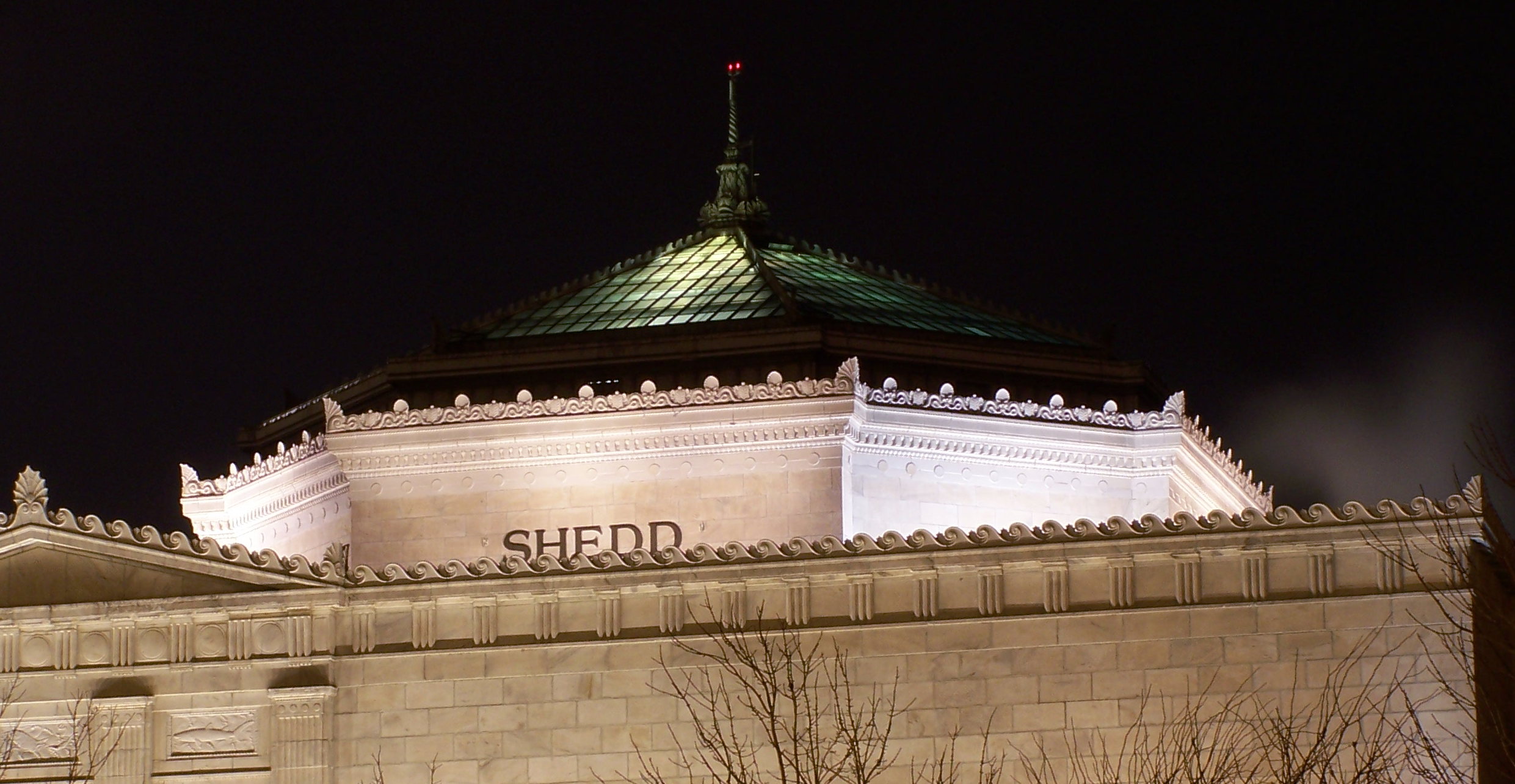 The wave motif and the sea-green vaulted skylight are signatures of this classic building on the Chicago lakefront.
Chicago, Illinois – The Windy City
A modest set of modern-day photographs of the great City of Chicago. Subjects include selected shots from points of interest in the suburbs as well.