Tailed Copper Butterfly – Lycaena arota
Live adult butterflies photographed near Buena Vista, Colorado, USA. Family: Lycaenidae (Gossamer-wings)
Butterfly Main | Skippers | Butterfly Index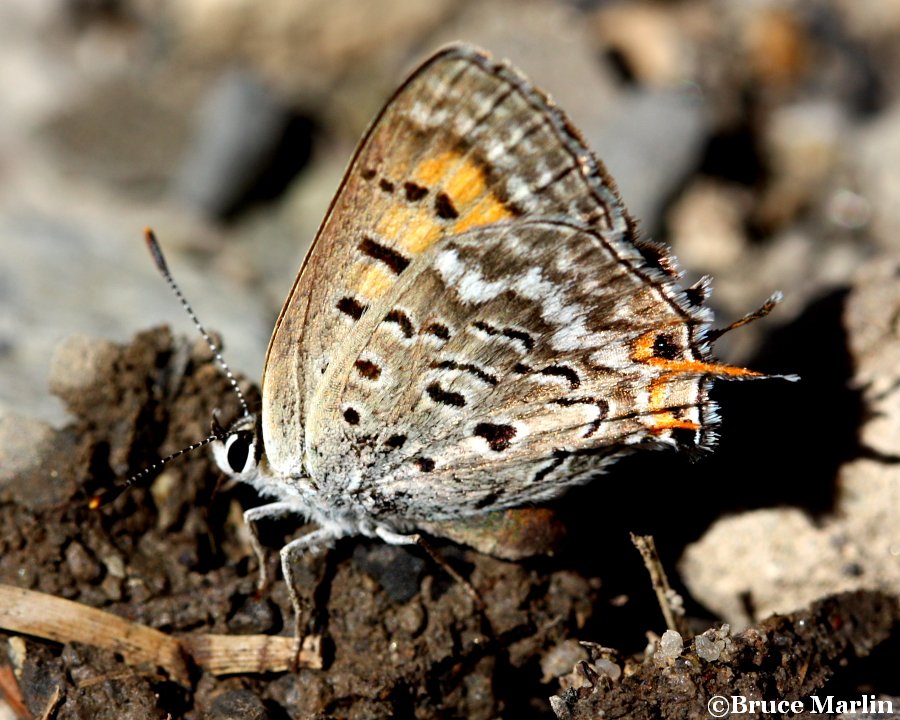 Identification: Each hindwing of both sexes has a tail. Upper surface of male copper-brown with iridescent purple sheen; female with orange and dark brown pattern. Underside of both sexes gray; forewing with black spots, hindwing with black scrawls and a band of submarginal white crescents.
Life cycle: Males perch in open areas, often near watercourses or ravines, in the morning to watch for females. Eggs are laid singly on host plant or on debris under it, and hibernate until the following spring.
Flight: One flight from May-August. Wing span: 1 1/8 – 1 3/8 inches (3 – 3.5 cm).
Caterpillar hosts: Leaves of gooseberry and currant in the Grossulariaceae family.
Adult food: Flower nectar. Habitat: Open mixed woodland, sagebrush, chaparral.
Range: New Mexico north and west to Oregon, south to southern California and Baja California. [1]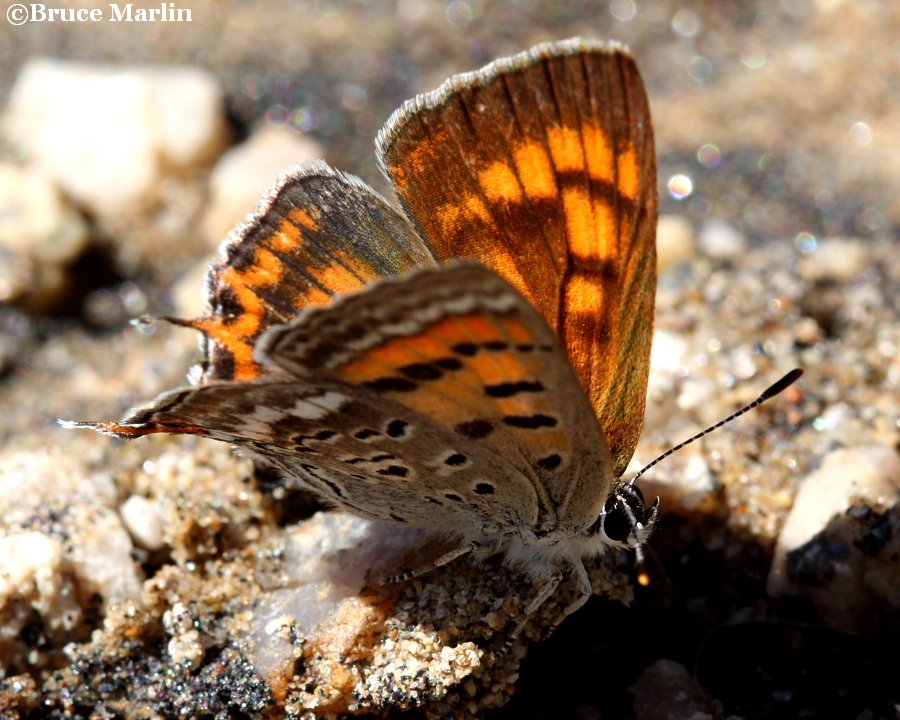 These lovely coppers were taking on water from the Arkansas River near Buena Vista, Colorado.
References
Opler, Paul A., Harry Pavulaan, Ray E. Stanford, Michael Pogue, coordinators. 2006. Butterflies and Moths of North America. Bozeman, MT: NBII Mountain Prairie Information Node.p
Eric Eaton & Ken Kaufman, Kaufman Field Guide to Insects of North America, Hillstar Editions 2007
Order Lepidoptera, which contains both butterflies and moths, includes at least 125,000 known species including 12,000 in North America. Butterflies are revered for their brightly colored wings and pleasing association with fair weather and flowers.
Learn to identify many of the American Midwest's common species through descriptions and large diagnostic photos of live, wild specimens.
Butterfly Index | Moth Pictures | Moths Index | Skipper Butterflies

Custom Search