Manchurian Crabapple
Malus baccata var. mandshuria
Noted for its fragrant, dark rose-pink double flowers, orange fruit and excellent disease resistance.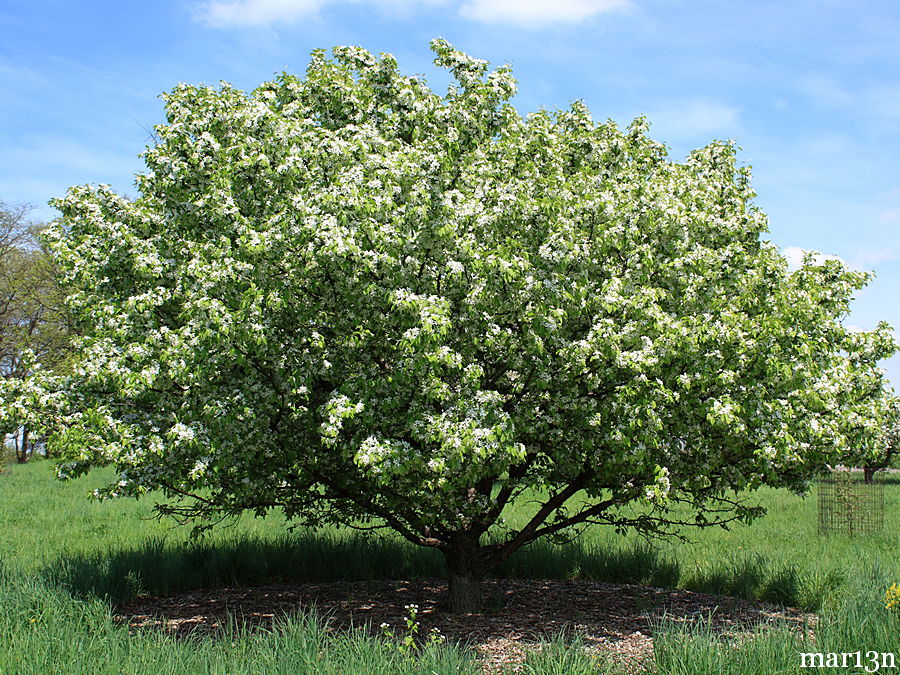 Siberian Crabapple –
Malus baccata
, Morton Arboretum acc. 366-88*1
Leaf shape: elliptic (oval), deciduous. Leaf blade length: 2 to 4 inches / color: green / Fall color: yellow
Flower color: white, very showy, pleasant fragrance; spring flowering
Fruit shape: round / Fruit length: < .5 inch / Fruit covering: fleshy / Fruit color: red
Fruit characteristics: attracts birds; attracts squirrels
Trunk/bark/branches: droop as the tree grows, and will require pruning for vehicular or pedestrian clearance beneath the canopy.
Light requirement: tree grows best in full sun. Drought tolerance: moderate. Aerosol salt tolerance: low. [4]
An outstanding flowering crab, Manchurian Crabapple is a deciduous tree with a rounded canopy of spreading branches, ultimately reaching 20 to 50 feet in height. The very fragrant blooms appear in great abundance. Blooms are followed in fall by persistent fruits which are very popular with the birds. Some crabapples make a mess of a walk or driveway when the fruit falls. [4]

Custom Search