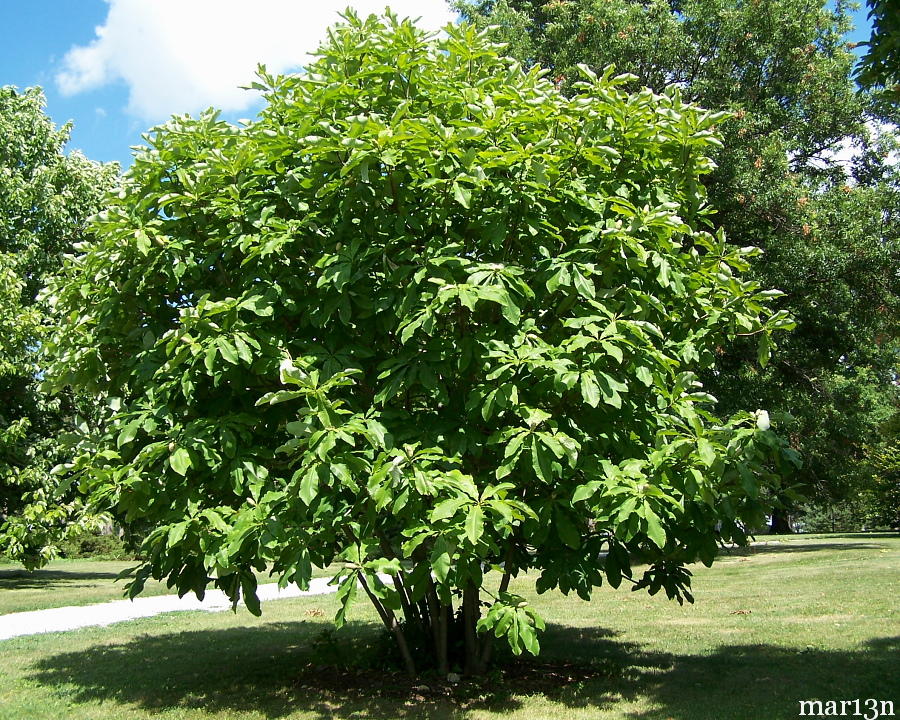 Umbrella Magnolia [1]
Common names: Umbrella magnolia, Umbrella-tree

Native to: NORTHERN AMERICA
Northeastern U.S.A.: United States – Indiana [s.], Ohio [s.], Pennsylvania, West Virginia
North-Central U.S.A.: United States – Oklahoma
Southeastern U.S.A.: United States – Alabama, Arkansas, Florida, Georgia, Kentucky, Maryland, Mississippi, North Carolina, South Carolina, Tennessee, Virginia (2)

Plants in the magnolia family have the following characteristics:
Large flowers with numerous tepals
Numerous spirally arranged stamens at the base of a conelike receptacle bearing numerous spirally arranged carpels. At maturity the carpels develop into a woody, conelike aggregate of seed-bearing follicles. Each seed has a fleshy red outer layer (aril) and hangs from its follicle by a threadlike stalk. Other primitive floral characteristics are radial symmetry or actinomorphic (floral parts similar in size & shape), perfect (with functional androecium and gynoecium), complete (with all 4 floral parts: calyx, corolla, androecium & gynoecium), and floral axis (receptacle) elongated. The latter characteristic is clearly visible in the magnolia blossom. With all the woody, spirally arranged carpels (follicles), this axis truly resembles a conelike structure.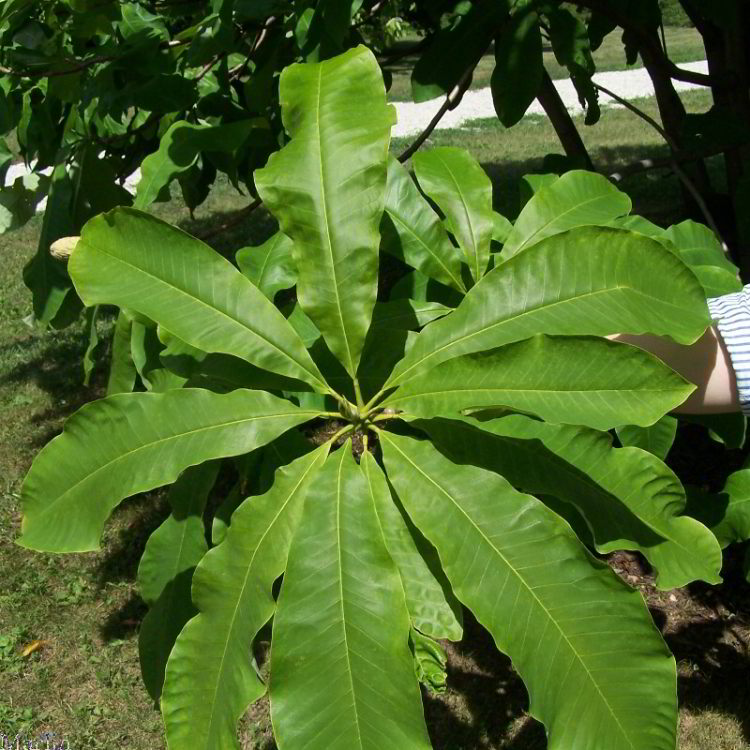 Huge leaflets give this tree its common name

Magnolia bark is used in traditional Chinese medicine, where it is known as houpu. The highly aromatic bark contains magnolol and honokiol, two polyphenolic compounds that have demonstrated anti-anxiety and anti-angiogenic properties. Magnolia bark also has been shown to reduce allergic and asthmatic reactions. The bark is stripped from the stems, branches, and roots. Cultivated supplies today produce most of the bark for commercial and domestic use.
Magnoliaceae – Magnolia Family


The earliest flowering plants date back about 130 million years. According to Cronquist

Evolution and Classification of Flowering Plants

, the most primitive of all living angiosperms belong to the subclass

Magnoliidae

. This subclass contains several primitive plant families, including the water-lilies (Nymphaeaceae), and buttercups (Ranunculaceae).

Tree Encyclopedia | Tree Index | Magnolia Main