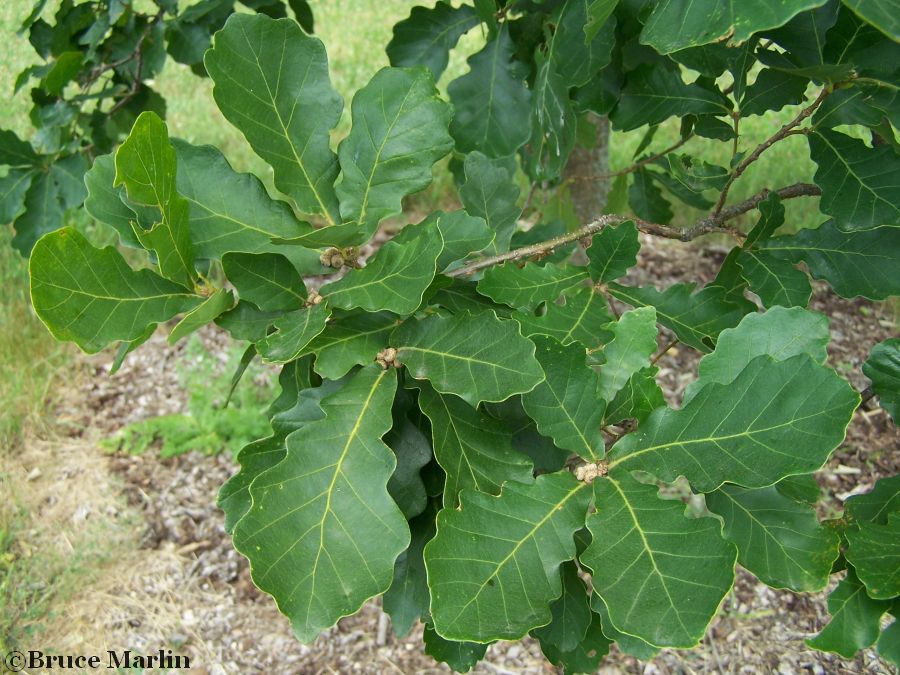 Native to Manchuria, Mongolia and China. Can be grown as a timber tree or develops in the open into a dense full crowned tree. This species can be found up to 7500 ft. elevation. The acorns have been used for the treatment of arthritis. Medium growth rate. Leaves hang on almost all winter. Similar to Quercus mongolica. Height to 75 ft.
There are about 900 species in this family worldwide, about 65 trees and 10 shrubs of which are native to North America. Native to the northern hemisphere, the genus Quercus contains about 600 species, including both deciduous and evergreen species (often referred to as 'live oaks'). Although many exhibit the characteristic lobed leaves, some have serrated leaves while others may have a smooth margin. Perhaps most easily recognized shared feature is the acorn (the fruit), borne in a cup-like structure known as a cupule.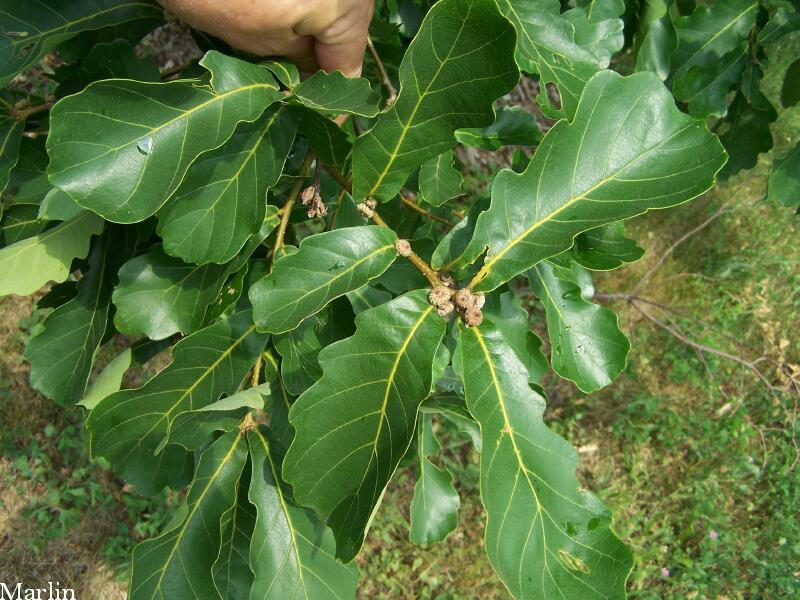 Since the early 1990s, oak and tanoak (Lithocarpus densiflorus) have been dying in the coastal counties of California [1]. Since then, Phytophthora ramorum has been expanding its range in coastal California, killing millions of trees. This epidemic has caused damage to public and private property, economic impact on nursery, gardening and logging industries, and increased the cost of implementing regulatory activities. Many are worried that large-scale tree mortality will have profound long-term environmental consequences, by changing the structure of plant and microbial communities, altering landscape ecological structure and function, and increasing forest-fire hazards.

Phytophthora ramorum is known to infect over one hundred species of forest shrubs and trees. On oak and tanoak trees, P. ramorum causes bleeding bole cankers that can lead to relatively rapid mortality; hence sudden oak death. Other hosts such as California bay laurel (Umbellularia californica) suffer mild leaf-blight or twig-dieback symptoms and are major sources of inoculum for infection of oaks and tanoaks. There is no evidence for sporulation of this pathogen from true oak species [2].

A recent collaboration of scientists from all over the world published a study [2] of the spread of invasives, using Phytophthora ramorum to illustrate how shortfalls in their understanding of how cryptic infection spread can render management applications inappropriate.

The risk of spread is enhanced by the pathogen's generalist nature and survival. Additionally, the extent of cryptic infection is unknown due to limited surveying resources and access to private land. The scientists used epidemiological modeling to estimate dispersal and life-cycle parameters of P. ramorum and forecast the distribution of infection and speed of the epidemic front in Humboldt County [2].